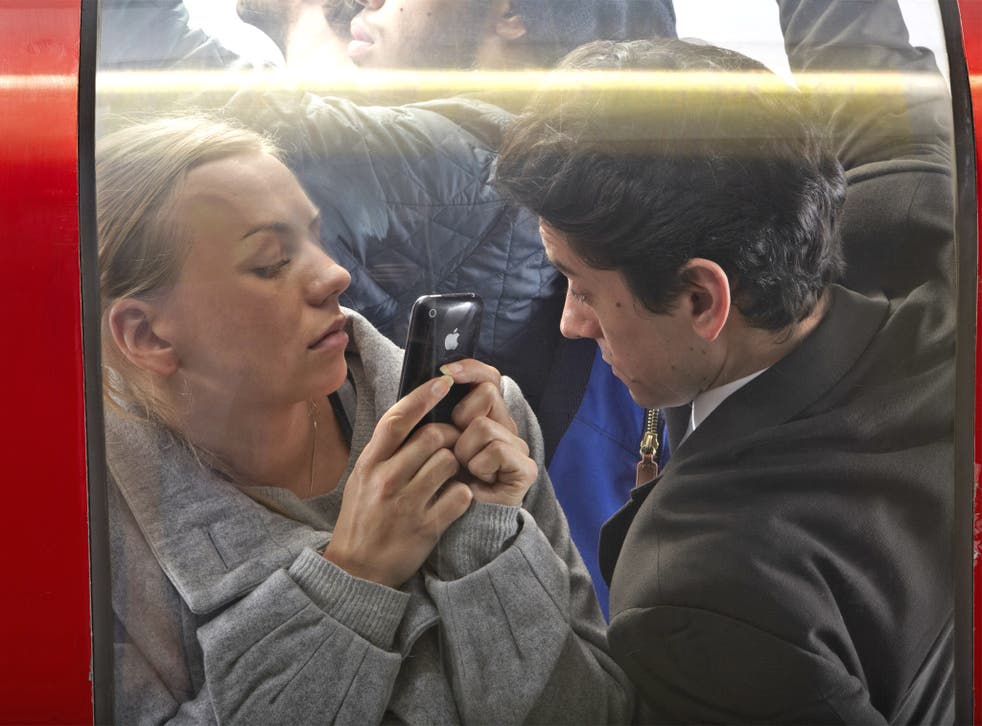 Women Who Eat On Tubes: 'I was hurt and humiliated when my photo appeared online - I'm never going to stranger-shame again'
When a photograph of journalist Sophie Wilkinson eating a salad on the Tube appeared on the Facebook group she wasn't going to let it slide
A few weeks ago, I was on a Tube train eating an M&S pasta salad. It was a fairly inoffensive snack but even so, I'd purposefully moved somewhere quiet so that I could do it without disturbing anyone.
Halfway through munching it, I noticed a man get up out of his seat to move opposite me and take my photo. I knew that he'd done it – he'd pointed the phone at me and adjusted it for an angle. I moved away and didn't think too much more about it. But then a friend noticed me on the Facebook group "Women Who Eat On Tubes" (20,000 members and counting) and texted me to let me know.
When I saw my photo, I felt vindicated and almost relieved that I hadn't just been paranoid about what he was doing. But I also felt hurt and humiliated – especially by the comments mentioning my "gaping orifice" or sarcastically pondering, "I'd like to know the name of her finishing school." I was the butt of a joke without my knowledge, in front of thousands of strangers. I'd been "stranger-shamed".
And unlike other women who have since got in touch with me to say that they've been featured on similar sites and felt "helpless" to do anything, I wasn't going to let it slide. Not only am I a journalist with time on my hands to sort this out, but with a few internet searches, I found the email address of the man who had uploaded the photo of me. I asked him to remove my picture, and although it's now been taken down (by Facebook, not by him) hundreds of other women's photos are still up there.
The thing is, I'm also of a generation whose default setting is "broadcast". I tweet prolifically. I Instagram a new picture each day. I've perused blogs such as "Look At My F**king Red Trousers" and properly laughed at "Jeans and Sheuxs" (anonymous photos of the fashion crime of wide-legged denim with smart pointy shoes). I admit that I've taken photos of people without their permission and uploaded them to social networks or texted them to friends – although it's never been broadcast to thousands of people and it's never for something so basic as eating food on public transport.
It's not illegal, but it is a bit odd when you think about it. When we're in environments such as the Tube or on the web, we feel anonymised, and looking through the periscope of our cameras, we're disconnected from the situation. Obviously, since my experience, I've decided that I'm never going to stranger-shame again.
Since I appeared on the Facebook group, dozens of people have been in touch, including creators of a women-eating-on-the-Tube flashmob set up with the intention of getting lots of women to eat on the Underground to overwhelm and defy any would-be photographer. There is also now a group setting out to shame men taking photos of women eating on the Tube.
But I do question whether e-vigilantism is the way of getting things done. Instead, I hope that by identifying the phenomenon of stranger- shaming, people will think twice before doing it. I don't want anyone – female, male, old, young, wearing a diamante belt buckle reading "porn star" – to be shamed like this. Sure, it'd be lovely if Facebook closed down stranger-shaming groups or if the British Transport Police could ban people taking photos of strangers on public transport. And I have every faith that Project Guardian, a scheme from BTP which sets out to deal with harassment, will tackle stranger-shaming.
But to really stop this from happening, we need to police ourselves. Next time you see someone wearing or doing something weird, don't get a phone out. Do your friends really want to see that picture of the guy in socks and sandals? Are you really going to be the equivalent of that old family friend who would come round to show you a slideshow of their holidays? Shame on you if so.
Sophie Wilkinson is the news editor of The Debrief (thedebrief.co.uk)
Join our new commenting forum
Join thought-provoking conversations, follow other Independent readers and see their replies