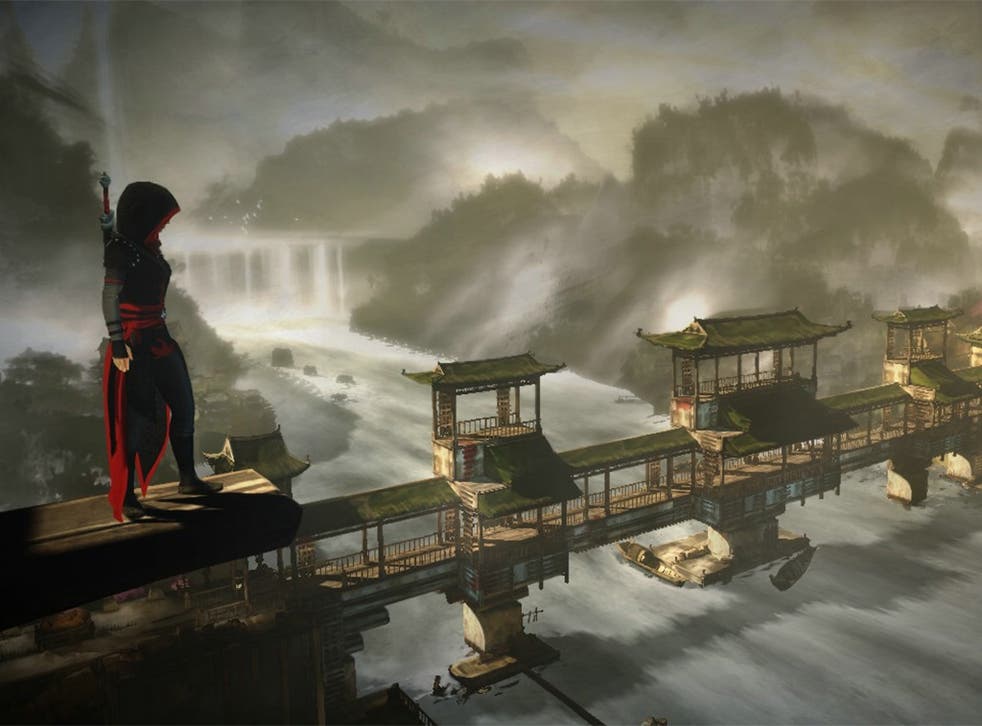 Assassin's Creed Chronicles: China review - all the hallmarks of 80's classic Prince of Persia, with some very neat twists
£7.99; Xbox One, PS4, PC; Ubisoft
David Crookes
Tuesday 21 April 2015 13:18 Comments
In 1989, a game developer called Jordan Mechner created the 2D platform adventure, Prince of Persia. It was ported to just about every computer at the time and it spawned two sequels – one good, one ugly – as it amazed gamers with its combination of swashbuckling action, rotoscoping animation and environmental puzzles, pitted against the clock.
The series was given a 3D reboot 14 years later and, just like the original, Prince of Persia: The Sands of Time was a major success. It went on to inspire a Hollywood film of the same name, starring Jake Gyllenhaal and Gemma Arterton, and it also led to developer Patrice Désilets being asked to produce a follow-up called Prince of Persia: Assassin.
That game was to feature the prince's bodyguard as the hero but publisher Ubisoft felt uneasy about brushing aside the main character of the previous games. So it asked another team to create a new Prince of Persia called Warrior Within and it refocussed the intended sequel under a new name: Assassin's Creed.
Since then, AC has become Ubisoft's dominant franchise and PoP has not had a major release since 2010. And yet, in creating the new entry in the long-running Assassin's Creed gameography, Ubisoft is very much harking back to its late-1980s Prince of Persia roots. For Assassin's Creed Chronicles: China has all of the hallmarks of Mechner's classic, albeit with some very neat twists.
Assassin's Creed Chronicles: China - in pictures

Show all 7
The game has a unique art style that befits its Chinese setting and each of the levels have been created in 2.5D. For the first hour or so, there is much hand-holding as the game gets you to grips with the basics of play and while this does slow things down – the pauses following the instructions being a few seconds too long – once it lets you get on with things yourself, the pace really hots up.
Although you have weaponry to hand, including your trusty sword once you find it, much of the game is about avoiding detection. As you leap around platforms, climb up walls, open gates and slide through, you're keeping an eye on the various guards that litter the landscape. To prevent them from seeing you, the main character Ming Dynasty-era assassin Shao Jun, can hide in dark doorways or skulk beneath a walkway.
Each of the guards make their sights clear which means much of the gameplay is about patience as you work out their movement pattern. You have to decide whether the correct thing to do is plough on, all-swords blazing or try and find a stealthier way to progress. You get greater rewards for stealth and that pushes you on to find a non-violent solution. Even so, while the answers can involve distracting the guards by whistling, you can also set off firecracker to temporarily blind your foe or fire darts to drop crates on their heads.
Certainly, the assassin's skills are not wasted and there is plenty of scope for a satisfying, undetected kill, as gruesome as that sounds. You just have to remember to hide the bodies before the guards spot them and launch an investigation, a hair-raising moment during which a countdown shows you how long you have before you're safe again.
There is no doubt that the game gives you a lot to do. There are animus shards to collect, Leap of Faiths to accomplish and objectives to complete. When played in small chunks of an hour or so, the time goes quickly and you have a blast. Spend much longer than that in one sitting, though, and you can begin to tire.
It doesn't help that the restart points can sometimes be too far back, leading you to repeat a series of moves over and over again if you find yourself struggling. With perseverance, though, all of the obstacles can be overcome and you can also start to pull off some amazing, parkour-style moves.
And the 2.5D makes all the difference. Whereas the 1989 Prince of Persia game had the player merely moving left and right, this kind of perspective lets the gamer move back and forth too. It not only lends depth to the environment, it also gives a difference perspective on the puzzles as you watch out for red spots that indicate an interactive feature and swing across gaps on a piece of rope.
For Assassin's Creed fans, it's a must. But for those who like their games a little more retro, it is also perfect. Even though this title was intended to be one, full-price title but has been chopped into three segments, it plays like a standalone game. But it means that if you like this then is more to come. India and Russia instalments will be released later in the year and they are sure to be eagerly awaited on this showing.
Register for free to continue reading
Registration is a free and easy way to support our truly independent journalism
By registering, you will also enjoy limited access to Premium articles, exclusive newsletters, commenting, and virtual events with our leading journalists
Already have an account? sign in
Join our new commenting forum
Join thought-provoking conversations, follow other Independent readers and see their replies