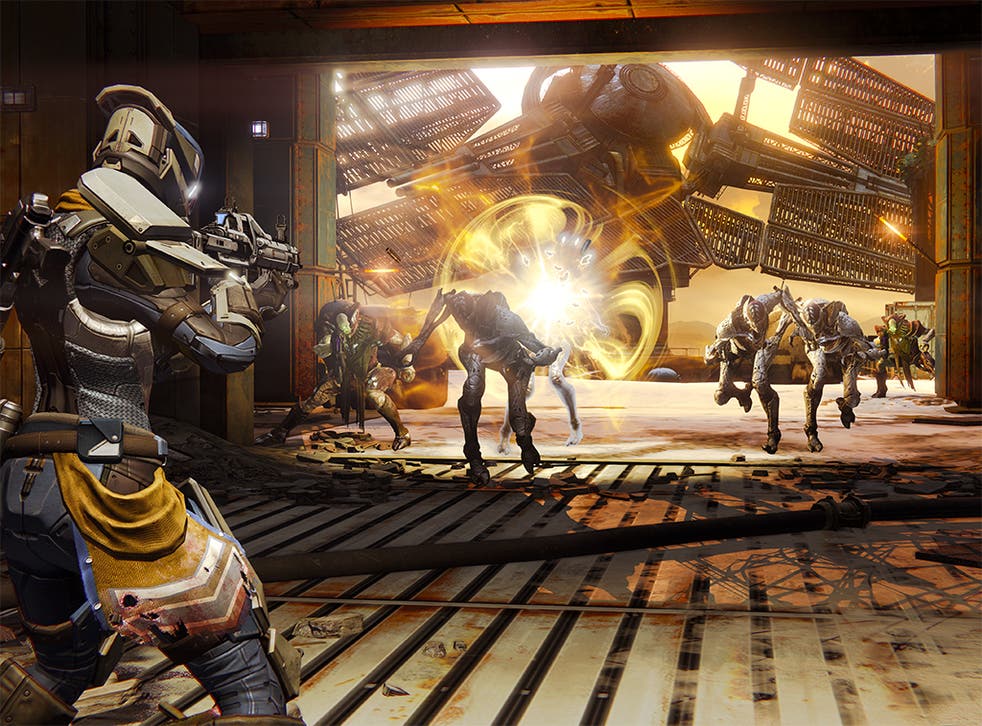 Destiny review: It's a blast to play, but the story is lacklustre
PS4(reviewed)/PS3/Xbox One/Xbox 360; £59.99; Activision
Max Wallis
Monday 15 September 2014 12:13 Comments
Destiny is a 'shared-world shooter' set seven-hundred years in the future in a solar system gone to ruin. It's made by Bungie, the creators of Halo, and Activision, the publishers of Call of Duty.
In the most expensive game ever made, you take the role of one of the mysterious Guardians as they fight against The Darkness, an ancient evil that has come to wipe out humanity and maim The Traveller. Players are imbued with the Light of The Traveller - a moon-like alien that floats above Earth, having arrived many centuries ago and initiated a golden age - before The Darkness followed it there and crushed humanity.
Players can take up the mantle of a titan, warlock or hunter. Each has its own special skill and you unlock new weapons, items and skills as you defeat more enemies and complete missions, levelling up. It's effectively a MMO-version of Halo. Players can also form cooperative groups together, 'Fireteams', with up to three players, fighting through missions and strikes, all of which end in a battle with a boss. The game sees you travelling from Earth's Old Russia, to the caverns of the moon, to Venus's overgrown academies and finally, to Mars, in an effort to push back The Darkness and find out what occurred.
30 games released before Christmas

Show all 30
Despite this worldbuilding, however, the story is lacklustre at best. There are riffs on Mass Effect here - an ancient enemy returning, you seeking answers - and, of course, Bungie's seminal Halo. But the game isn't fully committed to telling that story in the way many players will want. Instead it does so in a staccato, Uzi-like fashion. You play a few missions of story, then backtrack to level up, then move forwards again. If you don't wait the full 30-seconds after completing a mission, where the countdown waits to return to your ship, it's very easy to miss the cut-scenes altogether.
More insultingly most of the lore is tied up in Grimoire Cards - collectables which give you more info about the world but can only be accessed online or on your phone/tablet using the companion app. It's a game that seems stuck halfway between its shooter heritage and the MMO-light that it wants to be.
After the end battle there is a key statement: the end is just the beginning. As clichéd as this is, with Destiny it looks to be its most promising feature. Over the next year content updates will drop (two expansions and many free chunks of DLC) to keep the player coming back. They allegedly have a ten-year roadmap in place for the franchise's future. I'm able to forgive the game its faults because of this.
The mechanics, as I have previously said, are incredibly fun. The game is a blast to play, but occasionally the veil drops and you can spot the algorithms making enemies respawn and the window-dressing that belies a deeper interaction.
In an industry where new franchises are risky endeavours, where 'sequelitis' has become entrenched, it's refreshing to see a new mythology born so early in the console cycle, and one that's had the business backing to fulfil its goals. This is definitely a first-generation next-generation game. But it's one worth playing, and investing in.
@maxrobertwallis
Register for free to continue reading
Registration is a free and easy way to support our truly independent journalism
By registering, you will also enjoy limited access to Premium articles, exclusive newsletters, commenting, and virtual events with our leading journalists
Already have an account? sign in
Join our new commenting forum
Join thought-provoking conversations, follow other Independent readers and see their replies