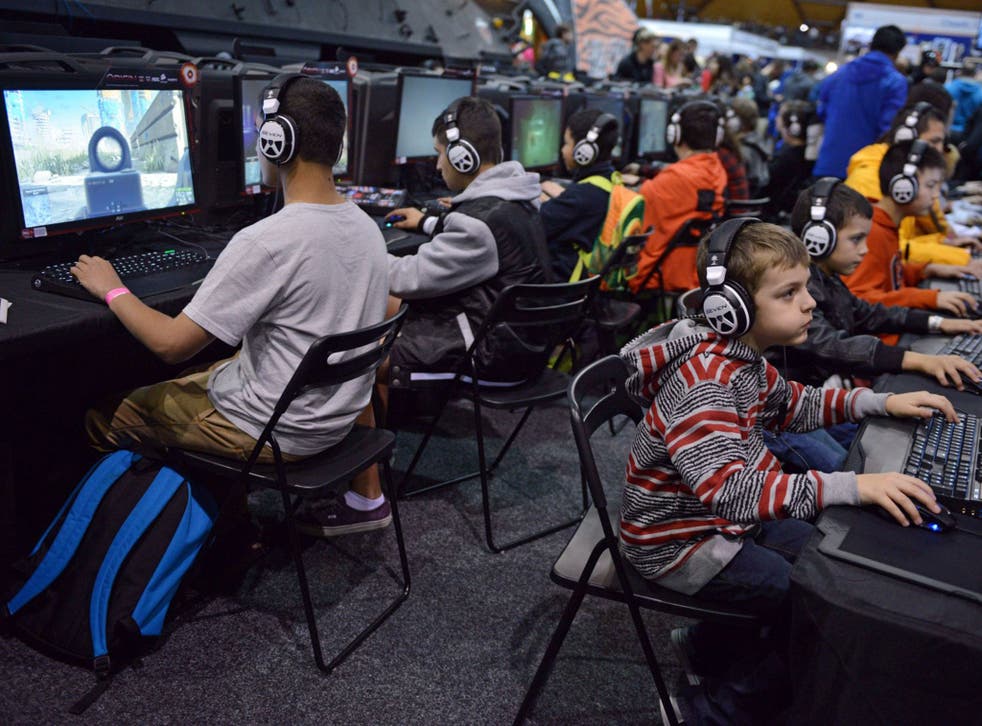 Nerds are the new jocks: US university offers athletics scholarships to skilled video game players
The private college in Chicago wants to attract competitive, tech-savvy but non-sporty students and has received hundreds of inquiries
It is surely the dream of any teenage gamer: a subsidised college education that involves sitting around all day playing video games.
But now one US university has turned that dream into non-virtual reality, by offering athletics scholarships to skilled players of the online battle game League of Legends. Robert Morris University, a small private college in Chicago, already recruits some 1,400 students a year by awarding them athletics scholarships in sports such as basketball and American football.
From autumn 2014, however, they will be joined by as many as 30 more to be awarded the new League of Legends scholarships – the first of their kind in the US.
The university has set aside a total budget of approximately $450,000 (£265,000) to fund the scholarships, the largest of which will be worth $19,000 – about half the cost of tuition and accommodation at Robert Morris. The scheme was conceived as a way for the university to attract competitive, tech-savvy but non-sporty students – most of them young men. In the days since the scholarships were announced, the school has reportedly received hundreds of inquiries.
The League of Legends scholarships were the brainchild of the school's associate athletics director, Kurt Melcher, who told the Chicago Tribune that the video game "[is] a team sport. There's strategy involved. You have to know your role in the game. Obviously it's not cardiovascular in any way, but it's mental. There are elements that go into it that are just like any other sport".
Several institutions already offer scholarships to prospective students with gaming potential, including Sony, whose GIRL scholarship programme was created in 2008 to support young women with ambitions in the video-game industry. California's Academy of Interactive Arts and Sciences also offers several scholarships to prospective gaming professionals.
The Robert Morris programme serves to demonstrate the increasing esteem in which competitive gaming, or "eSports", is held. Some leading players are internet celebrities, capable of earning more than $100,000 a year, whose games are viewed by tens of millions of people online. In 2013, the US government began to issue visas to international eSports competitors that recognised them as professional athletes. Last October, a live League of Legends tournament sold out the 18,000-capacity Staples Centre arena in Los Angeles.
League of Legends was created by the Santa Monica-based studio Riot Games and released in 2009. By 2014, it had more than 67 million monthly players worldwide, 27 million of whom play daily. During peak playing hours, there are often more than 7.5 million people competing online at the same time. Players control an avatar, or "summoner", in a fantasy environment, and must team up with other summoners to complete tasks and defeat rival teams.
The game already has competitive school and college leagues in the US. More than 750 high schools in 46 states participate in the League of Legends High School Starleague, which is likely to produce many of the candidates for the new scholarship. Some 550 universities including Harvard and George Washington field League of Legends teams in the Collegiate Starleague, though Robert Morris will be the first to make gaming an official varsity sport.
The scholarships are expected to generate three varsity League of Legends teams and several reserve squads. The college is also looking to recruit a coach. The university insists its varsity video-game players will be considered the same as members of the university's more conventional sports teams. "It's not like traditional sports," Melcher said. "But as far as how the school will treat them, they'll be looked at the same way as our basketball players or football players."
Game on: The course work
League of Legends is an online computer game in which players create a fantasy character called a "summoner" and take part in virtual battles.
They form teams of varying sizes to complete various tasks while defeating a rival team.
LoL's website says: "Two teams of powerful champions, each with a unique design and play style, battle head-to-head across multiple battlefields and game modes."
By 2014, it had more than 67 million monthly players worldwide, 27 million of whom play daily.
The website cautions that the game requires "strategic thinking, lightning reflexes and coordinated team-play to crush your enemies".
Join our new commenting forum
Join thought-provoking conversations, follow other Independent readers and see their replies