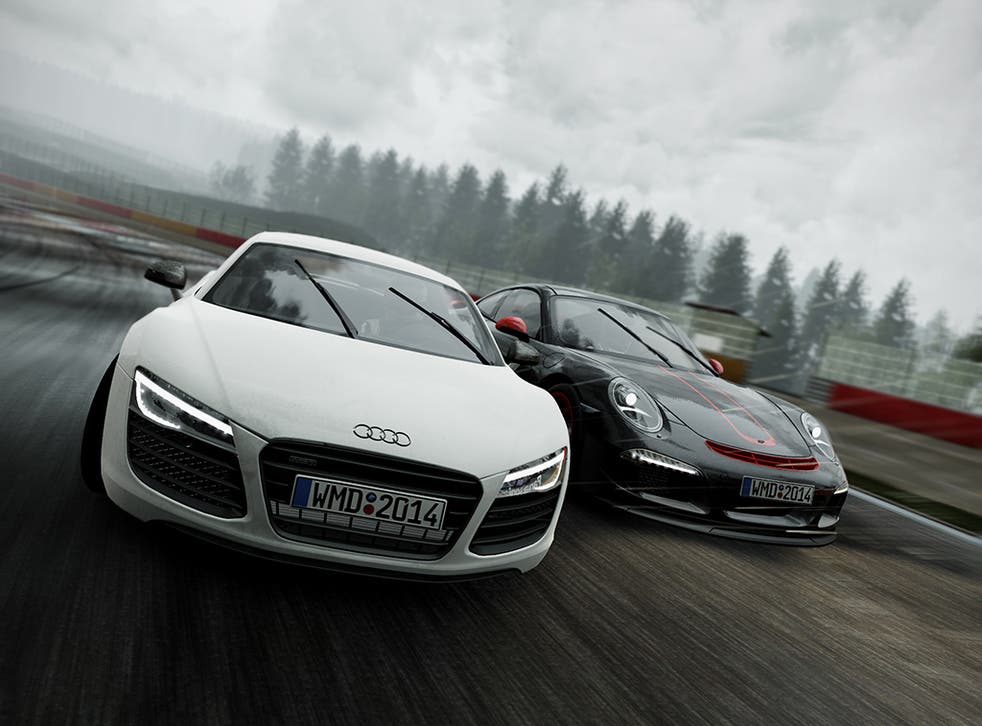 Project Cars preview: Wheels to make you go 'wow'
While Gran Turismo has dominated PlayStation for years and Forza has made the Xbox their own, Project Cars aims to rival them both
Jack de Menezes
Monday 13 October 2014 12:28 Comments
In an age where playing a games console can be easily mistaken for watching reality, racing simulation games have proven a tricky task to master. The tracks are so accurate that you'll feel the crest coming out of the tunnel at Monaco, or the force of downhill braking as you descend the mountain at Bathurst. Yet there has been one aspect that is yet to be conquered – recreating the full driving experience through to the gamer. Well in Project Cars, they might just have cracked it.
Using the assistance of Ben Collins, otherwise known as Top Gear's The Stig, European Le Mans Series championship leader Oliver Webb and former Renault Clio Cup and European Touring Car Cup driver Nicolas Hamilton – younger brother of F1 champion Lewis Hamilton – Project Cars has been developed to produce the most realistic race simulation experience on the market.
They have already taken a step ahead of their rivals by making Project Cars available on all platforms. While Gran Turismo has dominated PlayStation for years, Forza has made the Xbox their own, but Project Cars can make a case to rival them both.
The long-standing problem has been how to build a game that reflects how different cars handle and behave in different conditions, as Webb tells The Independent.
"People can't lie on their morals anymore, Andy [Tudor, creative director] was talking about the graphics at the start of the day, and everyone's graphics are amazing, everyone's got CAD data now, everyone's got laser track," said Webb.
"There's no 'oh that's better than that', they're all pretty much as real as they should be. The only influence now is the CAD data for the cars themselves, how can you improve that? Well that's where you can get us in and we can tell you what it's like, if you've got standing water at turn three at the Nurburgring with 1,000 horsepower and one wheel on the grass with 20 degrees of lock on, no number can give you that feeling or the feeling in your bum and your stomach and the way you're sitting in the car and what that's like.
With the game set for release on 18 November, Turner has already announced a number tracks that will feature on the game. The usual suspects are all there, ranging from Silverstone to Le Mans and the Nurburgring Nordschleife circuit. But they got beyond the call of duty, with local circuits like Cadwell Park and Snetterton joined by two country road runs in the form of the California Highway and the Azure Coast.
For Collins, he explains how the excitement suddenly started to build once the game took a new realism, and why that has been absent in any game or simulator he's experienced before.
"Weirdly, obviously I love driving - I love driving anything - but I've particularly enjoyed driving the car in the game when it suddenly became much more life-like," said Collins.
"At the beginning it was quite clunky for me. Not being particularly into car games, it was that point that it really broke through and made it drive the way real racing cars do, and then suddenly you start working up a sweat, you start grinning and suddenly an hour goes by very quickly."
30 games released before Christmas

Show all 30
Of course, having a virtual racing champion on board does always help, and with Hamilton providing his expertise on car feedback, Slightly Mad have been able to fine tune their touring cars from their supercars, their Le Mans prototypes from their single-seater F1's. It's been a dream come true for Hamilton to help develop the game, and he's looking forward to seeing how the finished product fulfils the quench for a pure-motor racing game to hit the shelves.
"Without sounding bias probably all of it," says Hamilton when asked what his favourite part of developing Project Cars is. "I've been working on games since I was the age of four and a lot of people want to work on games for a living so to get the opportunity to work with Slightly Mad on a great project that is Project Cars is pretty much a dream come true for me. It's good that they see the value of really developing a good platform for people to enjoy themselves.
"My experience pretty much ranges from seven years of simulation gaming because that's where my career started, doing world championships and national championships, so it's something that I can just implement into my role with these guys".
Project Cars will need to go out and beat its nearest rivals – namely Gran Turismo and Forza Motorsport. While that's a mighty task, the knowledge and experience of the three professional drivers combined with the extensive development of the game itself certainly makes Project Cars one to look forward to.
Register for free to continue reading
Registration is a free and easy way to support our truly independent journalism
By registering, you will also enjoy limited access to Premium articles, exclusive newsletters, commenting, and virtual events with our leading journalists
Already have an account? sign in
Join our new commenting forum
Join thought-provoking conversations, follow other Independent readers and see their replies