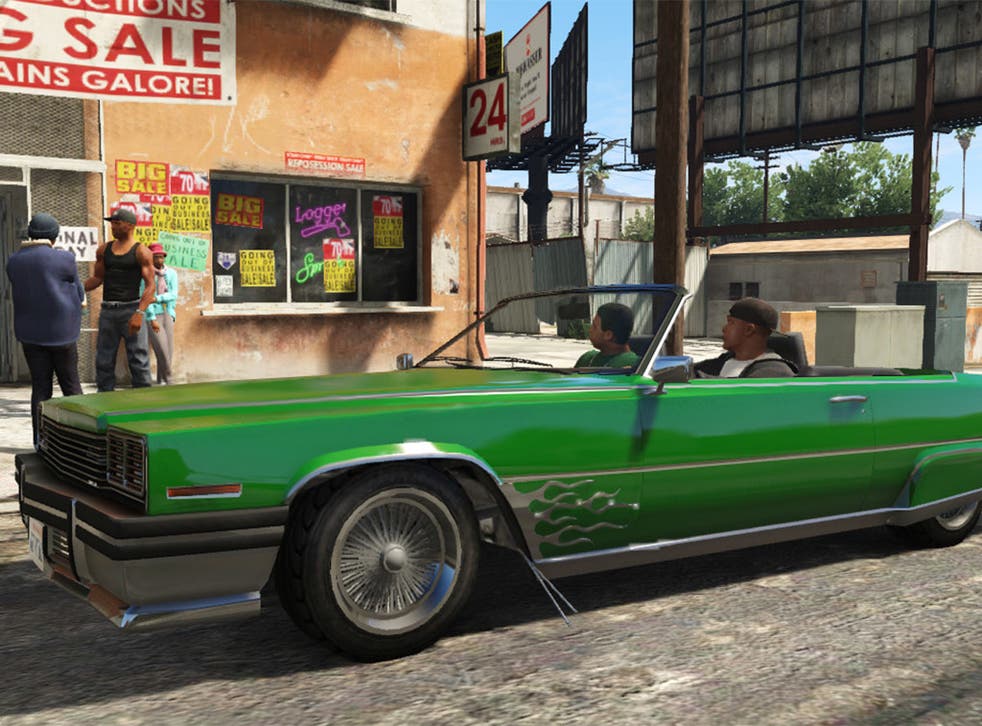 Review: Beautiful storyline, perfect mechanics - GTA V is the grandest game yet
It is also still eye-poppingly violent, but you will really want to play it
To the console cognoscenti, the Grand Theft Auto series has long been acknowledged as the most colossally ambitious, intelligent, and entertaining video game franchise in history. (Quite a short history, admittedly). It is hardly surprising that the fifth iteration, five years and £170m in the making, cements that status still further.
It is also still eye-poppingly violent. But, at least to judge by the first few hours of its enormous span, GTA V hits another, more significant milestone: this is possibly the first game that the wholly uninitiated, wandering through the living room and seeing a son or a girlfriend playing, may find themselves really wanting to play.
This is not because the mechanics of the game are flawless, although they just about are, making your odyssey of car-jacking and bank-robbery effortlessly enjoyable. It's to do with the production values, and the writing, and the acting, and the graphics.
Even in the much-vaunted predecessor to this title, a genuinely affecting immigrant's tale set in Rockstar's version of New York, I found myself drumming my fingers during the cutscenes, rolling my eyes at the predictability of the dialogue. Not here. The script is genuinely funny. The acting is of a piece with any HBO boxset. And the characters' faces are expressive enough that you find yourself drawn in.
In a sense, of course, this is a superficial way to judge a game, which is more about what it lets you do than what it makes you watch – although a well-told story doesn't half make it easier. If GTA V draws you in with its story, it keeps you leaning forward with its almost unbelievable ambition.
I have experienced barely 5 per cent of what Los Santos and its environs, Rockstar's funhouse version of Los Angeles and southern California, have to offer; I already feel giddy from the amount of stuff there is to do, and delighted by the endless small moments of wit that suffuse all of it.
You can play through the beautifully conceived main storyline, sure, flipping between three engaging main characters as you choose, a mechanic that works beautifully; but you can go parachuting or deep sea diving, play golf or race jetskis, hijack a helicopter or trade stocks and shares. These examples barely scratch the surface.
And yet – despite this endless depth – none of what I've seen feels aimless, or overwhelming; every experience that this gargantuan title has to offer seems to chime in with the vision at the heart of it.
Scottish town disgusted at the use of its name in GTA V
Residents of the quiet Scottish borders community of Hawick have spoken of their shock after discovering that the town's name features prominently in Grand Theft Auto V.
Its creators have named a "druggie hipster" district in the game's fictional city after the town about 40 miles south of the game company's Edinburgh headquarters. One councillor described the use of the town's name as "disgusting". David Paterson said: "I am horrified they have put Hawick in a game like that. Hawick is a lovely place, and to see them do that is ridiculous. I'm disgusted."
Neil Pooran
Join our new commenting forum
Join thought-provoking conversations, follow other Independent readers and see their replies