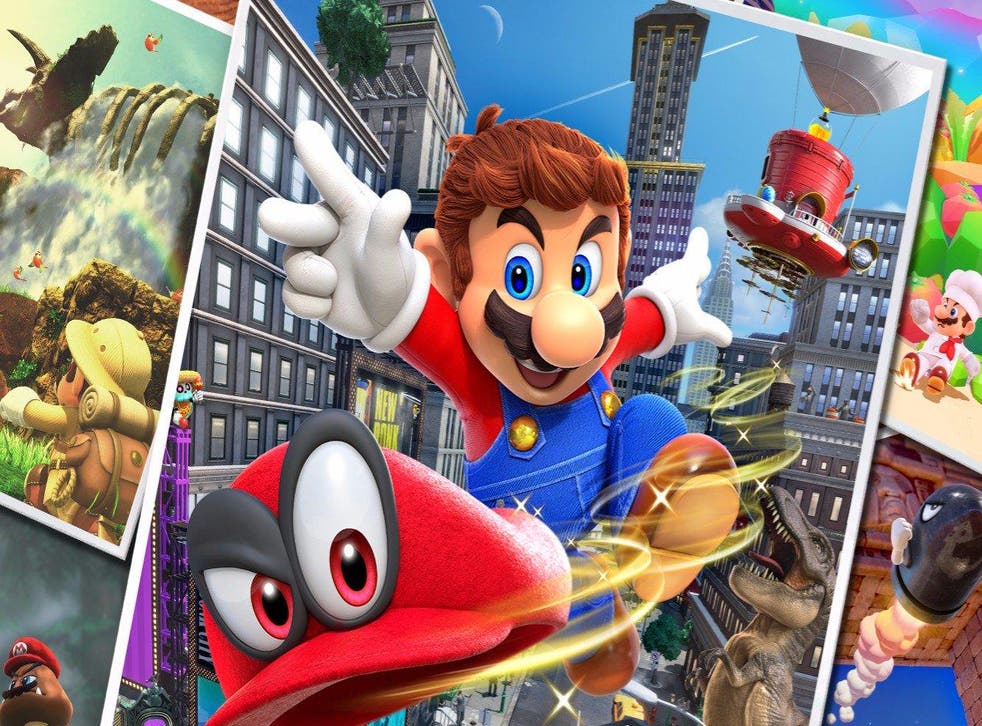 Super Mario Odyssey review: Possibly game of the year
Nintendo Switch - Nintendo - £41.99
Jack Shepherd
Thursday 26 October 2017 13:51 Comments
Has there been a franchise more beloved than Mario? Since debuting in 1981's Donkey Kong, the Italian plumber has driven Karts, played tennis, raced against Sonic at the Olympics, been turned into paper, brawled against Samus Aran, shot hoops, and scored goals with Yoshi… Almost everything Mario touches receives critical acclaim, but nothing else quite reaches the heights of the Super Mario series.
The first version, Super Mario Bros. appeared on the NES in 1985; a 2D game that helped revolutionise the platforming genre. The next big step came five years later with Super Mario World, introducing Yoshi and helping popularise the SNES. Six years after that and perhaps the biggest step forward of them all: Super Mario 64. Along with Zelda Ocarina of Time, the pair would revolutionise 3D gaming, remaining unmatched for almost a decade.
Oddly enough, over 20 years later, and the two best games released in a single year are Super Mario and Zelda. Breath of the Wild managed to astound both critics and the general public, the Nintendo Switch version being heralded as the best game of the year so far. Now comes Super Mario Odyssey, this time a Nintendo Switch-only title, that will no doubt have critics reconsidering their end-of-year lists.
Odyssey sees our titular hero trying to save Princess Peach, the villainous Bowser having captured the fair maiden once more. Unfortunately, Bowser has an enormous airship with seemingly unlimited fuel and has started flying around the world, stealing everything he needs for the most magnificent wedding possible.
Having been thrown onto an unknown island, our suspender-wearing leading man must find a ship, fuel that ship with 'Power Moons', and save Princess Peach before it's too late. Mario's not alone though. While accumulating wedding gift, Bowser stole a living tiara for Peach, and that tiara's partner, Cappy, an Anthropomorphism cap, wants to help Mario save the day.
From here on, Odyssey plays like classic Mario, borrowing the best elements from every previous version. Like Super Mario Sunshine, each level is openly explorable and non-linear, featuring numerous challenges players must complete before being able to move on. Once the initial task has been finished, Mario must traverse each landscape in order to find enough 'Power Moons' to fuel Mario's airship to the next place. These can be collected in almost any order, although some only become available once the initial tasks have been completed.
Gadget and tech news: In pictures

Show all 25
Whereas throughout Sunshine, Mario was accompanied by a robotic backpack named FLUDD, Odyssey sees our hero use Cappy to defeat certain challenges. The most notable mechanic is throwing Cappy onto the heads of other characters, Mario then assimilating their bodies. The sheer variety of characters Mario can become is both brilliant and surprising, ranging from Bullet Bills and goombas to T-Rex's and seemingly stationary rocks. Each also offers a new way to tackle challenges, adding variety to each stage.
That variety perhaps shares more in common with Super Mario Galaxy, one of the finest Mario games in recent memory. Like that space expiatory game, Odyssey offers players a whole host of differing stages, each coming with their own personality. Not once throughout my playthrough was boredom ever a factor. Plus, thanks to a wide variety of hidden areas, almost every stage managed to surprise in some way. What's more, there are certainly more than enough surprises for die-hard Mario fans, who will notice references to past games throughout.
Although Odyssey borrows from these games, there's still something wholly original about the game. Almost everything feels fresh and exciting, helped particularly by the Cappy mechanic which somehow never gets boring, mainly thanks to the number of enemies you can become. Playing Odyssey while on the move, thanks to the Switch screen, also seems revolutionary: having such a huge, beautiful gameplay smoothly on a portable machine's almost too good to be true.
Yet, Odyssey exists. It's here, and it's phenomenal. I haven't had this much fun with a game for quite some time (well, since Zelda). Considering how long the Mario franchise has been pumping out games, that's nothing short of genius. Let's hope we don't have to wait another seven years for a Super Mario game this good.
Register for free to continue reading
Registration is a free and easy way to support our truly independent journalism
By registering, you will also enjoy limited access to Premium articles, exclusive newsletters, commenting, and virtual events with our leading journalists
Already have an account? sign in
Join our new commenting forum
Join thought-provoking conversations, follow other Independent readers and see their replies