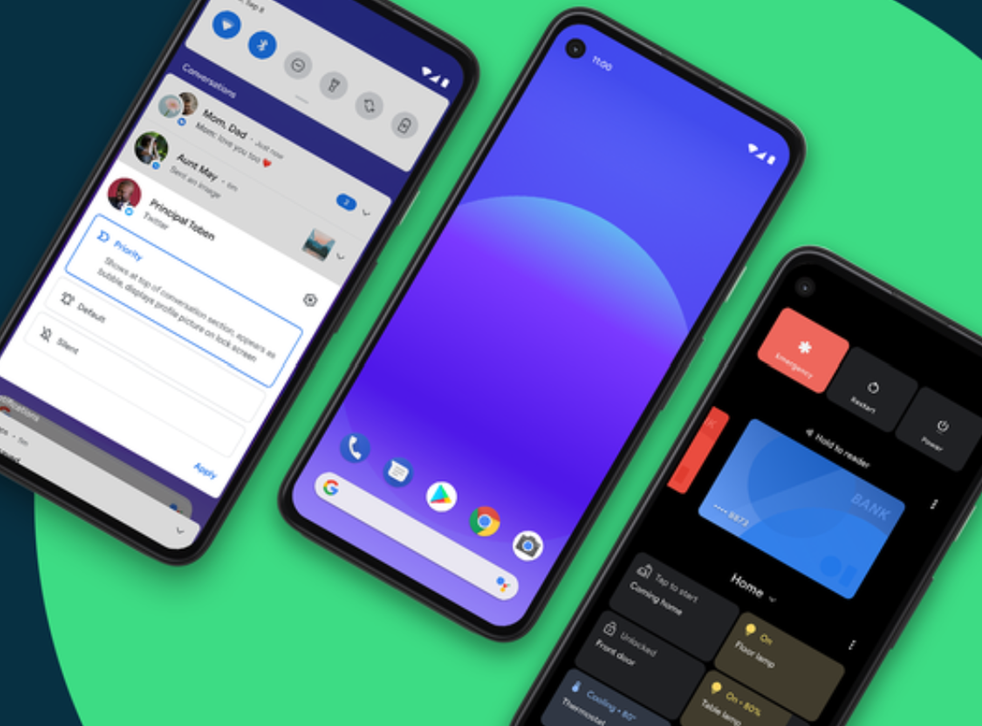 Google's new Android 11 OS brings chat features and privacy to more phones than expected
The update comes to OnePlus, Xiaomi, Oppo, and Realme devices as well as Google's own Pixel smartphones
Leer en Español
Google has launched its latest operating system, Android 11, bringing with it greater privacy controls, floating chat heads, and a new interface for controlling smart home equipment.
Usually, new versions of Android are available primarily on Google's own Pixel devices, with other smartphone manufactures catching up later.
In this instance, however, OnePlus, Xiaomi, Oppo, and Realme phones also have access to Android 11, with other major manufacturers updating in the coming months.
Google has tried to make Android 11 "people-centric and expressive", and has changed conversation notifications and added chat bubbles to achieve that.
Chat bubbles work similarly to the floating heads on Facebook's Messenger app, but for all messaging services.
The small circles can be tapped to open and close and overlaid on other apps, letting users quickly reply to messages while doing other tasks before dragging them to the bottom of the screen to dismiss them.
Other text chats are now in a new "Conversations" panel, which lives at the top of the swipe-down notification menu.
Media controls are also now located near that menu, giving greater access to playback buttons, as well as switching between audio from different apps.
It also makes it easier to send audio to different receivers, letting users quickly switch between playing sound from their headphones to Bluetooth speakers or the device itself.
The new update also sees Google give the power button more functionality as smart-home controller.
A long-press on the power button will bring up payment cards and smart-home devices like lights, locks, and thermostats.
Much like Apple's iOS 14, Android 11 also brings greater privacy controls.
This includes a one-time permission that can be given to apps to use the phone's microphone, camera, or location in one specific instance.
Developers will also be required to get approval to access user locations in background, something which Google has struggled with due to the company's confusing settings and policies.
Other small updates include a change to screenshots so they look more like those on iPhones, a screen recording feature built into the operating system, better voice controls, and greater information about 5G connectivity.
While the new operating system brings many beneficial updates, it could cause issues when incorporated by other manufacturers, such as Samsung.
As The Verge notes, some of Google's new features clash with Samsung's own functionality.  
The power button, for example, currently activates Samsung's smart-assistant Bixby, and Samsung has its own version of wireless payment called Samsung Pay instead of Google Pay.
As such, it is currently unclear whether Samsung will opt to follow Google and change functions to meet the standard now set on Android, or continue to use its own services.
Join our new commenting forum
Join thought-provoking conversations, follow other Independent readers and see their replies