HTC reveals new mid-range phones (and accessories) to recapture the middle ground

Show all 2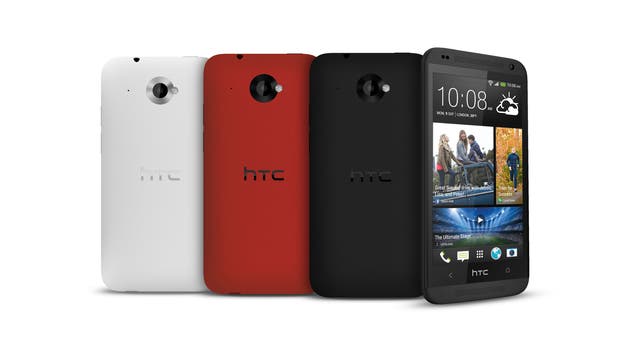 HTC reveals new mid-range phones (and accessories) to recapture the middle ground
Taiwanese phone maker HTC reveals its autumn handsets this morning. <b>David Phelan</b> had extensive hands-on time with the phones
HTC's latest handsets have been the best the company has made. The HTC One is a dazzling behemoth of metal and glass, with an all-aluminium back. If its 4.7in display is just too big for you, there's the HTC One Mini which isn't quite as high-end but still impressive and more manageable with its 4.3in screen. HTC promised that new blue versions of both One phones will be out soon. So that's the premium end of the market covered, what about more budget-conscious pockets?
HTC's other sub-brand, Desire, is alive and well. Already announced is the Desire 500, and this was on hand at HTC's behind-closed-doors session. Although it can't match the One's screen resolution or expensive materials. it's a snazzy phone with elegant design lines that feels good in the hand and offers strong value. The white and blue colour option that looked a little low-end in photographs turns out to be a classy, gleaming handset. It also includes a reasonable quad-core processor and HTC's own front page, BlinkFeed. This is an app taken from the higher-end One handsets and offers a ribbon of tiles that give you bites of information in an appealing and instant way. You choose what inputs feature, including news stations and social networking feeds.
But the main news was the range of extra phones and accessories. There are two more Desires imminent. The x is the bigger of the two, with a 4.5in display and 1.4GHz processor, the same chip found in the HTC One Mini. Like the Mini it has a big stereo speakers on the front for what HTC calls BoomSound immersive audio. It also has BlinkFeed and a 5MP camera. Technically that means it's higher-resolution than the snapper on the One phones, but they have what HTC calls Ultrapixels – bigger pixels on a bigger sensor which pull in light more accurately and effectively. The Desire has just, you know, pixels, not Ultrapixels. HTC says the Desire 601 will sit near the top of the Desire range but a little below the One Mini.
Coming soon is the Desire 300, with a smaller display, 4.3ins. It's as close as HTC will get to entry-level, by which it means it'll be more affordable but not cheap or under-powered. Unlike the 601, the 300 is not a 4G-compatible phone, so you won't be enjoying the super-fast data speeds coming on stream now. If you don't live in London, and aren't with EE, this may not matter to you just yet as only EE has 4G coverage in a lot of places – just over 100 towns and cities, in fact.
Also announced were the HTC BoomBass – a 6.4cm cube speaker which uses Bluetooth and NFC to play music from your phone. It has a strange base that slides out. It doesn't improve the sound, it just gives you a place to plonk your handset. The battery lasts nine hours between charges.
There's also a keyring gadget called the HTC Fetch. Forgot where you left your phone? Press the Fetch's button and it'll make the phone play a tune. And if you can't find the key ring, the phone can cause the Fetch to sing to you.
Finally, the HTC Mini Plus is a tiddler of a handset that looks like a home phone. It has no direct connection to the mobile phone network. It links by Bluetooth to your smartphone or tablet so it can stay in your bag, say, while you answer the call on the Mini Plus. This is handy for people concerned about radiation levels from mobile phones as the Bluetooth link is much lower-powered. It can also be used as a way to trigger your HTC One's camera shutter remotely, for instance.
HTC, thanks to the One, is better-known than ever. It's making its best phones. And sales are increasing. But the challenge for all Android phone makers is simple: Samsung. While the Korean manufacturer continues to dominate every part of the Android phone market, its rivals have a steep hill to climb. On the evidence of these cool new phones rounding out the company's portfolio, HTC deserves to do well.
Join our new commenting forum
Join thought-provoking conversations, follow other Independent readers and see their replies