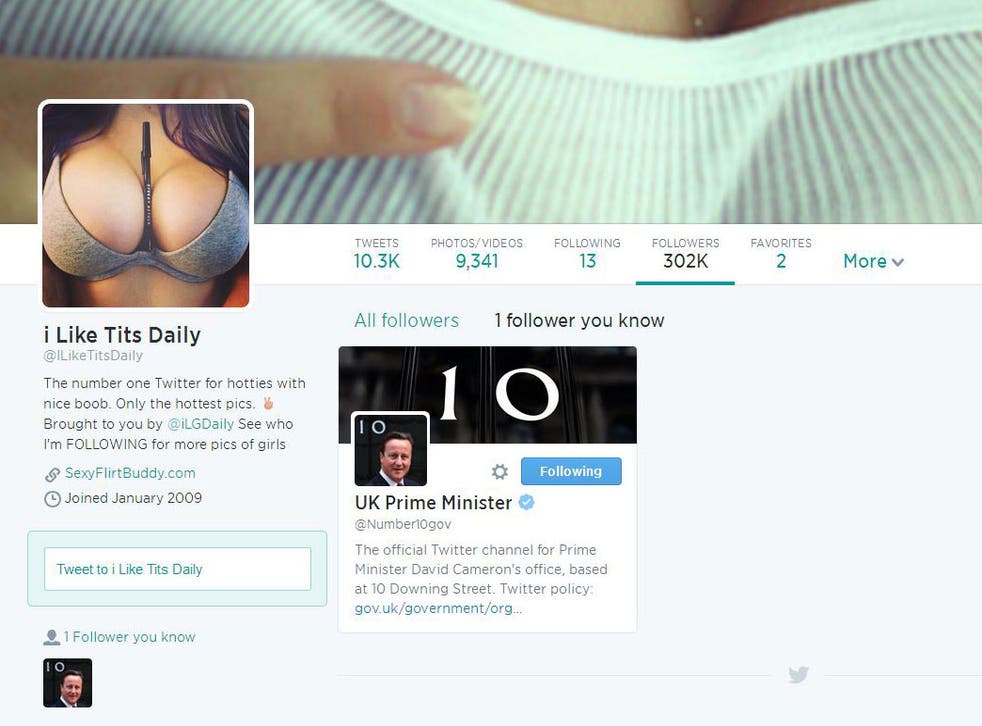 'I Like Tits Daily' among bizarre Twitter accounts followed by David Cameron's office
Downing Street said many profiles were followed automatically years ago
Downing Street's official Twitter profile is following "I Like Tits Daily", the "number one account for hotties with nice boob [sic]" among other bizarre accounts.
The Number 10 Twitter account, named "UK Prime Minister", is managed by the digital communications team in David Cameron's office.
Among the expected charities, government departments, newspapers and politicians, some unexpected accounts are among the 366,000 profiles followed.
As well as @ILikeTitsDaily, there is a plus size model claiming to be from "OUTTERSPACE" spotted by Chat Politics, there is a wedding poems account, an American bikers' meet-up group and forklift company.
Evangelist pastors, Britney Spears fans, a "cowboy accessories" shop and wannabe rappers are also on the list.
Many of the accounts followed seem to be dubious automated Twitter bots that spew out spam.
Number 10's online social media policy stresses following a Twitter account "doesn't imply any kind of endorsement".
A spokesman said that many were not followed by staff but automatically because of Twitter software dating back four years.
"Prior to 2010, an auto-follow process was used, meaning that @Number10gov automatically followed anyone who followed the account," she added.
"This was common practice at the time for many corporate accounts, but was discontinued in 2009.
"As a result of this legacy, the @Number10gov account follows almost 370,000 accounts and we have taken steps to un-follow as many as possible that are inactive, spam or inappropriate. This work is ongoing."
The Prime Minister's personal Twitter account (@David_Cameron) is far more conservative, following only 363 people including Davina McCall, Patrick Stewart and Gary Barlow.
Join our new commenting forum
Join thought-provoking conversations, follow other Independent readers and see their replies