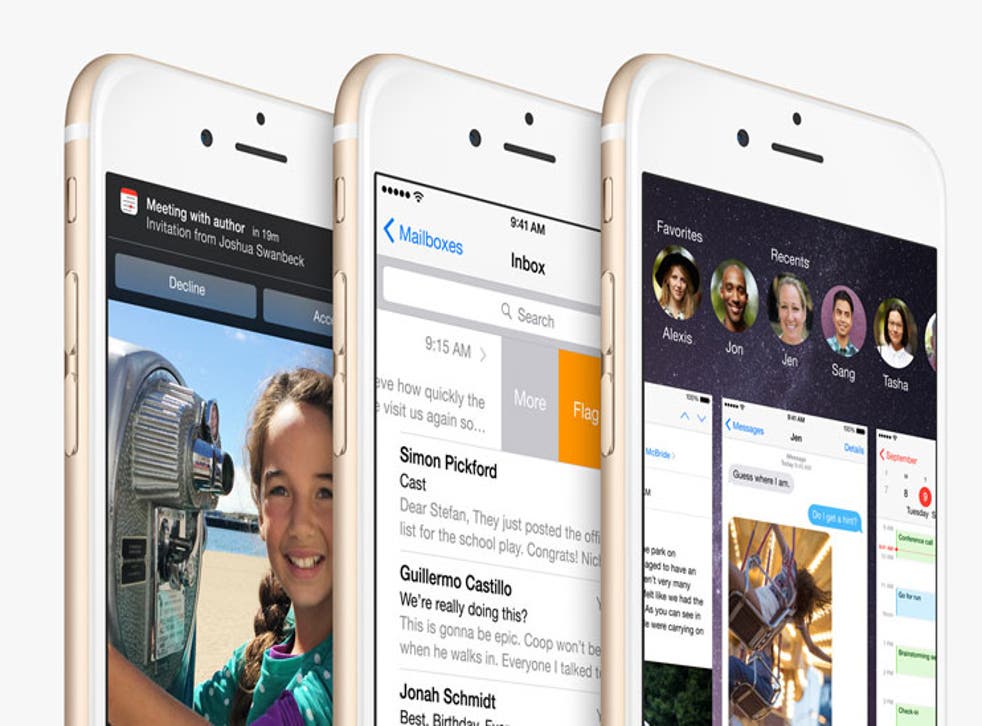 iOS 8 review: not an overhaul, but the iPhone is gradually growing up
Most of the noticeable changes are small or gaudy. But the iPhone's new software introduces changes that might define the future of Apple
iOS 8, arriving alongside the new iPhone 6 and iPhone 6 Plus this week, is a gradual change to Apple's mobile operating system rather than the complete overhaul. But it brings a host of new features, as well as small changes to the design, that will make the iPhone easier and quicker to use, prepare it for the iWatch, and allow you to control your phone from your computer for the first time.
Design
After updating, the first thing you'll likely notice is, well – nothing much. In most of the important ways, the look of the thing hasn't changed at all. iOS 7 famously got rid of the 'skeumorphic' elements of the user interface (all that mock leather and linen) and replaced it with a more flat, colourful design - and iOS 8 is broadly similar. However, while iOS 7 is beautiful, it seems to have introduced an obsession with colour and flatness that stunts its successor, soemtimes giving the phone a childish feel.
Thankfully, most of the focus has been on small, useful changes with time-saving tweaks sprinkled throughout. You can now swipe down from notifications to reply to them without moving out of an app; a long swipe over a message in Mail deletes it; and you can pull down emails while composing them to see the rest of the inbox.
The keyboard has also been overhauled and now suggests words as you type, with the option to download popular third-party alternatives like SwiftKey. The improvements, which Apple calls QuickType, mean that you'll spend less time typing and apologising for autocorrect's sometimes-embarrassing interventions.
But other changes meant to make the design easier can be confusing to use. The app-switcher, for example, that comes up with a double click on the home button now shows recently contacted people, but why bother when these individuals will be at the top of the Phone and Messages apps anyway? While it may not be initially obvious when to use the feature, it's a part of the broader move within iOS 8 towards a quicker experience with less friction and time spent navigating through menus.
Siri
The voice-activated virtual assistant has gone properly handsfree now – if your iPhone or iPad is plugged in to charge, you can just say 'Hey, Siri' within hearing distance and he (or she) will wake up. It works remarkably well: in testing, even talking from across the room and whispering worked almost all of the time.
Siri is now more useful when you've woken it up, too. There's visual feedback, writing out what you're saying in real time and meaning that you don't have to wait until you've finished your sentence to work out whether it's heard you properly and it also uses the Shazam app to identify music, which is almost always quicker than clicking through to the app itself.
It's still a little slow, leaving you waiting after you've asked a question, but when you get through it's now a much better process. Previously Siri seemed a little pointless: you had to hold the home button down to activate it, defeating the point of handsfree, but finally Apple's virtual assistant is starting to realise its potential. You don't have to be holding, or even be near, your phone to use it, and it's actually useful once you're doing so.
Continuity
What Apple calls Continuity – its plan to have your stuff spread across all of your devices – means that all messages, even ones not sent through iMessage, will be shared with other devices like phones and laptops along with calls: all popping up on the screens of other iOS devices and computers running Mavericks, the new OS X.
(The feature isn't going to launch until that new Mac OS comes out, it seems.)
Messages itself also adds a bunch of improvements borrowed from third party apps like Whatsapp including better control of group conversations (name them! Mute them!) and the ability to send short audio and video messages. Another part of Continuity, Handoff, means that you can start work on one device and pick up on another one - whether it's composing an email, writing down a note or fiddling with your calendar.
It works well, and became more of a natural process throughout testing - stopping using one and moving to another is so seamless that it hardly requires any thought. How useful it is however will depend on how many Apple devices you use and how often. All part of Apple's plan to get you hooked no doubt.
Health
Health, the swish body and activity tracking app that's part of iOS 8, has only limited use on its own. On the iPhone 5S and the 6s, the phone can track your movements, making at least some guess at what you've been up to and how active you've been. (Most of the technology to do so was introduced in the 5S, and it's been refined in the new iPhone.) Otherwise most of the data that the app can collect requires manual entry — how long you've been asleep, for example — or new hardware, like measuring heart rate.
All this will change when Apple Watch arrives in early 2015. The smartwatch will use sensors to take data from your body and feed it into the Health app. Without a smartwatch monitoring you, the Health app is a weird and only sometimes useful icon sitting on your homescreen, but with Apple's new watch it could become a hub for the company's slick vision of better health for you and everyone around you.
Family sharing
Apple has added support for families into iOS 8, letting you and your family members access each other's music, films, TV programmes, books and apps, and meaning that you only need to buy one copy for the whole family. You can also share calendars, photos and your location and there are controls to stop children buying apps on their parents' credit cards: adults can set limits on what their children can spend, and have requests to buy things sent to their phone so that they can approve it from anywhere.
Photos/Camera
The Photos and Camera apps have been re-designed, adding new features that previously required third party apps. Camera, for example, adds timelapse, allowing you to create fast-motion videos of the kind that often sweep the internet. It also adds a timer for photos, which Apple advertises as useful for selfies.
Apple also built in a new Photos app which would sync with a similar new program on the Mac to be a hub for all of your photos, replacing the old and fragmented iPhoto. That seems to have disappeared from recent releases of both iOS 8 and Mac OS X – perhaps, some suspected, owing to the high-profile security concerns about iCloud's handling of photos after the leaks of naked pictures of celebrities including Jennifer Lawrence.
iCloud Drive
Those iCloud worries might mean that Apple shies away from touting another feature in iOS 8 that is actually very useful: a re-jig of the way it stores files. Since iCloud was launched in 2011 it has stored files in a slightly confusing way, confining them to the apps that they were created in. That meant that a document created in Pages, for instance, was stuck in there and only able to be opened through the app itself.
Now, under pressure from companies like Dropbox, Apple has introduced a more familiar way of navigating through iCloud files, akin to the way that they're shown on the computer. Files are still stored in folders according to which program they were created in, but they are now accessible using a simple system.
Spotlight
Apple has also improved its built-in search, Spotlight (the feature is accessed on iOS 7 and 8 by dragging down on the homepage) adding suggestions from Wikipedia, nearby places and news; meaning that it can become an all-purpose search engine for your phone. However, this is hampered slightly by how difficult it is to actually see those results given that the keyboard obscures half of the screen while searching.
Performance
iOS 8 is compatible with all of the phones that could have iOS 7, apart from the iPhone 4. (That includes every iPad apart from the first one, and every iPhone since the 4s, though some features aren't available on earlier models.) iOS 8 was tested on an iPhone 5, and there was no slowdown from iOS 7. Third party benchmarks confirm that performance is mostly the same or better than it was on the previous version.
Verdict
There's little question over whether you should download the update: it does nothing bad and whether you want to update or not, your phone will likely continue to remind you to do so.
But the value and importance of iOS 8 will depend entirely on what other devices you have. As Apple moves towards a closed ecosystem — Macbook on your desk, iPhone in your pocket, Apple Watch on your wrist — it seems like the importance of every update will depend not just on what phone you have but what other Apple products you own.
iOS 8 will save you time and effort, and makes the phone more powerful than ever before but the real improvements rely on buying into Apple. If you're just an iPhone user, iOS 8 is a good update; if you're a part of the Apple ecosystem, it's the future, no questions asked.
Join our new commenting forum
Join thought-provoking conversations, follow other Independent readers and see their replies