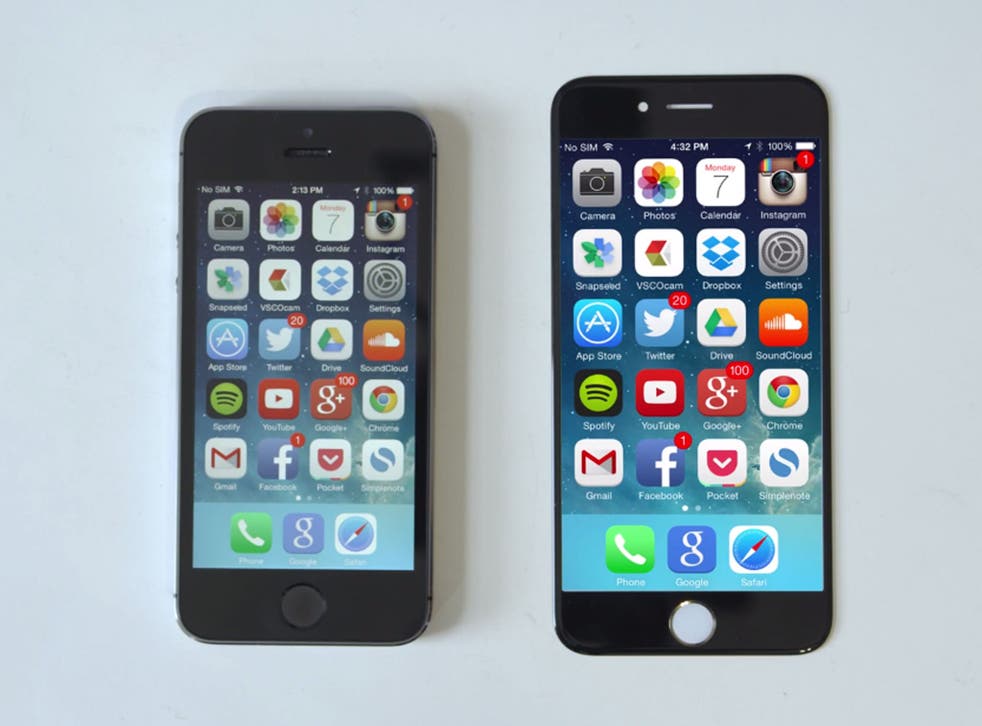 iPhone 6 production confirmed: Foxconn hoping to make 120m handsets in 2014
The iPhone 6 is expected to be available in two sizes - including a 4.7-inch version (seen above right in a mock-up) and an even bigger 5.5-inch device
iPhone manufacturer Foxconn has finally confirmed that it is hiring 100,000 new workers as production begins on Apple's next iPhone.
The company said it is prepared to make as many as 120 million iPhones before the end of the year. The iPhone 5s and 5c collectively sold nine million units on their weekend release - and the iPhone range has, in total, sold in excess off 500 million units.
The news from Foxconn suggests that that Appleis looking to release two new smartphones this year, one with a 4.7-inch screen and another with a 5.5-inch screen, despite rumours that the larger iPhone wouldn't be available to consumers until 2015.
It's also thought the phones will include displays constructed from a sapphire-glass blend: a material that is more resistant to scratches than the Gorilla Glass 3 currently used in the iPhone 5s but not as tough as the pure sapphire that some rumours had originally suggested.
A video made by tech blogger Marques Brownleee (below) shows how displays supposedly leaked from the iPhone 6 supply chain are more resistant to scratching than those of the iPhone 5s – but are far from 'indestructible' as some people have claimed.
Apple's reason for using a glass-sapphire blend (if they are – it's impossible to say for sure) are most likely twofold: firstly, producing sapphire is extremely expensive and Apple has only ever used it in small amounts (such as the camera lens and home button on the 5s) and secondly, smartphone screens are best if they have a little bit of flex them – and pure sapphire might have proved too brittle.
And what else do we know about the iPhone 6 so far? Well, as ever, there's a lot of rumours, but it seems a given that the devices will be released in September this year and that they will use iOS 8 – the latest version of Apple's mobile operating system.
Unconfirmed leaks also suggest that they will be available in three colours (black, gold and grey), that the larger model will offer a new 128GB storage capacity, and that both versions will use an updated version of Apple's 64-bit chip called the A8.
Join our new commenting forum
Join thought-provoking conversations, follow other Independent readers and see their replies