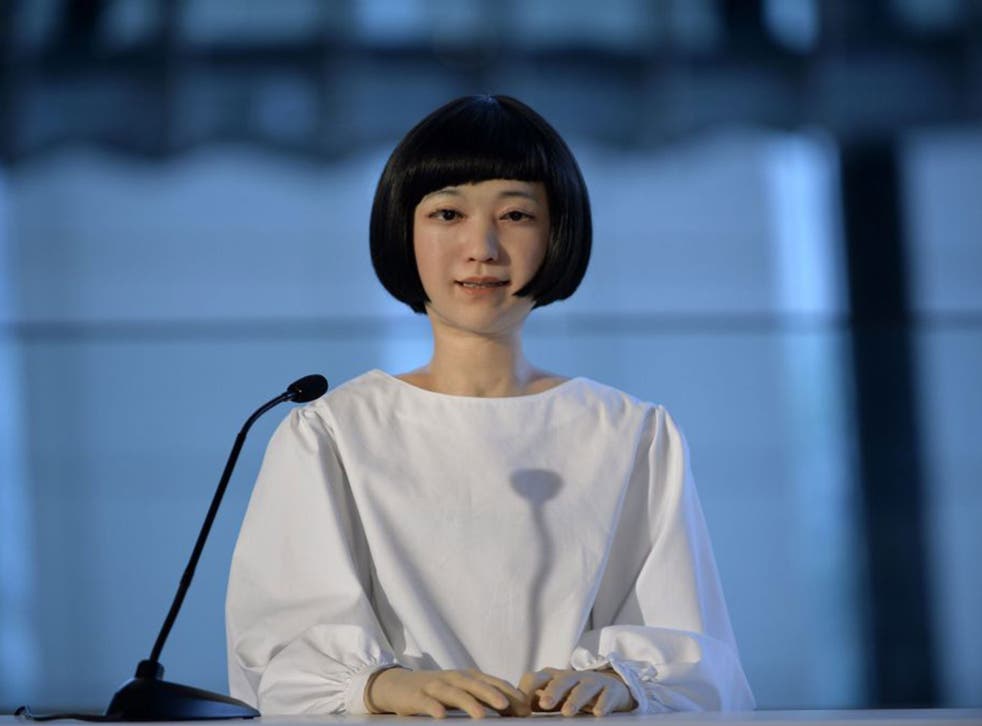 Japanese scientists create creepy robot newsreader with human face
The androids can speak multiple languages, interact with humans and make jokes
Anyone watching the morning news over their breakfast cereal may take a while to realise that this word-perfect anchor is not your average newsreader – she is a robot.
Kodomoroid, an android created in Japan, is able to read the news, recite tongue-twisters, speak multiple languages and interact with people.
Designed as a "child" robot, it can use a variety of voices and switch from a deep male base to girlish tones in seconds while operators put in text.
On Tuesday, scientists also unveiled a woman robot called Otonaroid and Telenoid, which is just a mannequin head with pointed arms that serves as a "cuddly" companion.
The two life-size machines have silicon skin and artificial muscles, giving them an eerily human appearance.
Anyone visiting the Miraikan science museum in Tokyo will be able to meet them and interact with the robots, which will act as guides.
They can even make jokes and Kodomoroid said it dreamed of having a television show.
Hiroshi Ishiguro, an Osaka University professor and robotics expert, is using them for research on how people interact with robots and on what differentiates humans from machines.
He said: "Making androids is about exploring what it means to be human, examining the question of what is emotion, what is awareness, what is thinking."
There were some glitches during Tuesday's demonstration, with the lips sometimes not moving while the robot spoke.
Mr Ishiguro said that while Japan leads the world in playful companion robots, it was behind the US with military robots.
In over 20 years developing androids, Mr Ishiguro has made a point of mimicking the human appearance, even sending robotic doubles of himself to give overseas lectures.
Other robotics scientists say human appearance is pointless, not to mention unsettling, and robots can look like machines by taking the form of a television screen, for example.
One company recently released a robot reminiscent of C-3PO that will go on the market for less than 200,000 yen (£112,000)
"Robots are now becoming affordable - no different from owning a laptop," said Mr Ishiguro.
Additional reporting by AP
Join our new commenting forum
Join thought-provoking conversations, follow other Independent readers and see their replies