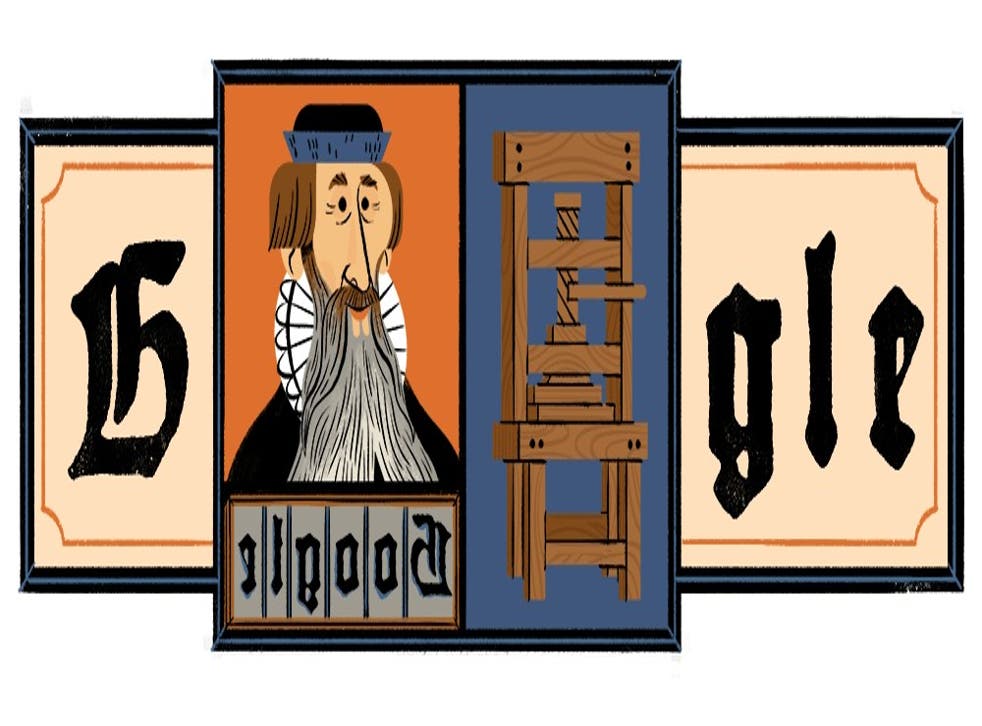 Johannes Gutenberg: Why is Google Doodle honouring him and what did he invent?
German inventor credited with developing the moveable printing press in 15th century
Google is replacing its homepage logo with a Doodle honouring Johannes Gutenberg, the inventor of the movable type printing press.
German-born Gutenberg's invention in the 1400s is credited with bringing about the printing revolution in Renaissance Europe.
Google has chosen to celebrate Gutenberg on 14 April, because on that date in 2000 the Gutenberg Museum in Mainz, Germany, launched an exhibition to honour him in celebration of its 100th anniversary.
The Doodle includes an ornate frame, with the word "Google" written in a traditional Gutenberg-style font.
Both of the letter o's in Google include illustrations of the printing press and of Gutenberg himself and below that is a reverse of Google in block letters as it would have appeared on the press.
"By the 16th century, an estimated 200 million books were in print thanks to his invention, which gave birth to a new era of mass communication and a new branch of media," wrote Google.
Gutenberg, who was a skilled metalworker and goldsmith, modified a winepress to deliver ink to paper around 1436.
In 1440 he is said have perfected his research into the first printing press, which would come into full operation a decade later.
Using his press and a team of workers who would prepare and press each page, Gutenberg could print up to 3,600 pages a day, easily faster than manually copying a text.
In 1456 he is credited with printing a copy of the Latin Bible and from then on his printer would produce a wide range of materials, from pamphlets to novels.
After going bankrupt in the 1450s, he was recognised for his invention in 1465 when Archbishop Adolph von Nassau gave him the title of "Hofmann" or gentleman of the court and a large annual stipend.
The recognition came just three years before his death in 1465.
By 1480 historians say there were more than 100 printers working across Europe and by the 16th century there were more than 200 million books in print.
Although Gutenberg is commonly credited with inventing the printing press, historians point out that there is evidence of moveable printing presses having been invented in Korea in 1234, and Chinese Buddhist scholars had also used moveable type presses, according to worldhistory.org.
Join our new commenting forum
Join thought-provoking conversations, follow other Independent readers and see their replies