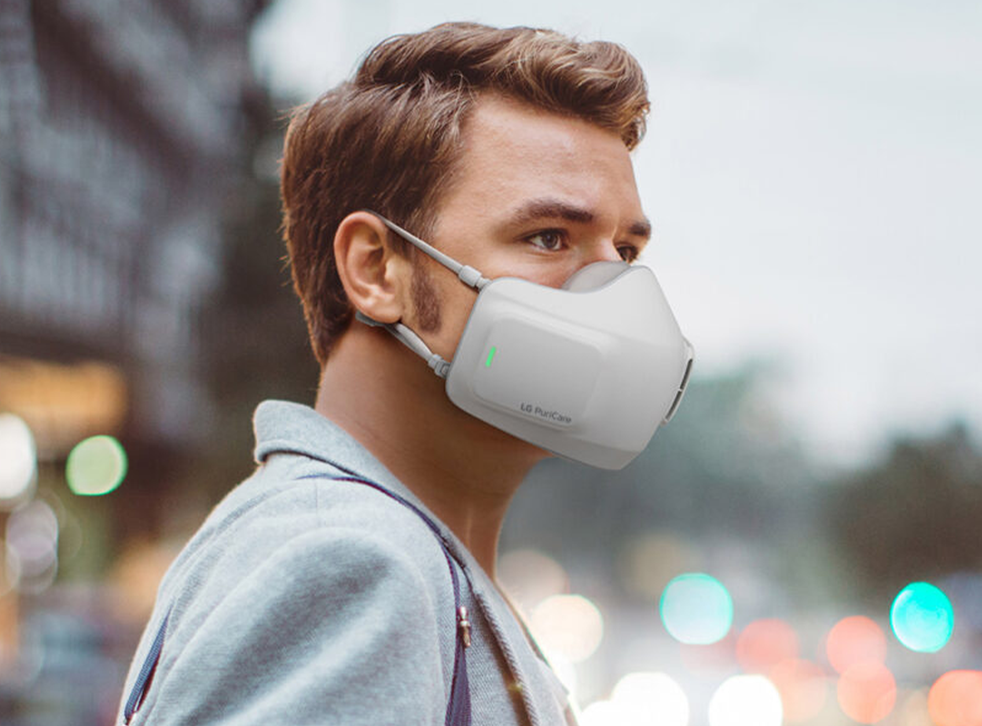 LG's new face mask with built in fans might not actually stop the spread of coronavirus
The mask contains two fans with three speed settings, and a maximum of eight hours battery life
LG has developed a new wearable face mask with a battery and air purifier built in, though it is not yet clear how effective it will be in stopping the spread of coronavirus.
The company says the mask "resolves the dilemma of homemade masks being of inconsistent quality and disposal masks being in short supply".
The new mask contains two H13 HEPA filters, similar to the filters used in the company's home air purifier products.
HEPA filters are able to remove 99.97 per cent of particles that are 0.3 microns in size. One micron, short for micrometer, is 0.001 millimetres. Bacteria cells range from approximately one to 10 microns in length, and 0.2 to one micron in width.
The mask also contains an 820mAh battery which powers two fans, which adjust to the volume of the wearer's breath.
The fans automatically speed up in order to help its wearer breathe in, and also slows down while the wearer is exhaling. This is in order to make breathing easier compared to conventional, fanless masks.
The mask comes with a case that shines ultraviolet light from LEDs onto the mask, which kills harmful germs which have come in contact with it, as well as charging its battery.
When the mask's filters need changing, a notification is sent from the case to the wearer's smartphone – via LG's ThinQ mobile app for iPhones and Android phones – to alert them.
It offers eight hours of battery-powered operation in its low mode, and two hours on its highest setting.
It is unclear how much the mask will cost, when it will be available, and what territories it will be available in. The company did say it would be available in the fourth quarter of 2020, in "select markets".
As has been noted by Cnet, LG has not specified whether the air coming out of the mask will be cleaned in the same way as air entering the mask is. Moreover, it is also unclear whether the mask is capable of reducing the spread of the coronavirus effectively.
According to The Verge, LG did not comment, saying that it was waiting until certification and testing is complete before giving an answer.
In June, LG donated 2,000 of these masks to the Severance Hospital in Seoul to help with the coronavirus effort.
"Amid the protracting COVID-19 pandemic, the company hopes the electronic mask helps medical staff who have to work wearing masks for many hours," said Lee Gam-gyu, executive vice president at LG Electronics, according to the Korea Herald.
The Independent has reached out to the hospital for clarification about the effectiveness of the masks, and LG for more information about the effectiveness of the mask.
The NHS recommends that "vented masks could worsen contamination of the environment", while USA's Centers for Disease Control and Prevention does not recommend masks with exhalation valves or vents.
Join our new commenting forum
Join thought-provoking conversations, follow other Independent readers and see their replies