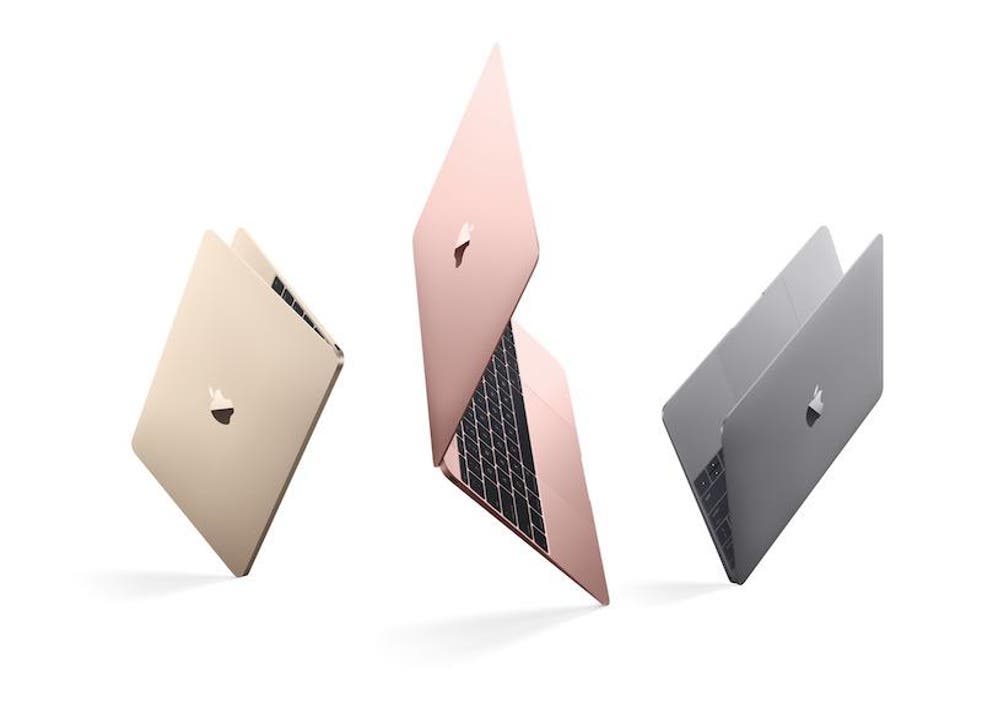 MacBook 12-inch 2016 review: The world's most stylish and portable laptop gets even quicker
The MacBook is Apple's purest version of a laptop – and while it might be a little too pure for some, it's undoubtedly the most beautiful and astounding computer ever made 
To start, the colour: this is the first laptop that Apple has made in its new rose gold, which has already been seen on the iPhone, iPad and Watch. And it's unmissable – a subtle, stylish shade that makes you realise why Apple doesn't call it pink – though you can still get it in a range of other metallic shades too.
Then the rest: the rose gold is just the start of the look of the most stylish computer that Apple or anybody else has ever made. It's slim, light and so neatly designed that when it's closed it looks just like a stunning and flat piece of metal.
Apple has refreshed its smallest but most eye-catching laptops, a year after it shocked many by releasing a new entry to its MacBook range. The 12-inch MacBook sits alongside the Air and the Pro as the lightest and thinnest of the bunch – by far the most distinctive but also the most controversial.
When the computer was released last year, it got some criticism for skimping too much in the pursuit of tininess: it has just one port for charging, transferring data and everything else, and includes a new keyboard that allows the computer to be shrunk down further. But all of that seemed also like a statement of intent, announcing that Apple wasn't afraid of taking extreme measures in the pursuit of the perfect portable laptop.
And the newly-updated laptop is exactly that. Each of those sacrifices goes towards creating a computer that is unbelievably easy to carry around yet stunningly fast. The compromises are significant – this isn't a workhorse so much as a show pony – but they mean that there's nothing left on this computer that wasn't entirely necessary.
In the new model, Apple has kept to that philosophy. Some had hoped that the company would add another port onto the side, or make other changes – but this is from the off clearly a computer that is being slimmed down to its purest possible form. In fact it should be more surprising that Apple didn't drop the headphone port.
Instead, the company has bumped up the internals, offering better graphics performance, faster storage and speedier processors. All of that helps the computer run through most tasks with lightning speed, and it has also allowed Apple to give the laptop an extra hour of battery life – perfect for a computer that doesn't ever really feel like it should be plugged in.
The evolution of the iPhone

Show all 11
Beyond that, the features remain the same. It still has the controversial flatter keyboard, which takes some getting used to but eventually becomes easy to use; it still has the bright, crisp retina display that takes up most of the top half of the computer; the performance and other things like speakers are still shockingly good given their size; it's still breathtakingly small and light.
It still has the mind-blowing trickery of the force touch trackpad, which uses quick vibrations to make you feel like you're pressing a button even though it's just a flat piece of glass – a development that let Apple save even more space.
And all of that is placed into a design that remains striking, even a year after it was actually revealed. Borrowing from the MacBook Air's slim, tapered edges and industrial-looking aluminium, it is without doubt the most beautiful-looking and elegant computer that has ever been made.
And ultimately the answer to whether you should buy it is the same too: Yes, you should get it if you are happy to pay the relatively high price and want a computer that is as beautiful and portable as they come. But you shouldn't get it if you're concerned about the lack of ports or want it to be a computer that you use every day for intensive or storage-intensive tasks.
In short, it's the perfect luxury and leisure computer. It feels like the ideal computer for somebody who doesn't need one for work but just wants to take the strain off their phone. But it has got plenty of power and speed should you need it to put the hours in, so if you want something portable for travelling or easy transportation then it'll do the job too.
But in the meantime, Apple has revealed other attempts to create the computer of the future. Yet more alternatives like the new MacBook Pro are expected to come later this year.
If you want a portable, svelte computer of this kind then perhaps the biggest rival is Apple itself, and the iPad. Tim Cook has called the iPad is "the perfect expression of the future of computing" – so why get a laptop, even if it astoundingly futuristic itself?
In some cases, that choice might be obvious: there's a range of tasks that can still only be done on a traditional computer and operating system. But those tasks are getting fewer and fewer – and, if you're not doing anything particularly specialist, then there might not be any of them left.
Ultimately it will be a question of preference. Do you want your computer to be touch screen and adaptable, like the iPad, or able to run full apps and be ready to type fully with the MacBook? Either way, Apple has you covered – and if you do opt for both then they look stunning next to one another, and work in harmony.
And that choice might, for the moment, come down to have a laptop: the iPad is the vision of the future of computing, but the laptop still remains the most common way of getting things done at present.
If you make that choice, this laptop has all the future that you need, anyway, with amazing speed and performance and a look that wouldn't be out of place on the most chic spaceship. But it packs all of that into a box that can do most things you ask of it – singular port excepted – and is undoubtedly ready for you to use now and for almost everything you do.
Join our new commenting forum
Join thought-provoking conversations, follow other Independent readers and see their replies