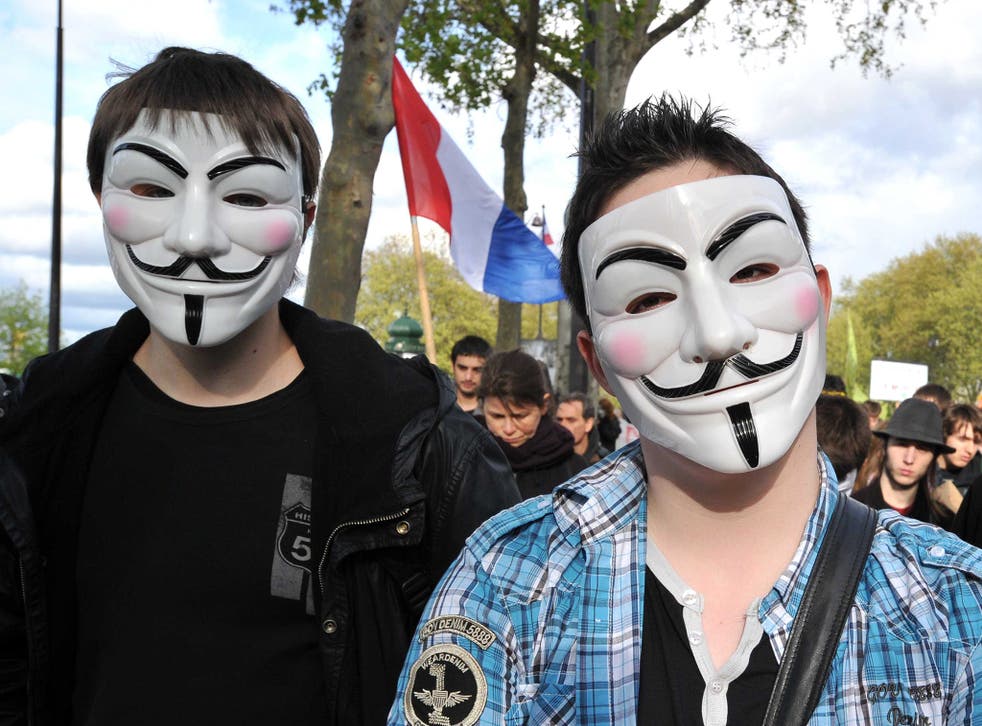 Anonymous 'trolling day' against Isis begins, with group's 'day of rage' mostly consisting of posting mocking memes
Supporters of Anonymous have been calling opponents 'Daeshbags' and photoshopping various images on top of pictures of Isis members
Anonymous has begun a "trolling day" against Isis, which largely consists of sharing mocking memes.
The group promised a "day of rage" on 11 December. That activity has begun, without thousands of posts being shared by accounts affiliated with Anonymous.
Anonymous has been taking on Isis for months, and stepped up that activity in the wake of the Paris attacks. The activity has largely involved reporting and taking down Isis-supporting social media accounts and websites.
Much of the activity on social media during the trolling day consists of pictures of Isis edited to have embarrassing things in them, including pictures of militants with ducks Photoshopped over their heads. Many of the accounts are also referring to the group as "Daeshbags" — a joke referencing another of the names that is used for Isis, Daesh.
Some of the messages also veer towards the potential Islamophobic, including messages about Isis members being married to goats and jokes about pork.
The group has also responded to criticisms. Those included a self-deprecating joke about members living in their mum's houses and pretend messages of concern for those upset by the trolling.
Many of the tactics were laid out in a document that has been circulating online, calling on Anonymous supporters to take part in the "day of rage" on 11 December.
As well as the online activity — which is happening on Facebook, Twitter, YouTube and other sites — the group is also organising real life events in cities in the US, the UK, France and elsewhere.
The group has previously said that the trolling day was intended to counteract the "fear" that Isis uses to spread.
""You may be wondering why we are "trolling" Isis and planning all these demonstrations against Isis," the group's post announcing the protests said. "But to understand that you must first see how Isis works.
In pictures: The rise of Isis

Show all 74
"They thrive off of fear they hope that by their actions they can silence all of us and get us to just lay low and hide in fear. But what many forget and even they do is that there are many more people in the world against them than for them.
"And that is the goal of this mass uprising, on December 11th we will show them that we are not afraid,we will not just hide in our fear, we are the majority and with our strength in numbers we can make a real difference. We will mock them for the idiots they are."
Join our new commenting forum
Join thought-provoking conversations, follow other Independent readers and see their replies