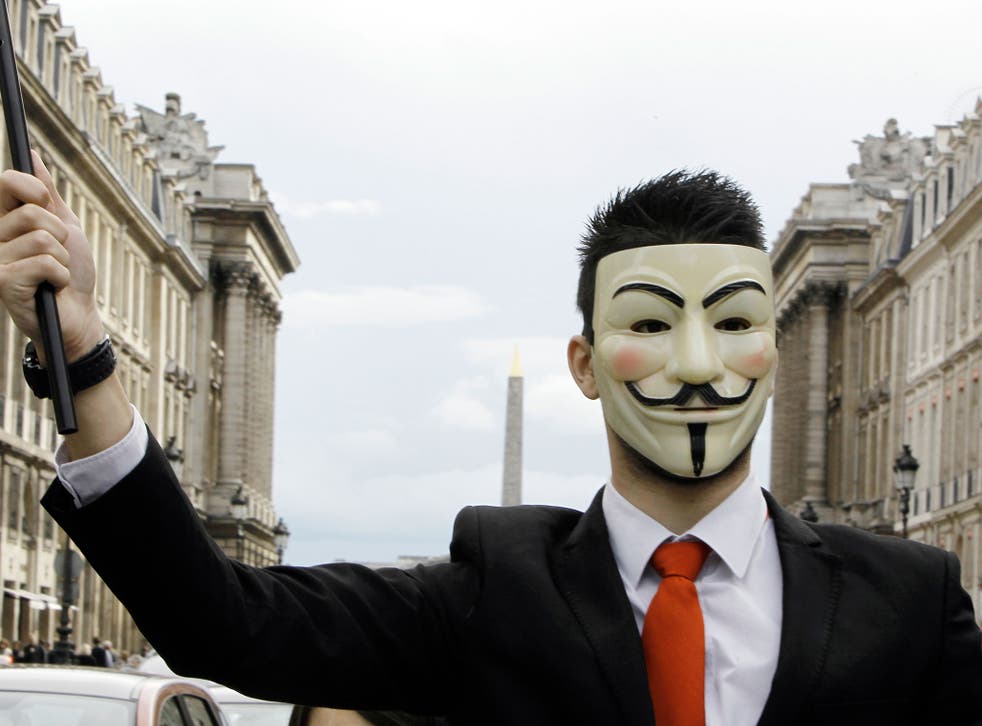 Anonymous war with Isis could lead to spread of internet censorship, group warns
Some members of the campaign have been working with governments to share information, important account warns
Andrew Griffin
Monday 14 December 2015 12:08 Comments
High-profile Anonymous activists have criticised the tactics of some of those involved in its war on Isis.
Some attached to the campaign have been dealing with government agents and acting in secret with other political organisations, the group has warned.
Anonymous began its campaign against Isis in the wake of the Charlie Hebdo shootings earlier this year. It stepped it up again after the Paris attacks, using tactics like hacking suspected members of the group and working to shut down social media accounts and websites.
"We think it's great if people want to hack Isis and publish their secrets," a message posted from one of the most popular Anonymous accounts on Twitter, warns. "But engaging in social media censorship campaigns and dealing with intelligence contractors and government agents is deeply stupid."
Social media campaigns will "legitimize the spread of internet censorship and will lead to the increased censorship for everyone, including Anonymous," the message reads. "Dealing with government agents et al will not only result in many more informers in Anonymous but will also damage its reputation as it will lead to a view that Anonymous is too close to US intelligence interests."
Anonymous declares war on Islamic State after Paris attacks
The group warns that intelligence authorities could use the campaigns that some associated with Anonymous are using to discredit or imprison members of the group. Instead, anyone who is hacking Isis and publishing information should do so in the open, releasing information to the public so that it can "operate in its interest", the message warns.
"Any attempts to act in secrecy, supporting political or governmental organizations, will be discouraged by us or completely ignored to safeguard our allies and supporters fighting for openness and transparency within governments, dictatorships and organizations around the globe that control various aspects of our lives," the message reads.
Register for free to continue reading
Registration is a free and easy way to support our truly independent journalism
By registering, you will also enjoy limited access to Premium articles, exclusive newsletters, commenting, and virtual events with our leading journalists
Already have an account? sign in
Join our new commenting forum
Join thought-provoking conversations, follow other Independent readers and see their replies