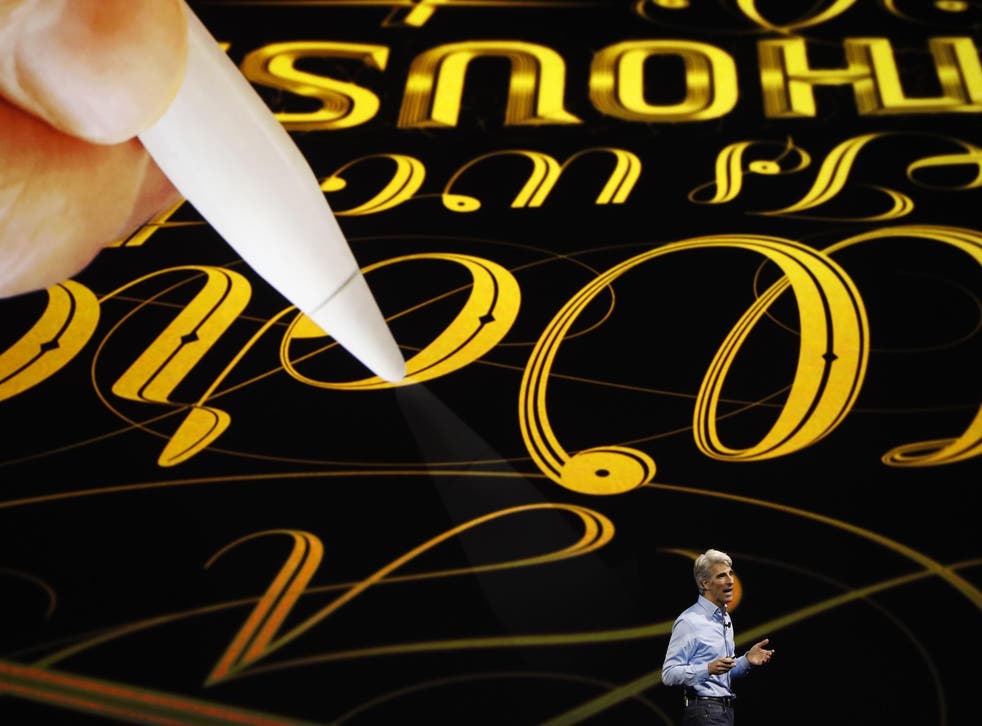 Apple iPad Pro 10.5-inch review: The new screen size is perfect, but just the beginning
Apple created the tablet as we know it. Now it's getting close to perfecting it
So you liked the iPad Pro, the super-powerful tablet from Apple, but felt the 12.9-inch one was way too big and the 9.7-inch model had a screen which was, I don't know, a touch too small?
Well, the latest iPad Pro from Apple is now on sale. It has a 10.5-inch display, that's screen real estate 20 per cent bigger than the 9.7-incher, but thanks to 40 per cent narrower bezels, it's squeezed into a frame only a smidge bigger than the 9.7-inch tablet. I've been testing the new model since it was announced a week ago. Could this be the ideal tablet size?
See, when the first iPad Pro was launched in late 2015, it marked, I'd say, the second stage in the life of the iPad. The tablet had been originally seen as a way of consuming entertainment, from ebooks to music to movies, even though it actually did more than that from day one.
But it was the arrival of the iPad Pro that properly gave the lie to that idea, thanks to its increased power, a big screen suited to detailed interaction and two brilliant accessories: Smart Keyboard and Apple Pencil.
The keyboard turned the iPad Pro into a highly productive laptop substitute and the Pencil, oh, the Pencil. This was the most Apple-y accessory, a slim, gloss-white stylus with a Lightning charging connector hidden under its magnetically attached lid.
It gave unprecedented levels of precision and versatility to apps involving drawing, photo manipulation and more.
The only thing was, the iPad Pro was mighty big and, although it was lighter than the original iPad, it was heavier than other Apple tablets.
So on paper the new 10.5-inch model is appealing: a bigger screen than the standard iPad with none of the extra weight of the 12.9-incher.
When you pick it up that appeal grows. The weight is near-identical to the 9.7-inch iPad Pro, just a touch heavier. And while the bigger display is immediately obvious, the bigger dimensions are not. The previous 9.7-inch model (which has now been discontinued) measured 240 x 169.5 x 6.1mm while the new one is 250.6 x 174.1 x 6.1mm. Same thickness, 1cm taller, 0.5cm wider. To put this in context, when I placed the 9.7 iPad Pro in its slender Apple case on top of the 10.5, it exactly covered it width-ways.
But that screen makes a huge difference. It's bigger, of course, though size isn't everything, we know. But it's also much brighter. Perhaps, like me, you don't think in terms of nits every day, so the increase from 400 nits to 600 nits from the original iPad Pro 12.9 to this one may not mean that much. But a 50 per cent increase sounds good and more importantly is very apparent when you look at it. And this doesn't just mean it's easier to see the screen in bright light. What it does mean is that the iPad Pro 10.5 supports HDR video. HDR stands for high dynamic range and in video terms it means it can show detail in bright skies and dark shadows at the same time. Although it's not a 4K screen, everything I've looked at on this display looks punchy, smooth and detailed.
This is also a True Tone display, a technology previously only seen on the now-departed iPad Pro 9.7. This uses two four-channel ambient light sensors in the display bezel. They are almost impossible to see, but are in line with the front facing camera, about a thumb's width in from the display edges. You have to really squint to see them. That's okay, they're there to do their work without being noticed.
Which is, to monitor the colour temperature of the surroundings and adjust the output onscreen. This means when you're reading something on screen it looks more natural. Switch True Tone off and you see, as if for the first time, that the tablet screen looks surprisingly blue in most lighting situations. It is a quiet, subtly brilliant effect.
There's more to this new display: most strikingly it has a faster refresh rate than previous iPads. They refreshed 60 times a second, called 60Hz. This time the refresh rate doubles to 120Hz, making for velvety smooth video playback. And even things like scrolling up and down a list are smoother, with the onscreen content moving in perfect sync with your finger – unlike some screens, there's no perceptible lag here.
Even better, the refresh rate dynamically adjusts according to what's needed, so if you're just reading an ebook, which doesn't need a higher refresh rate, it can drop it, increasing battery life as it does so. The Apple Pencil also works better with this new display: unlike some styluses, the delight of the Pencil has always been that there's never been a discernible lag between your Pencil-stroke and the onscreen response. Now it's even faster, with latency of just 20 milliseconds which Apple says is industry-leading. Whatever, it's a smooth, intimate experience writing and drawing with the Pencil.
The iPad Pro has the wide colour gamut introduced on the iPad Pro 9.7 and which delivers more natural effects thanks to the extended range of colours.
Okay, that's enough about the screen, but it really is impressive and is a big part of the innovation of this new iPad. And in terms of consumption, this iPad also has the four speakers first introduced in the bigger iPad Pro, offering exceptional audio playback – I've found it wider and more immersive than on other tablets.
A side benefit to the bigger screen is it means the Smart Keyboard, which attaches through a smart connector for a faster, more responsive effect than Bluetooth keyboards can manage, also boasts improved keys with better spacing. The Smart Keyboard is a real delight to use, with decent travel under yoru fingers, and a pleasant feel to its typing surface. Its only downside is it's not backlit, but it's still easily the best tablet keyboard I've used. It's not cheap, mind (£159 or £169 for the larger 12.9-inch screened iPad Pro), but it's a brilliant way to turn a tablet into a pretty good laptop. Incidentally, the onscreen keyboard is also easier to type on as it's now bigger, too.
The upgraded processor on the iPad Pro 10.5, called the A10X Fusion, means this is a super-fast tablet that is highly capable. Apple says it outperforms most PC laptops.
Its capability as a laptop alternative is about to become even keener. In the autumn, the release of the iOS 11 operating software will bring a huge number of tablet-specific benefits which will make the iPad Pro even more like a laptop. The apps dock that runs along the base of the iPad screen will be more versatile, holding icons for over a dozen of your favourite apps and with a predictive section that will guess what you'll want next.
Drag-and-drop capabilities will mean you can move multiple photos, pieces of text or even files from one app to another. And there will even be a Files app which, while not attempting to be like a system folder on a PC, will gather documents and other files together in one place. There will be other features, too, like unlocking the display just by a touch with an Apple Pencil. This will take you straight to your handwritten notes and a significantly improved and more convenient notification centre. I've only tried it briefly, but first impressions of iOS 11 are very strong.
The camera on the iPad Pro has been significantly improved. It's now the same as the one on the most recent iPhone, the iPhone 7, itself an outstanding smartphone camera.
Now, a large flat oblong really isn't ergonomically ideal as a camera – though, oh my, that big screen is a second-to-none viewfinder when it comes to composing your shots. It means you're holding a 12-megapixel snapper with a True Tone flash that has four LEDs, with optical image stabilisation to reduce judder as you shoot. It's also capable of shooting Live Photos, the cute photo-and-video combo that brings stills to life, like a Harry Potter newspaper. Live Photos are also set to be upgraded in iOS 11, by the way.
And the camera, combined with the processing power, will mean scanning documents is possible on the iPad Pro when iOS 11 is released. I've seen this in action and it's impressive: position the camera above your document and the software will adjust for any perspective to turn it into a perfectly rectangular image, reducing shadow effects in the process. And then it becomes an onscreen document you can annotate with the Apple Pencil.
Other improvements include second-generation Touch ID so you can unlock the iPad Pro twice as fast as before, using your finger.
It's worth noting that every single upgrade the iPad Pro 10.5 boasts has also been carried over to the newly refreshed 12.9-inch version, if you want the most screen real estate. It has all the same features, the only difference is size, oh, and price, of course.
A word about accessories. Many, myself included, have complained regularly about the fact that the keyboard cover lacks a place for you to securely hold your Apple Pencil. Now, there's a leather sleeve available for both sizes of iPad Pro which lets you slide your tablet (plus Smart Keyboard) in and out smoothly and has a slot for the Pencil with a top edge that holds the stylus securely in place. About time, too. The sleeve looks and feels great and comes in four colours.
So, should you buy it? Well, if you don't need the advanced powers of the Pro range, the regular iPad with its 9.7-inch screen is stunning value, starting at £339. The iPad Pro 10.5 starts at £619, the 12.9-incher has an entry price of £769. Add on the Smart Keyboard (from £159) and Apple Pencil (£99) and you can be looking at serious money.
But if creativity is your thing, or if you want the eye-poppingly good display and serious performance the iPad Pro now offers, it's a tempting proposition. And with the advantages of iOS 11 on their way, it'll be a good alternative to a performance touchscreen laptop.
Apple created the tablet as we know it. This is the biggest step forward the category has made yet, and the bigger, better display in a slim, lightweight frame are appealing. With apps that take advantage of the machine's power and imminent operating software upgrades, it just became pretty irresistible.
Join our new commenting forum
Join thought-provoking conversations, follow other Independent readers and see their replies