BBC updates their iPlayer app for Android: Download now & keep for 30 days

Show all 2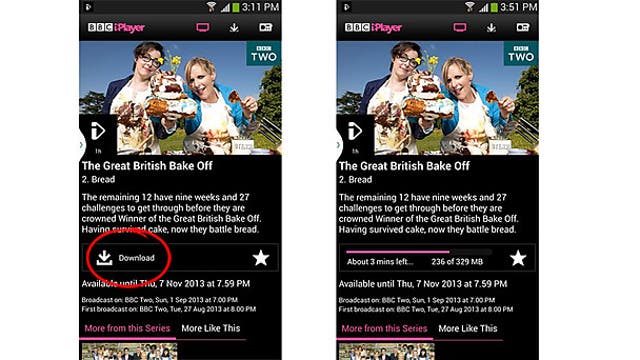 BBC updates their iPlayer app for Android: Download now & keep for 30 days
Changes will allow for offline viewing of BBC's audio and video content.
The BBC has updated its iPlayer app for Android smartphones, allowing users to download and store content on their devices for up to 30 days.
The same feature has been available on the iOS version of the app since last year, and the update is now live on Google Play, hitting Amazon's App Store in the next couple of days.
Downloads are free, but once you start playing the content there is a restrained time limit – 7 days to finish watching or listening to your show, instead of 30 days.
You'll also have to have a relatively recent version of Android installed – either Ice Cream Sandwich or Jelly Bean. Fortunately this include about 70 per cent of Android owners, and for those that don't have these versions, the app might encourage them to update.
David Berlin announced the update on his blog, noting that he'd also switched the default download mode to High Quality.
"You can manually switch between Standard and High Quality downloads in the BBC iPlayer app Settings (found in the overflow menu – 3 dots or lines) to vary the download time and picture quality on phones or tablets," says Berlin.
"I'm really pleased that we are now able to deliver video playback quality parity with Apple iOS devices, support the full range of Android screen sizes, including tablet support and, as of today enable mobile TV download functionality to Android devices."
See below for a full list of supported devices:
1) Amazon Kindle 8.9
2) Asus Nexus 7 i
3) Asus Nexus 7 ii
4) HTC One
5) LG Nexus 4
6) Samsung Galaxy S2
7) Samsung Galaxy S3
8) Samsung Galaxy S4
9) Samsung Galaxy Tab 2 7"
10) Samsung Google Nexus 10
11) Sony Xperia Z (phone)
Join our new commenting forum
Join thought-provoking conversations, follow other Independent readers and see their replies