Can the Nokia Lumia 800 rival the iPhone?

Show all 2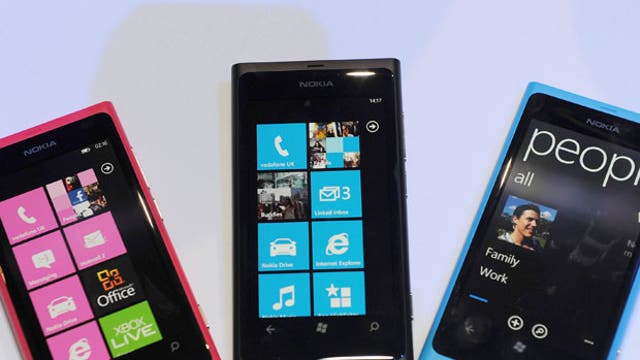 Can the Nokia Lumia 800 rival the iPhone?
Our technology expert snagged the first Lumia 800 in the country and has been playing with it since Monday. Here are his first reactions...
Nokia, the company would agree, has been going through a bit of a tough time. Though it's still the biggest phone company worldwide in terms of phones sold, it lost its grip on the increasingly important smartphone world. Its Symbian operating system, once cutting-edge, had rusted beyond comfortable use and when the new CEO Stephen Elop took over last year he made clear that Symbian was not the company's future.
Instead, eight months ago, he announced that Nokia would be producing smartphones using the Windows Phone system created by his old employer Microsoft. On the face of it, this didn't seem like an inevitably winning strategy.
Windows Phone was the slick, gorgeous operating system launched last autumn. Trouble was, however good it was, the public was ignoring it in their droves. Lots of handsets that used the system were released last year and none really took hold. Would Nokia do any better?
Well, the phone has arrived, due in stores in two weeks, on 16 November.
And it's amazing.
It's reasonably compact, compared to most smartphones these days, with a 3.7in screen that's slightly bigger than the iPhone's. It looks neat enough, but when you pick it up it feels like no other phone around. The screen is slightly curved, and so are the edges of the phone. It all feels like a smooth, tactile pebble, with glossy front and matte back. It's made from polycarbonate, that is plastic, but it's put together like it's one piece. Even the tiny holes on the bottom edge for the speaker are individually precision-milled.
And it's invitingly warm to the touch. Apart from the chrome power button and volume rocker on one side, there are no buttons anywhere. The power socket is hidden under a hinged door on the top edge. Weirdly, this doesn't fold back as you'd expect it to and this is the phone's only weak spot in terms of design. Next to this door is the sim card holder. Like the iPhone, this handset uses the smaller micro-sim.
Turn it on and the screen is unmissably bright and colourful – Nokia's Clear Black Display technology is similar to Samsung's super-vivid displays. And you're met with the Windows Phone strip of dynamic tiles that update automatically.
The tiles look very different from the shortcut icons of Apple's iOS and Android interfaces. Mobile phone analysts will tell you that the issue with iOS and Android is that it can be circuitous. To change from one program to another you need to exit one by pressing the home button, to go into the other. It's as though you want to move from the living room to the kitchen but to do so you have to go out of the house, back in through the front door and into the living room that way. Windows Phone offers a different route.
One of the dynamic tiles on the home screen is marked Me, and shows your photograph from Facebook, for instance. Touch it and you're taken to your latest status updates, mentions in tweets and more. Here, you can post a message to Facebook, Twitter, Windows Live or a combination of these.
But there's also a People tile which has all your contacts. Your picture's there, too, so you can tweet from here as well. For a lot of actions, you don't need to go near the dedicated Facebook or Twitter apps.
If you're used to Apple's way of doing things, say, you'll find it different. Maybe even unintuitive at first. But it's worth getting used to, and quickly pays dividends. In fact, I'd say it's absolutely as usable and appealing as the iPhone's iOS, but takes a mental shift to appreciate it.
Then there's customisation. Open the Xbox Live tile and if you have an Xbox gaming ID, your avatar will be there, yawning, stretching and dancing to amuse you. You can even buy accessories for him, from sunglasses to a chicken that struts dementedly around. It's a tiny thing, but it's highly delightful.
The software looks beautiful throughout – where Android can seem scrappy or hit-and-miss at best, Microsoft has designed something with greater class and elegance than the company's ever done. This is no geeky workmanlike interface, it's luxury tempered by modernity.
As a result, the apps look tremendous. The British Airways app is a great example. Not only do the individual pages of the app match the Windows Phone clean, bright style but there are neat extra benefits: place the app on the home screen and it even displays the barcode from your boarding pass. On other phones you have to dig deeper to find this which may not be ideal when you're flustered at check-in.
With Windows Phone it can be hard for manufacturers to stamp their personalities on the software – though Nokia has certainly made a piece of hardware that couldn't have come from anyone else. But there are Nokia specialities: Nokia Drive is a free satnav app which includes voiced turn-by-turn directions. It doesn't look as spectacular as TomTom's iPhone app, but it's highly serviceable and, unlike most mapping programs, it's ideal for use when you're abroad. Use your iPhone overseas, say, and Maps needs a data connection to work and costs mount quickly. With Nokia Drive, providing you've downloaded the free maps in advance, over wi-fi say, there's no data traffic.
Then there's Nokia Music which is a free streaming service with Nokia as the DJ. A selection of tracks are streamed to your phone, and you can even temporarily save them to your phone to listen to while you're on the Tube, say. It's no match for Spotify, but it's free.
Unlike recent Nokia smarties, the powerful processor means it's dizzyingly fast, with a superbly responsive touchscreen. Those phone basics (strong signal and good call quality) are amply covered. And the eight-megapixel camera, quickly accessible even when the phone is locked, delivers great images effortlessly, which you can upload to Facebook, say, with similar ease.
A phone like the Lumia 800 is a highly likeable piece of hardware and the Windows Phone OS has lots going for it, and feels fresher and with more potential to grow than some phones. I'm not sure this is the fabled iPhone killer some want it to be, but if there's any justice, it'll prove popular with customers and make rival manufacturers take notice. More importantly, it puts Nokia back in the smartphone game with a vengeance.
Join our new commenting forum
Join thought-provoking conversations, follow other Independent readers and see their replies