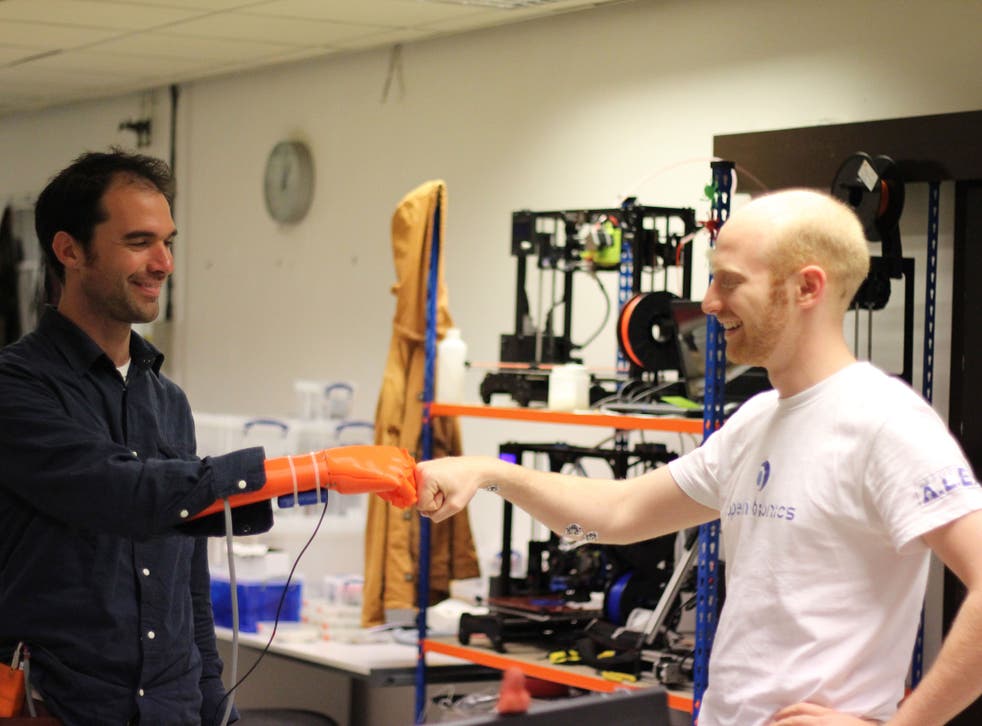 Cheap 3D-printed bionic hand wins James Dyson Award, could bring robotic limbs to world
Same technology could eventually be used to make custom versions of everything we wear, winner Joel Gibbard predicts
A robotics graduate has created new, far cheaper robotic hands — winning the UK James Dyson Award for an invention that uses 3D printing to transform the bionics industry.
The devices usually cost as much as £60,000 — but by using 3D printing and other techniques, 25-year-old Plymouth University graduate Joel Gibbard and his company Open Robotics have been able to slash that to only £3,000.
That could allow far more people to get the hands — which mostly use old technology, but remain out of reach for many because of their cost.
The economics of robotics will now work for children, who haven't often been able to get them since the hands need to be replaced every six months to a year, and so aren't viable. Even the most expensive ones for adults tend to need to be replaced every three to five years, because of wear and tear.
It could also help the technology to get more internationally widespread, helping them overcome the price barriers in other countries where bionic hands have been simply too expensive to use.
"By using rapid prototyping techniques, Joel has initiated a step-change in the development of robotic limbs," James Dyson, the British inventor behind the award, said in a statement. "Embracing a streamlined approach to manufacturing allows Joel's design to be highly efficient, giving more amputees' access to advanced prosthetics."
The hands work by connecting into the muscles in the upper forearm. Myoelectric sensors are used to take messages from the muscles and uses them to control the hand.
Gibbard's innovation is using 3D printing — first, the arm is scanned, and then the hand can be custom printed to fit. That means that they can be precisely created for whoever is wearing them, but at a fraction of the usual cost.
The same technology could eventually come to be used in most things that people wear, Gibbard predicts.
"This has tons of applications, like prosthetics and orthotics," which are used for modifying the neuromuscular and skeletal system, says Gibbard. "But also earphones, or any other wearable, should be custom fitted.
"Even a phone could be custom fitted to your hand. There are so many things where we use a standardised thing, where in reality, a customised thing would be better.
"You can imagine a world in the future where you scan your whole body in — and then use it whenever you buy clothes, or a desk chair," with the manufacturers custom making it around a person's scan.
Gibbard has been working on prosthetic hands since he was 17, initially considering it "just as a fun thing to do". But once he'd arrived at university and took on the project more seriously, he found there was a need that wasn't being fulfilled, for cheap prosthetics that could be more easily made and bought.
A video of his proposal was uploaded to YouTube. "I had tons of comments, saying: I need this, I want to buy this," says Gibbard. "At that point I realise that I wanted to share the idea and designs further."
That interest helped spur interest in a crowdfunding campaign — titled "The Open Hand Project: A Low Cost Robotic Hand" — that raised almost £44,000 in one month.
Initially Gibbard's plan was to make a 3D printable design, which could then be shared across the world so that anyone, anywhere could make them. But he realised that a company — which could ensure quality control, guarantee its products and ensure that they work well — would be a better way of getting the new product out into the world, and he founded his firm Open Bionics in April 2014.
From now, the company has both technological and business hurdles that it needs to overcome.
First, the product needs to be tested in the real world — it has already been worked on with several amputees, but now those tests must move out into the field, letting people use them for a few weeks and provide feedback on what they're like.
There is business work to do, too. Gibbard's company will use the money from the award to buy another 3D printer, meaning that they will be able to increase their production substantially straight away — printing twice as quickly and therefore doing more field testing, and faster.
But Gibbard says that the award will help as the company goes onto grow, too. "The James Dyson award comes with such huge prestige, that when you're trying to get funding and credibility, it's a massive, massive boost."
Open Bionics currently has six members of staff, enough to keep working on the project for the moment. But by the time that it comes to market — which is set to happen before the end of 2016 — the staff and resources will need to grow.
Joel Gibbard and Open Bionics will join the rest of the UK runners up to move onto the next stage of the James Dyson Award, where Dyson engineers whittle down the list of 100 to 20. That will then be passed onto Dyson himself, who will pick the overall winner.
Join our new commenting forum
Join thought-provoking conversations, follow other Independent readers and see their replies