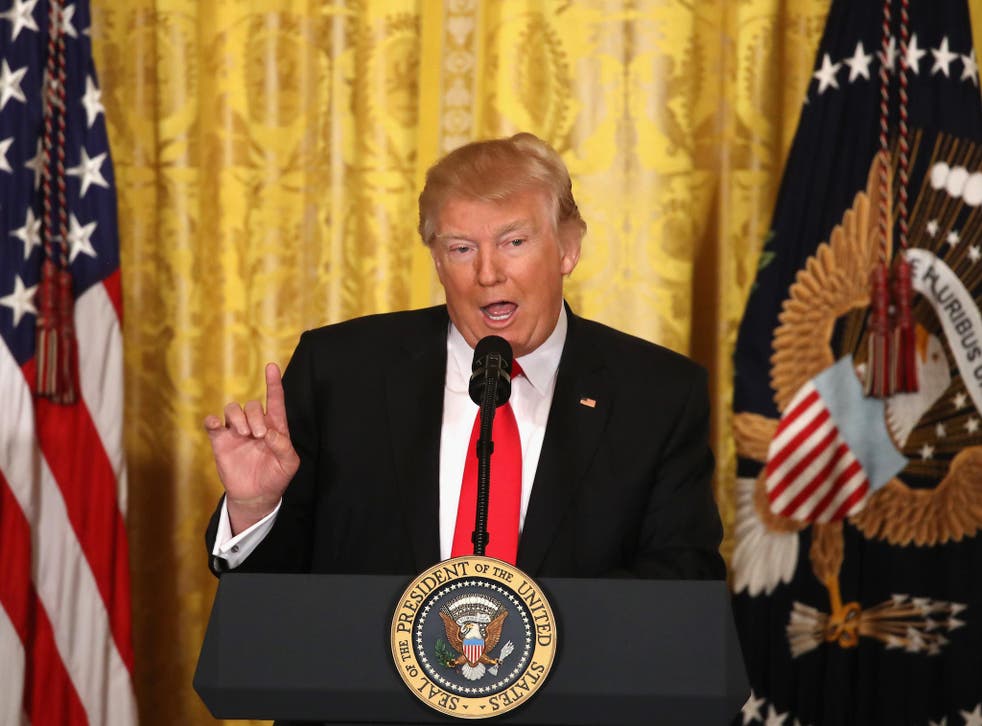 Donald Trump owns thousands of websites featuring his own name, including 'Trump Fraud' and 'Trump Scam'
Many of the URLs don't actually go anywhere – but some sell strange T-shirts or offer trips around the President's new hometown
Donald Trump owns thousands of websites intended on chilling criticism of him and promoting his business interests.
The President's company has at least 3,643 internet addresses, according to recent investigations. And while many of them aren't in use, they appear to have been bought as ways of stifling criticism – with Mr Trump laying claim to websites like TrumpFraud.org, DonaldTrumpSucks.com and NoMoreTrump.org.
Many of those websites were bought years before Mr Trump even announced his presidential run, with his team snapping up VoteAgainstTrump.com and TrumpMustGo.com in 2012. Years later it bought others like MakeAmericaGreatAgain.vote, just months before he launched his bid for the White House, according to an investigation by CNN.
The controversial orders Donald Trump has already issued

Show all 9
Many of the sites have been bought to get away from criticism. Mr Trump's company owns 98percentApproval.com, for instance – a reference to his defence against criticism of his ill-fated Trump University, which he claimed was liked by 98 per cent of its students.
Others appear calculated to stop people researching to find critical reviews that might harm Mr Trump's businesses. He owns TrumpMultiLevelMarketing.com, TrumpNetworkFraud.com, TrumpNetworkPyramidScheme.com and TrumpNetworkPonziScheme.com, for instance – all bought just before he launched the "Trump Network", a much criticised and now defunct marketing scheme, in 2009.
Yet more make explicit reference to Mr Trump's activities in opposition to those he has criticised in the past. He bought ImBeingSuedByTheDonald.com in 2009, for instance.
In all, 3,643 domains are registered to the President's private company, according to CNN's analysis. Only 50 of those domains actually link to a unique website, and another 400 redirect to other pages for Mr Trump's businesses.
Some of them link out to external websites, like ChicagoTrumpLimo.com, which points at a page where people can buy T-shirts showing they are "proud to be deplorable". A similar page redirects to a business that rents out a party bus in Washington DC, where Mr Trump now lives.
But Mr Trump's activity in buying up usernames hasn't kept all of them from being protected. His business failed to buy up ImpeachTrump.com, for instance, and that page now acts as a destination for negative news about the President and organising activities for how to protest against him.
Join our new commenting forum
Join thought-provoking conversations, follow other Independent readers and see their replies