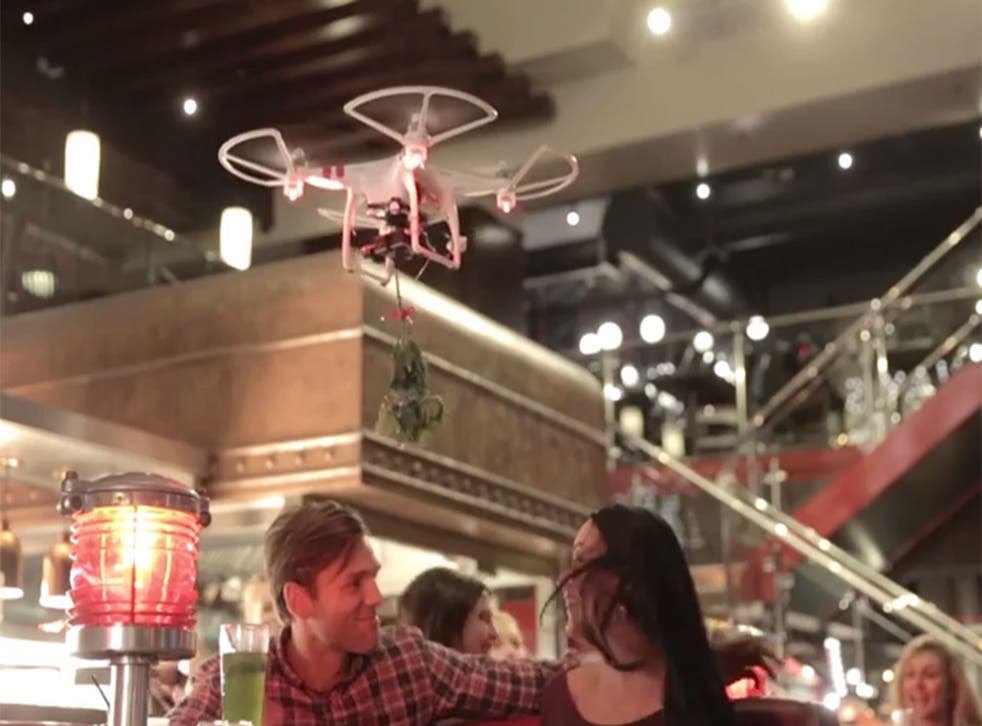 Drones celebrate Christmas by flying around TGI Friday's pressuring couples to kiss
TGI Friday's fits out drone with mistletoe and a camera and flies it around Manchester restaurant, whipping up hair and shocking diners
Drones are to fly around TGI Friday's carrying mistletoe and camera this Christmas, as the restaurant looks to encourage more of its diners to kiss each other.
The company says that the introduction of the drones was inspired by the fact that half of UK adults have never shared a kiss under the mistletoe.
A 'kiss cam', apparently fitted with a flash, is attached to the drones. TGI Friday's does not mention what will happen to any footage that is recorded with the camera.
In the video, the drones appear to be piloted by waiters and waitresses, and carry a small sprig of mistletoe as they fly around the restaurant. The drone appears to whip up the hair of some diners and most react with shock as it arrives.
The drones will be tested in the TGI Fridays in Manchester's Royal Exchange, and will be rolled out to branches around the country afterwards.
The mistletoe drone was introduced in tech-hungry San Francisco's Union Square last Christmas, but TGI Friday's claim that it's the first such a garland-carrying drone in the UK.
"Who knows - maybe we'll have had our first mistletoe drone wedding by this time next year," TGI Friday's spokeswoman Rachel Waller told the Manchester Evening News.
Join our new commenting forum
Join thought-provoking conversations, follow other Independent readers and see their replies