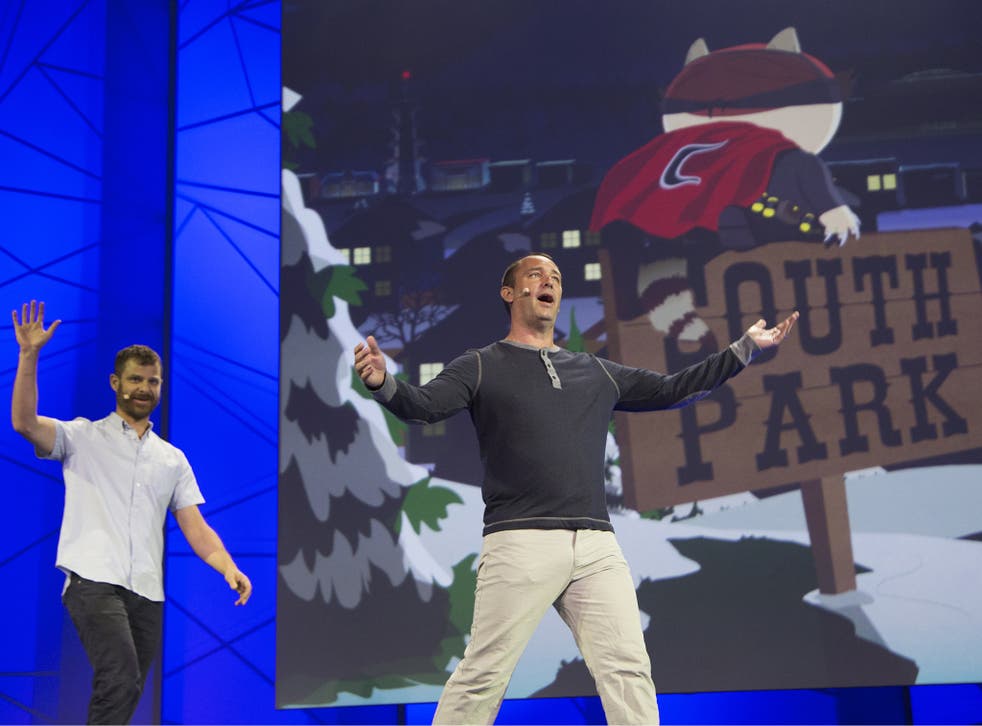 E3 2015: new South Park game, The Fractured But Whole, announced a year after makers swore never to make a game again
'The big thing is we're kinda whiny babies,' Troy Parker said, 'we kind of learned how to make video games and it was kind of too late'
Daniel Stanley
Tuesday 16 June 2015 12:49 Comments
Matt Stone and Trey Parker, creators of South Park game 'The Stick of Truth', said last year that they would never, ever make a video game again.
But only a year later the duo have already announced the development of a second game, 'The Fractured But Whole', at E3 2015.
They kicked off Ubisoft's showcase for the gaming conference yesterday, joining main presenter Aisha Tyler on stage to talk about the game sequel. This time it will feature the characters from the TV programme as superheroes, not as fantasy personae as in the 'The Stick of Truth'.
Parker explained why he and Stone have had a change in mentality concerning making a second game.
"The big thing is we're kinda whiny babies," he said. "And we realised just at the end of Stick of Truth, we kind of learned how to make video games and it was kind of too late".
Although the two writers of the hugely-successful TV show refrained from giving much information on the game at E3 yesterday afternoon, the development of the game has changed hands from Obsidian (who created the first game) to Ubisoft San Francisco. It was also revealed that the game will follow the form of The Stick of Truth, retaining its status as an RPG and also its combat style.
The plot follows the origin story of the New Kid's heroic alter-ego: "Players will delve into the crime-ridden underbelly of South Park with Coon and Friends. This dedicated group of crime fighters was formed by Eric Cartman whose superhero alter-ego, The Coon, is half man, half raccoon.
"As the New Kid, players will join Mysterion, Toolshed, Human Kite, Mosquito, Mint Berry Crunch and a host of others to battle the forces of evil while Coon strives to make his team the most beloved superheroes in history."
The original South Park game was one of the most popular of last year, and The Stick of Truth received several nominations at the esteemed Game Developers Conference of 2015.
Register for free to continue reading
Registration is a free and easy way to support our truly independent journalism
By registering, you will also enjoy limited access to Premium articles, exclusive newsletters, commenting, and virtual events with our leading journalists
Already have an account? sign in
Join our new commenting forum
Join thought-provoking conversations, follow other Independent readers and see their replies