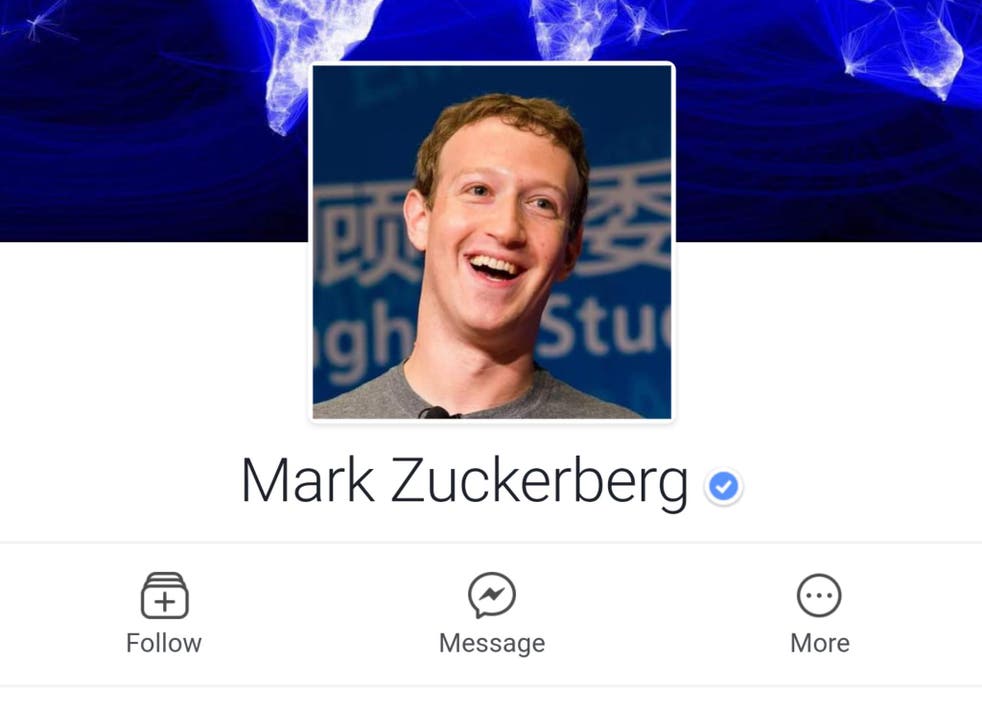 Facebook finally lets users block Mark Zuckerberg
Until recently, all attempts to do so would fail, causing an error message to appear
Aatif Sulleyman
Tuesday 19 December 2017 13:02 Comments
Facebook is finally allowing users to block Mark Zuckerberg.
Until recently, all attempts to do so would fail, causing an error message to appear, saying: "Block Error. Sorry, there was a problem blocking Mark Zuckerberg. Please try again."
However, the site has now fixed the longstanding issue.
11 useful Facebook features you didn't know existed

Show all 11
Now, when you visit Mr Zuckerberg's page and click Block, a popup box appears, reading, "Are you sure you want to block Mark Zuckerberg?
"Mark Zuckerberg will no longer be able to:
See things you post on your timeline
Tag you
Invite you to events or groups
Start a conversation with you
Add you as a friend
"If you're friends, blocking Mark Zuckerberg will also unfriend him."
The message also suggests taking "a break" from Zuckerberg instead, which will result in you seeing fewer updates from him, rather than none at all. It's the same set of messages a user would see if they tried to block any one of their friends.
Facebook users' newfound ability to block Mark Zuckerberg was first spotted by The Next Web's Matt Navarra.
Users haven't been able to block Mark Zuckerberg for years, and Facebook has always maintained that the company's founder wasn't receiving preferential treatment.
Instead, the error message had been designed to automatically pop up when large numbers of people simultaneously tried to block the same user.
"This error isn't specific to any one account," a Facebook spokesperson said earlier this year. "It's generated when a person has been blocked a certain large number of times. In very rare instances, a viral campaign will develop instructing lots of people to all wrongly block the same person.
"The purpose of this system is to protect the experience for people targeted by these campaigns. We're constantly working to improve our systems and are taking a closer look at this one."
Register for free to continue reading
Registration is a free and easy way to support our truly independent journalism
By registering, you will also enjoy limited access to Premium articles, exclusive newsletters, commenting, and virtual events with our leading journalists
Already have an account? sign in
Join our new commenting forum
Join thought-provoking conversations, follow other Independent readers and see their replies