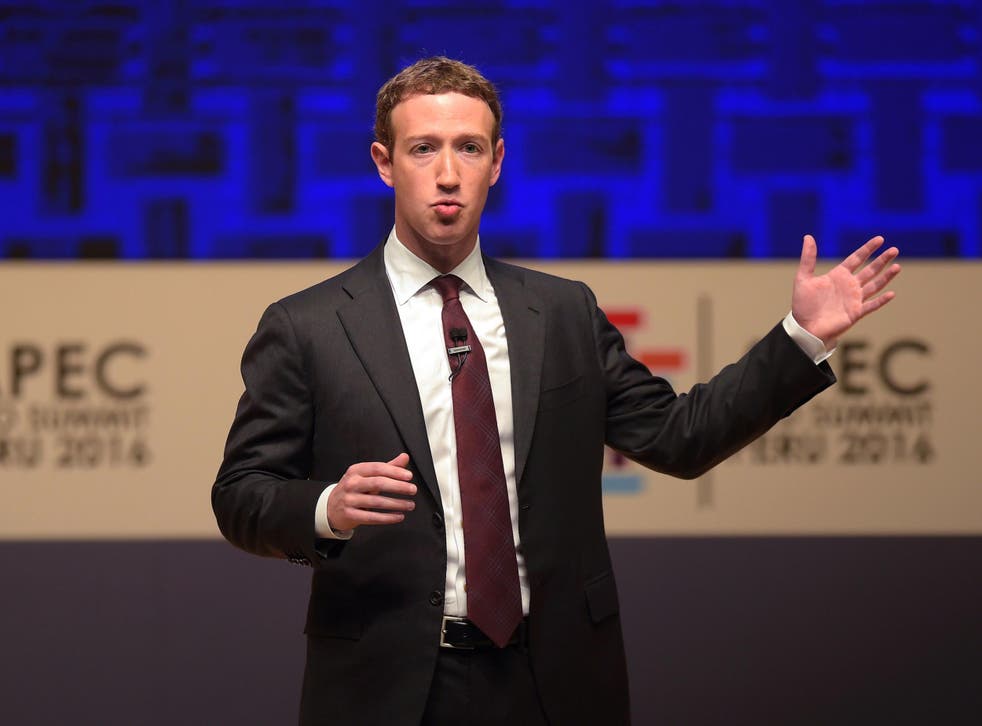 Mark Zuckerberg: Facebook will fix 'fake news' problem but will not verify stories itself
Facebook's CEO says the social network is taking measures to prevent the spread of misinformation but he and his colleagues do not want to be 'arbiters of truth'
Facebook will take measures to tackle fake news being shared on the social network, Mark Zuckerberg has said.
The site's co-founder and CEO has come under pressure to address the problem of false news articles circulating on Facebook amid fears misinformation could have influenced the outcome of the US election.
Making it easier to report fake stories, warning users when they read or share an article known to be false, and working more closely with fact-checking organisations are among the tactics announced by Mr Zuckerberg.
"We know people want accurate information," the 32-year-old billionaire wrote in a public Facebook post.
"Our goal is to connect people with the stories they find most meaningful," he wrote. "We've been working on this problem [of misinformation] for a long time and we take this responsibility seriously."
Mr Zuckerberg previously called the idea that fake news on Facebook could have influenced voters "crazy" and dismissed calls for the social network to be redefined as a media company, instead of a technology platform.
In his post, he said Facebook did not want to become "arbiters of truth" and instead would work with users and trusted media organisations known for the verification and debunking of online news.
"We believe in giving people a voice, which means erring on the side of letting people share what they want whenever possible," he wrote.
"We need to be careful not to discourage sharing of opinions or to mistakenly restrict accurate content. We do not want to be arbiters of truth ourselves, but instead rely on our community and trusted third parties."
On 5 November, just days before polling stations opened, an article was published on a website of what appeared to be a local newspaper called The Denver Guardian.
"FBI agent suspected in Hillary email leaks found dead in apparent murder-suicide," read the headline.
The article was shared more than 560,000 times on Facebook, according to online social media tracker Shared Count, before being removed from the Denver Guardian site in the last week.
However, The Denver Guardian is not a newspaper, but a fake news site publishing made-up stories.This one was debunked by fact-checking site Snopes among others.
Edward Snowden addresses Facebook fake news claims
Mr Zuckerberg said Facebook was developing "better technical systems" to spot fake stories before they reached users, and would work with journalists and other media professionals to learn more about their fact-checking systems.
"The most important thing we can do is improve our ability to classify misinformation. This means better technical systems to detect what people will flag as false before they do it themselves," he wrote.
"We will continue to work with journalists and others in the news industry to get their input, in particular, to better understand their fact-checking systems and learn from them."
He said it would be made easier for people to report stories as fake themselves and that Facebook could begin labelling stories which had been debunked.
The social network is also considering altering its advertising policies to make it more difficult for people to profit from creating fake news stories which are shared widely on the social network.
The purpose of some made-up news stories appears to be to influence political opinion – but many are being created to make money instead.
More than 100 US political websites were found to be registered in one small town in Macedonia called Veles, according to Buzzfeed.
By publishing outlandish stories which are shared many times on Facebook, the site's creators said they were able to earn money through pay-per-click adverts on their website.
"A lot of misinformation is driven by financially motivated spam. We're looking into disrupting the economics with ads policies like the one we announced earlier this week, and better ad farm detection," said Mr Zuckerberg.
Last week, Facebook updated its advertising policy to make it clear that its ban on deceptive and misleading content applies to fake news.
A picture of Mr Trump above a fabricated quote falsely attributed to People magazine has also been circulating online since October 2015, according to Snopes.
World reaction to President Trump: In pictures

Show all 29
"If I were to run, I'd run as a Republican. They're the dumbest group of voters in the country. They believe anything on Fox News. I could lie and they'd still eat it up. I bet my numbers would be terrific," reads the quote.
But no interview or profile of Mr Trump exists in which these words or anything similar is reported.
Facebook faced international outcry earlier this year after it removed an iconic Vietnam War photo due to nudity, a decision that was later reversed.
The thorniest content issues are decided by a group of top executives at Facebook, and there have been extensive internal conversations at the company in recent months over content controversies, people familiar with the discussions have said, according to Reuters.
Join our new commenting forum
Join thought-provoking conversations, follow other Independent readers and see their replies