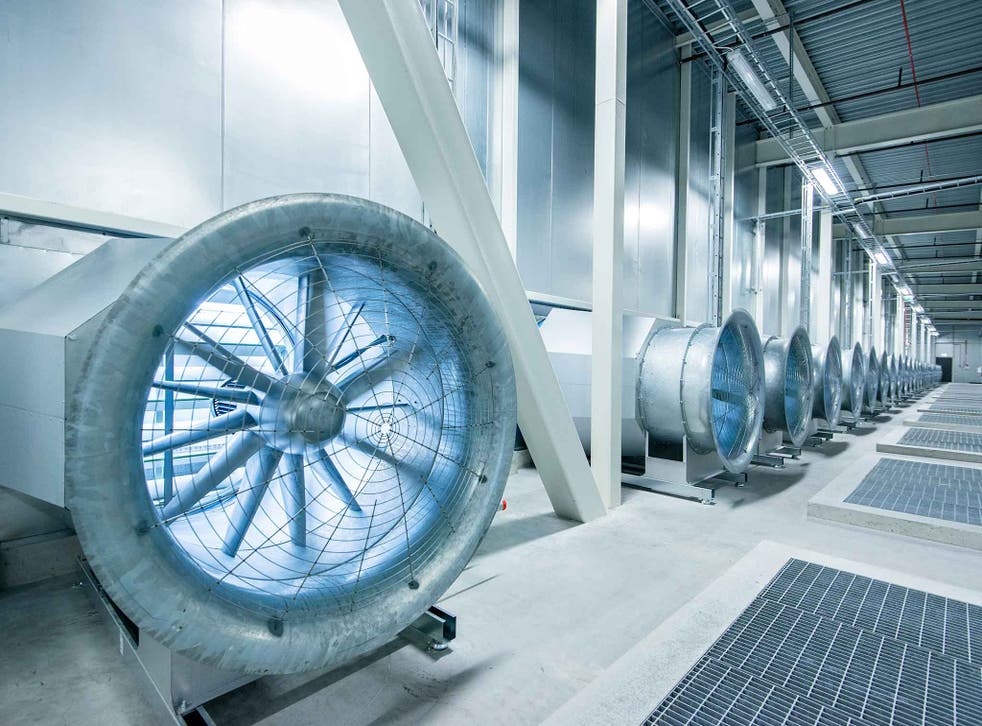 Facebook: Inside the social media giant's data centre where your 'likes' are recorded
The Independent has been among the first media organisations to see inside Facebook's sub-Arctic site
Jamie Merrill
Friday 25 September 2015 12:40 Comments
If you have used Facebook today there is a very good chance your "posts" and "likes" will have been recorded at a nondescript warehouse in the far north of Sweden, just 70 miles from the Arctic Circle.
Located in the mining town of Lulea, where temperatures can drop to -40C in winter, the unlikely warehouse is what Facebook calls a data centre, a secure location where exabytes of information are stored on tens of thousands of computer servers. In short, it's the backbone of Facebook in Europe.
Data centres like this are increasingly vital to firms like Facebook and Google and are normally closely guarded secrets, but The Independent has been among the first media organisations to see inside Facebook's sub-Arctic site.
"We aim to serve the globe out of our data centres and this is our hub for Europe", said Tom Furlong, Facebook's vice president for site operations, who was visiting the site from California this week. "But our top order goal was to make this centre the most effective eco-centre possible."
The remote location in the pine forests of Sweden, which is now home to most of Europe's share of the two trillion posts Facebook has indexed globally, was chosen not only because of the advanced power-grid and plentiful supply of green energy in the form of hydro-power, but because it allowed the site to take advantage of freezing temperatures to cool its power-hungry servers. It first opened in 2013 but is set to double in size in the next three months as a new building and thousands more servers are installed.
In fact, there is currently something of a Nordic boom in the data centre world, with $3.3bn expected to be invested by technology firms in cold-weather storage in the next three years, from new data centres in Sweden springing up in a cluster around Facebook to a commercial hub at an old NATO base in Keflavik in Iceland.
Security is up to NATO standards at Lulea too, where The Independent was escorted onto the site by a private security patrol and blast-style doors separate the metal-walled corridors from the four vast server hall where 500 huge fans circulate cool air from outside. The doors, site manager Joel Kjellgren warns, can slam unexpectedly as the 150 mainly Swedish staff move around the site, thanks to the pressure differences caused by the movement of air in the building. Next door are the severs themselves, in four rooms of blinking lights, cables and silence.
The 84 acres site does have some unauthorised visitors though, in the form of local moose and migrating reindeer who occasionally poke their heads over the security fence, a reminder that Lulea is very far north indeed.
Unsurprisingly the local government welcomed Facebook with open arms and has enjoyed the build-up of a "technology cluster" around the firm while the town is enjoying new high-end restaurants and hotels, where mouse fillet steak is sold for £30 a go alongside New York craft beers. Though one solitary local did try unsuccessfully to appeal to Facebook site on the grounds the noise might disturb three-toed woodpeckers on a nearby nature reserve.
That complaint wasn't unheld and the staff at Facebook say they support local conservation projects, as well as enjoying "ice fishing team-building days" and cross-country ski trips.
They are less open on other issues though. Even the Queen of Sweden had to sign a non-disclosure agreement when she visited the site recently (it took some tense negotiation with the Facebook PR team for the Independent to avoid this) and the firm won't confirm exactly how many servers there are and whether they contain Facebook-owned Instagram and WhatsApp data. And Mr Furlong made clear that sensitive "data retention" and "privacy" issues were not up for discussion. Nonetheless it's clear that there is an almost insatiable need for centres like this.
Facebook privacy settings you should know about

Show all 6
The amount of electronic data worldwide is doubling roughly every 18 months and every day 350 million photographs, 4.5 billion likes and 10 billion message are sent on Facebook alone.
Earlier this week the future of that data become a little uncertain after a European Court of Justice legal opinion found that data sharing by firms between the EU and the US was "invalid" after the court heard that America's intelligence services had conducted "mass, indiscriminate surveillance" of EU citizens.
If the opinion is adopted by the court European firms may need to review their widespread practise of storing digital data with US internet companies, in move that could potentially impact Facebook at Lulea.
Again, Mr Furlong refuses to comment and his PR team jump in again, pointing to a statement from the social network that it is in "compliance with EU Data Protection law" and "awaits" the court's "full judgement".
Mr Furlong is happy to talk about green issues and Facebook's ambitions though, and plans for a new data centre in Texas powered entirely by wind energy. "I think we've done a heck of a good job on renewable energy and reducing inefficiently at our sites. Eventually we want to be 100 per cent renewable, but there are lots of challenges ahead still to overcome," he said.
Greenpeace International says that all data centres will account for 5 per cent of total power demand by 2020. Facebook currently powers 25 per cent of its data centre operations by renewables and hopes to hit 50 per cent by 2018. According to Gary Cook, senior IT industry advisor at the environmental NGO, Facebook was the first big technology firm to "commit to building a renewably powered internet" and has taken "significant steps towards that goal" with Lulea, but still needs to wean itself from coal at its early data centres in North Carolina and Oregon.
That's something that Mr Furlong describes as an "aspiration", but what clear is that he has his work cut of for him to meet demand. "Essentially [our approach] is that we want to connect everyone to Facebook who wants to be connected to Facebook," he said. Even he though, "never imagined back in 2007" that Facebook would find itself in 2015 close to the Arctic Circle leading an unlikely data boom in an old mining town. That's something to "like", he said.
Register for free to continue reading
Registration is a free and easy way to support our truly independent journalism
By registering, you will also enjoy limited access to Premium articles, exclusive newsletters, commenting, and virtual events with our leading journalists
Already have an account? sign in
Join our new commenting forum
Join thought-provoking conversations, follow other Independent readers and see their replies