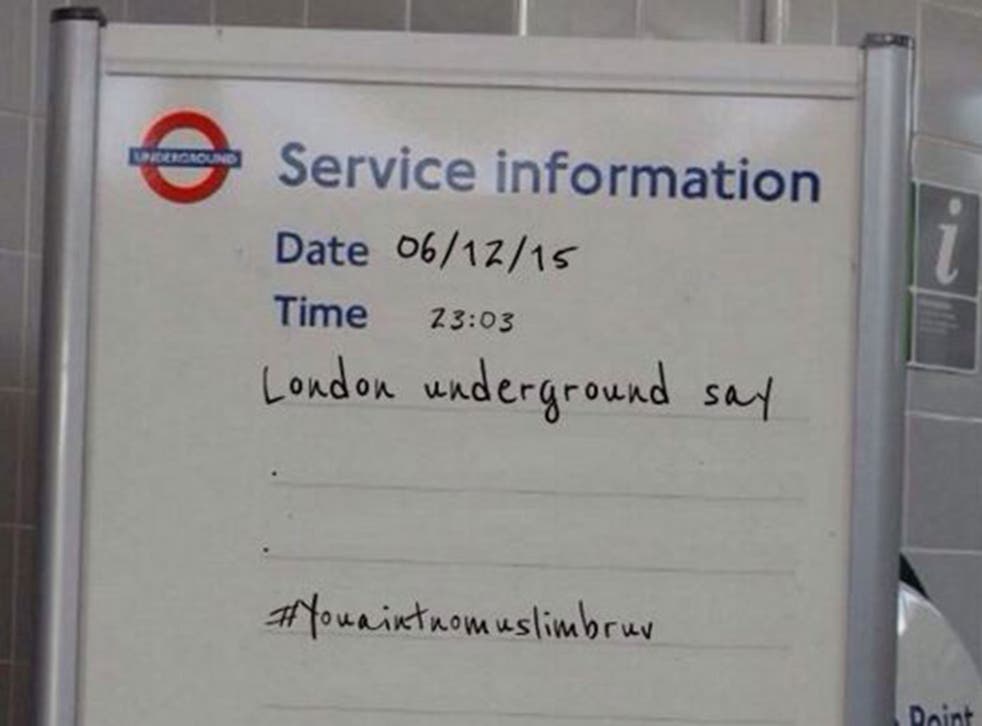 Fake Tube sign tool taken offline, after creator says he received threats from Transport for London lawyers
A sign created on the tool was shared tens of thousands of times after the recent Leytonstone tube attack, despite it not actually having been posted at a Tube station
A hugely popular tool for creating fake Tube signs has been taken down, with its creator claiming to have received threats from Transport for London's lawyers.
The online tool allowed people to type in text and get it written onto the kinds of boards that are used for adverts around the London Underground. It gained particular attention because it was often used as a way of creating fake images that would often be circulated as real — then often becoming hugely popular despite not being real.
But the popularity of those images appears to have led to the tool, created by a developer called Tim Waters, being removed. Mr Waters claimed that he had received threats from lawyers representing Transport for London and had so decided to take down the Tube tool.
At the page where the generator was hosted, visitors are now instead greeted by a messaging telling them there is "No such app". The files on code-sharing site Github have also been removed, meaning that — though some people have already suggested that they have taken the code and would opt to host it themselves.
Mr Waters speculated that the tool was probably being taken down because of the huge number of fake signs that were being circulated online. Linking to an i100 piece about one such fake sign, he said that the removal was "due to fear".
The i100 piece specifically related to a poster being shared after the Leytonstone tube attack. A picture had been shared hundreds of thousands of times that referenced the common "you ain't no Muslim, bruv" hashtag that was posted after the attacks.
In pictures: Leytonstone stabbing

Show all 5
But that picture was never created and was instead made on a tool like Mr Waters'.
A TfL spokesperson said: "We have asked the website owner not to use the image of a London Underground customer information sign in this way.
"It may not have been their intention, but we believe the images created by people using this site have the potential to cause harm and distress to passengers or members of the public who see them. There are instances where they have contained racially offensive messages."
Join our new commenting forum
Join thought-provoking conversations, follow other Independent readers and see their replies