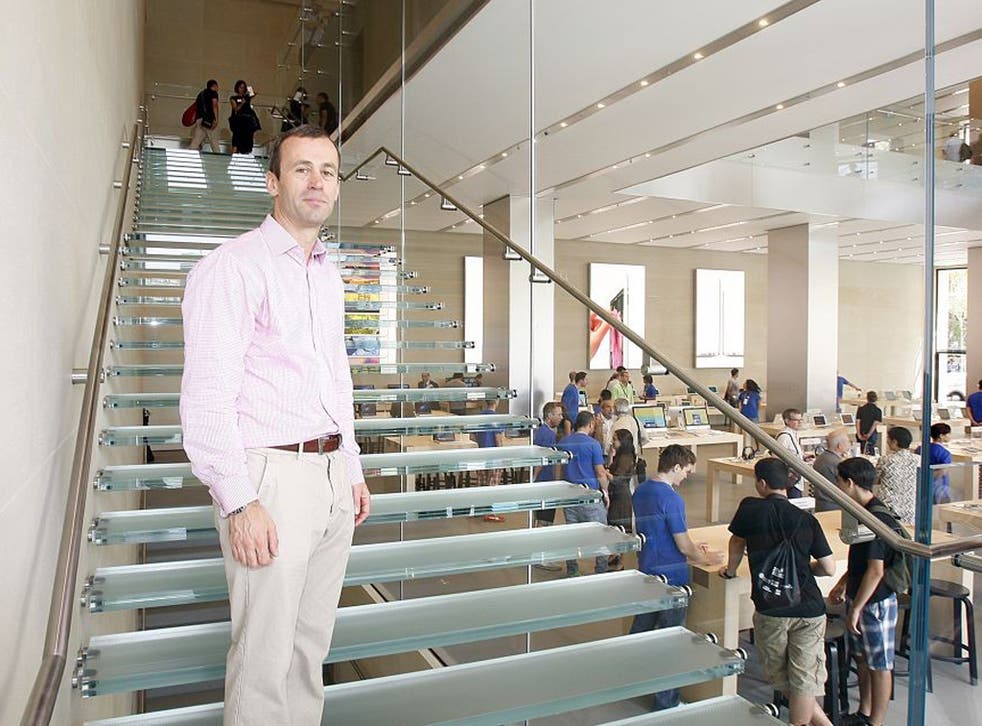 Former Dixons executive John Browett shown the door at Apple
From Hemel Hempstead to Cupertino - and back again
When John Browett swapped Dixons in Hemel Hempstead for the slightly sunnier outlook of Apple in California, he was talked up as the big hope for Corporate Britain.
The retail executive's surprise move to Apple to drive the global expansion of its stores earned him a golden hello worth £36m and a pass to the top of what has since become the most valuable company in history. It also made him the first British executive to be poached by a major overseas company in years. Now though, just six months after being appointed, he is on his way back home after being shown the door in Cupertino.
Despite a rise in sales and the opening of more Apple stores, it was reported that Mr Browett caused widespread unhappiness within the company through proposed changes to staffing, including the cutting of hours and a freeze on the hiring of new employees.
Apple later backtracked on the plans, but the episode was damaging. Spokeswoman Kristin Huguet said at the time: "Making these changes was a mistake and the changes are being reversed. Our employees are our most important asset and the ones who provide the world-class service our customers deserve."
Mr Browett's arrival at Apple had attracted criticism from the outset. His new boss Tim Cook began fielding emails from disgruntled Apple fanatics within a day. Responding to the concerns of one, named Tony Hart, he wrote: "I talked to many people and John was the best by far. I think you will be as pleased as I am. His role isn't to bring Dixons to Apple, [it is] to bring Apple to an even higher level of customer service and satisfaction."
The announcement that the retail specialist is leaving less than a year later, however, was limited to a short statement in the penultimate paragraph of a long press release. After trumpeting a host of top level moves, the company said: "Additionally, John Browett is leaving Apple. A search for a new head of Retail is underway and in the interim, the Retail team will report directly to Tim Cook." The company declined to comment further yesterday.
In its announcement, Apple praised the "excellent work" of its retail team, but made no specific mention of Mr Browett's tenure there, focusing instead on the "past decade" as a whole. Mr Cook, however, will have been left embarrassed by the departure of Mr Browett after publicly backing him.
Mr Browett's golden hello of 100,000 shares, worth around £36m, was to be paid out over five years. Apple accounts show that he has only acquired around 5,000 shares in his short tenure, worth nearly £1.9m. Asked whether Mr Browett would be welcomed back by his former employers yesterday, a Dixons spokesman refused to comment.
One British executive to benefit on a day of high-level jockeying at Apple, however, was designer Sir Jonathan Ive, who will take on extra responsibilities providing "leadership and direction for Human Interface across the company in addition to his role as the leader of Industrial Design".
Moving on
John Browett is not the only high-flying tech executive to have had his wings clipped soon after take-off. Earlier this year, Yahoo! chief executive Scott Thompson was forced to stand down after allegations of a fake computer science degree on his CV surfaced. He had been in the job for less than six months.
The scandal began when Daniel Loeb, a shareholder who wanted Mr Thompson out, claimed the former PayPal President had misrepresented his qualifications. The mistake was confirmed, but Mr Thompson put it down to a headhunting firm.
A board meeting was hastily convened and later in the day it was announced that Mr Thompson was leaving. Having only recently announced 2,000 job cuts at the struggling firm, Mr Thompson was eventually replaced by former Google executive Marissa Meyer.
Join our new commenting forum
Join thought-provoking conversations, follow other Independent readers and see their replies