Galaxy S4: Samsung takes battle to Apple with launch of Galaxy S4

Show all 2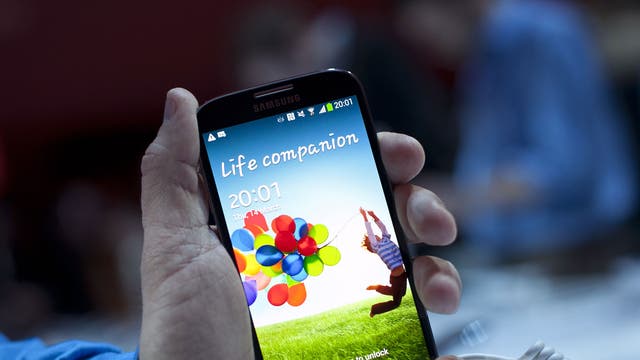 Galaxy S4: Samsung takes battle to Apple with launch of Galaxy S4
On the buttons: Galaxy's quest to be the world's favourite smartphone takes fight to Big Apple
Samsung has upped its campaign to become the world's leading smartphone producer by launching its latest model in the US heartland of the iPhone.
In a move that could only be viewed as an audacious bid to oust Apple and capitalise on its soaring popularity in the US – where Samsung smartphones have been outselling their Apple rivals – the Korean electronics giant announced its new model in the vast space of Radio City Music Hall in New York.
Samsung's previous flagship mobile, the Galaxy S III, is popular in North America, though not as ubiquitous as the iPhone – yet.
The company's new Galaxy S4 is slimmer and lighter (at 130g) than last year's model and has a classier feel to it. It boasts a vivid 5in screen with as many pixels as a 55in flat screen television, a higher resolution than the iPhone 5.
Samsung releases more phones in a year than Apple, so it has the advantage that it can bring innovations to market more quickly. It tends to release a completely new product each year while Apple has followed a two-year cycle, replacing the iPhone 3G with the 3GS, the iPhone 4 with the 4S.
Samsung's new model – on sale in the UK next month at a yet-to-be revealed price – has a much-improved processor with eight cores, again outstripping Apple's speeds, matched with a lot of system memory (2GB). This should mean faster web-surfing and smooth running of powerful apps.
Last year's Galaxy S III introduced us to the idea of a phone that uses the front-facing camera to watch us. So if the user fell asleep or stopped looking at the screen, the absence of an eyeball told the phone to dim the display to save battery power. This year's model will take this further, so if your eyes stray when watching video on this big phone's screen, the action will pause. Other innovations like the facility for the phone to scroll the screen for you when your eyeball reaches the bottom of the display work in conjunction with tilting the display.
The Galaxy S4 has a 13MP snapper, significantly higher resolution than the iPhone's 8MP camera, with many extra features such as multiple shots combined so you can delete an unwanted passer-by or add video.
The phone is designed so you can have access to both cameras on the phone at the same time. So if you're at a concert, say, you can record the gig itself and your reaction to it simultaneously, presenting the result in a variety of split-screen effects.
Samsung has also added "wellness features" – a pedometer is built in and can spot if you're walking, running or climbing stairs; temperature and humidity sensors record how your body temperature changes; and there are accessories such as a sports band to measure heart rate. An Infra-Red sensor also turns the phone into a TV remote.
Though Android phones are made by dozens of different companies, Samsung sells almost half of them. But there's no room for complacency – within the past days LG has claimed it will have eye-scrolling tech in its phones.
The smartphone market is big but is hurtling towards saturation and there are cheaper alternatives to Samsung such as the Chinese companies Huawei and ZTE, whose devices are increasingly high-end as the brands gain widespread recognition.
Join our new commenting forum
Join thought-provoking conversations, follow other Independent readers and see their replies