Google Doodle celebrates 100th Tour de France with animated tribute

Show all 32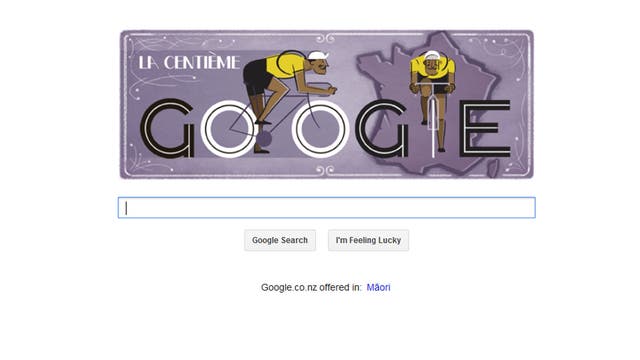 Google Doodle celebrates 100th Tour de France with animated tribute
Race starts today with Chris Froome heading up the British challenge
Google has marked the 100th Tour de France with an animated Google Doodle.
The landmark race starts today with favourite Chris Froome heading up the British challenge after last year's stunning win by the currently unfit Bradley Wiggins.
Click here or on the 'view gallery' to see more Google Doodles
The Tour de France is a mix of flat and mountainous stages and will take the 198 riders from Corsica to Paris for Sunday, 21 July's finish.
The three week race covers around 2,000 miles and this year will be held entirely held within the French borders - the first such race since the 100th anniversary race in 2003.
The Google Doodle shows a moustached cyclist pedalling with the double O's of Google forming the bicycle wheels.
The first organised race was held in 1903 and has been held annually every year excepts for when it stopped for the two World Wars.
Video: 100th Tour the France - Google Doodle 29 June 2013
Join our new commenting forum
Join thought-provoking conversations, follow other Independent readers and see their replies