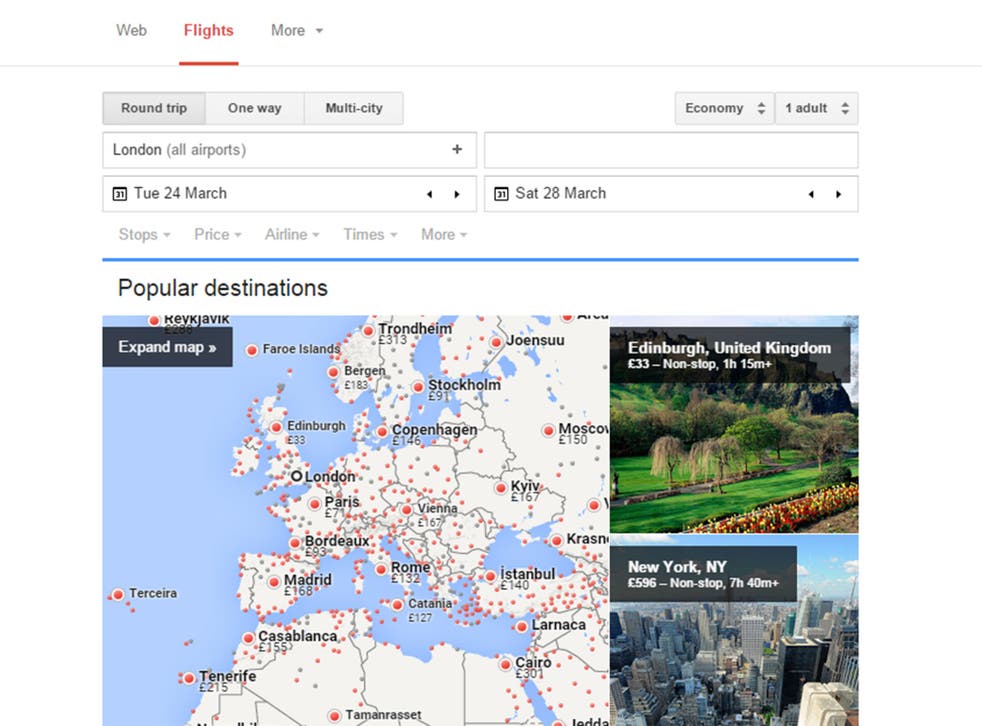 Google Flights: Search giant's new booking tool offers seven ways to get the best price on travel
The tool has been revamped – and offers serious competition to other flight comparison sites
Google has revamped its online flight comparison tool just in time for the peak summer holiday booking season.
The change comes after the company spent almost half a billion pounds in cash to acquire a flight information tracking company in 2010 – and as you would expect, the new product is a seriously powerful way to get the best deal on flights.
Here's seven ways Google Flights could save you time, money, and potentially a trip to the travel agents.
Google Maps – with prices
Even if you're at the earliest stages of planning a holiday, Google Flights can give you a quick idea of which destinations might be in your price range.
Before you've even begun typing, clicking on the tool under the Google search bar offers a world map, some sample return travel dates and the best price you can get for flights to major cities.
Still not sure? Google a region – or even continent
A useful feature of the Google Flights map is the flexibility it offers the undecided searcher.
So if you've heard South East Asia is the place to be but don't know Lombok from Laos, you can use the region as a search term and see the cheapest destinations at a glance.
I'm feeling lucky
The most adventurous travellers can try letting Google decide a destination for them – with the introduction of the company's "I'm Feeling Lucky" random search to flights.
Zimmerman says Google's research shows that 54 per cent of flight bookers haven't decided where they want to go when they sit down to plan. The "random" search function is actually not so random at all – it picks a place that combines value, popularity among others and even your past search history.
Best value holiday destinations around the world

Show all 10
Any tips
Once you've found a destination, Google Flights has a number of ways of bringing you the best deal for getting there.
One of the smartest features is a "Tip" bar which prompts you with ways you might shave off a few pounds, such as travelling out from a different airport near your location.
Zimmerman says "flexibility is key when finding great deals" - and those who are willing to listen to suggestions on where and when to fly are likely to get the best results.
Charting the highlights
When you select a deal you like the look of, it's very easy to see quickly if there are flights in the couple of weeks before or after that offer better value thanks to a handy bar chart.
The best deals in terms of convenience are then highlighted in dark blue to help you spot the one that's right for you.
Browse the calendar
Though it's not really embarking into uncharted territory here, Google Flights lets you use a calendar to quickly find the cheapest flights across a couple of months at a time.
You can browse well in advance if you want, and the best deals on any given day are again highlighted in green.
Google Now to track price changes
Happy with a potential deal but worried the price might drop even further after you book? You can save your work on Google Flights and then use the Google Now app to set up an alert for it, meaning you'll get an email if it suddenly gets a lot cheaper.
It's a nifty trick – but Zimmerman points out that "though it's sometimes hard to pull the trigger because you're afraid the price will drop, our experience shows it's usually best to book right away".
Join our new commenting forum
Join thought-provoking conversations, follow other Independent readers and see their replies