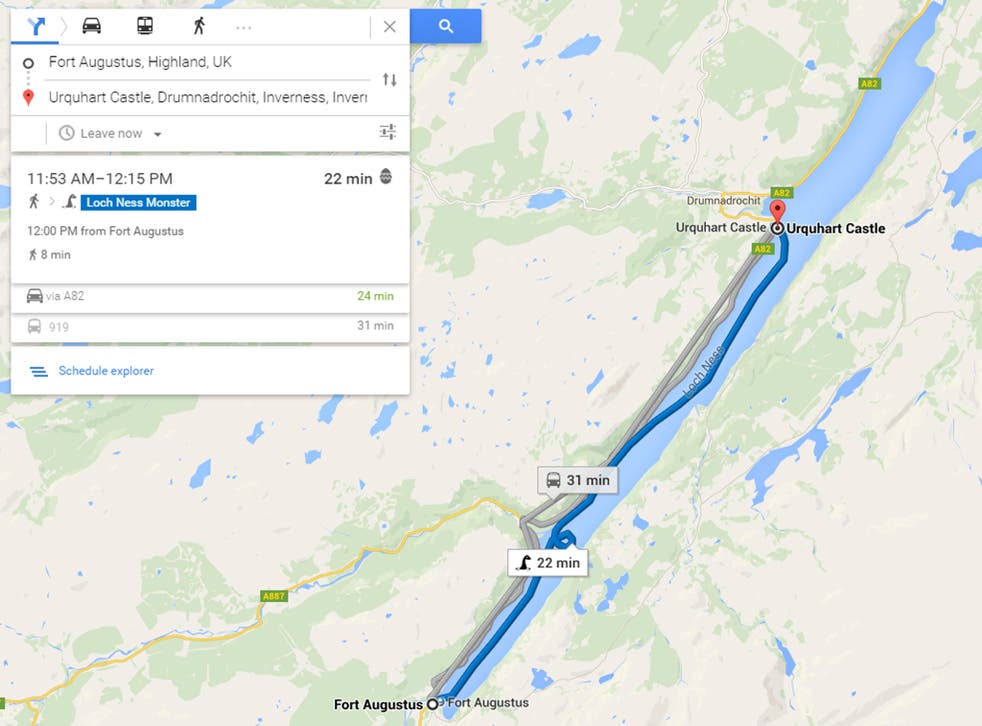 Google Loch Ness Monster hunt wants you to join the search for Nessie
First signs of the monster have been spotted already — but it's probably a log
Google Maps can now be navigated by Loch Ness Monster, as well as bike and car, as part of an update to Google Street View that allows people to search for the elusive beast.
Navigating across Loch Ness — from the grand Urquhart Castle to Fort Augustus, for instance — gives the option of getting there by driving along its side or going via Nessie. Nessie is actually faster than the car, taking 22 minutes as opposed to 24, despite going in a mysterious loop on its way.
Some of them seem to show something that could, at first glance, be the monster herself, or so some have claimed. But it's probably just as likely that it's a rock, or a log.
Google notes that there are more searches for Loch Ness in its maps "than there are for other U.K. institutions like Buckingham Palace and the Peak District".
While searching, users are guided around by a small picture of the Loch Ness Monster, rather than the usual little yellow man.
The Street View update is accompanied by an animated Google Doodle, showing little aliens driving the ship.
It is a reference and an homage to perhaps the most famous image purporting to be of Nessie, the "Surgeon's Photograph".
The hunt for the Loch Ness Monster

Show all 8
While that image was fake, it is true that no absolute proof has ever been found that Nessie isn't hiding out in Loch Ness. And so Google says that the new Street View images will allow people to "go in search of Nessie yourself" — or just "enjoy some of the most history-laden and breathtaking imagery the highlands have to offer".
Join our new commenting forum
Join thought-provoking conversations, follow other Independent readers and see their replies