Google's new Nexus 7 tablet launches in UK at £199 for 16GB model

Show all 3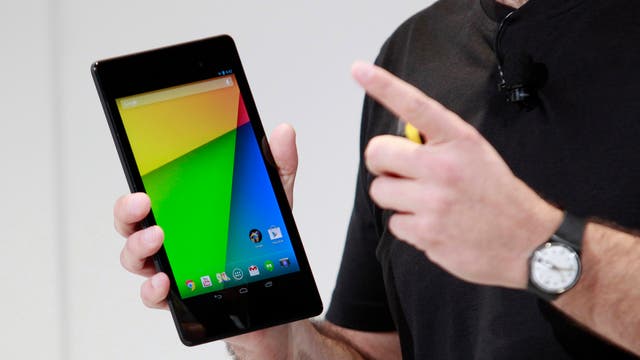 Google's new Nexus 7 tablet launches in UK at £199 for 16GB model
Only the Wi-Fi version is currently available at the moment, with either 16GB or 32GB of onboard memory
Google's new Nexus 7 tablet has launched today in the UK, though only the Wi-Fi-enabled device is currently available. Customers can buy either the 16GB model for £199 or the 32GB version for £239 directly from Google.
High street retailers stocking the device include Argos, John Lewis, Amazon, Tesco and PC World.
The 4G-enabled Nexus 7 will retail for £320 and will be available from 13 September say O2. The mobile network will also be launching its 4G network tomorrow to compete with EE's existing service.
The original Nexus 7 launched last year, though the updated version has slimmed down the design and boosted the screen resolution, processor speed and doubled the RAM to make for a slicker user experience.
Google say that the new tablet has the highest screen quality of any seven inch tablet, with a resolution 1920 x 1200 pixels and a pixel density of 323 ppi. Although high resolutions exist (how many pixels make up the screen) the Nexus 7 has the greatest amount of pixels in relation to the screen size (that's the 'pixel density' metric).
Whilst the tablet itself is manufactured by Asus it comes with the latest version of Google's mobile operating system, Android 4.3. The updated OS has some slight improvements on previous version, including the ability to create user accounts with personal home screens and content.
Google also claim that the new tablet will provide all day battery life, claiming up to 10 hours can be spent using the tablet browsing the web. Initial consumer tests have corroborated these claims, but it is hard to take into account the wear and tear on battery life and general speed that comes from long-term use.
Join our new commenting forum
Join thought-provoking conversations, follow other Independent readers and see their replies