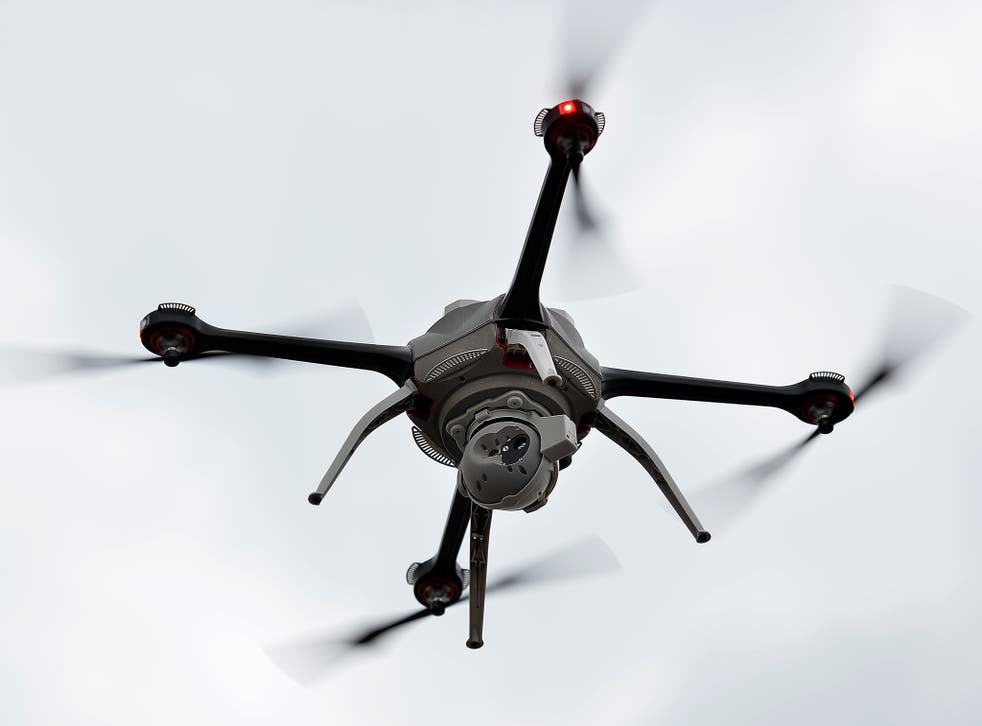 Government to release secret details about the use of drones over UK skies
The move is a significant victory by campaigners
Secret details of how and why drones are used in British skies, including for surveillance and military testing, are to be released to the public in a significant victory by campaigners.
The government committee overseeing the use of unmanned aircraft in UK airspace will for the first time publish a list of drones use by government departments, release summaries of its meetings and establish an "oversight board."
Campaigners have long accused the Government of a "culture of secrecy" surrounding official use of drones in the UK, amid concerns that data protection laws have been "left behind" by advances in unmanned technology and that security services are using drones for surveillance tasks in British airspace.
More advanced drones now include biometric and infrared cameras capable of capturing unprecedented amounts of personal information, while half a dozen state agencies or departments have admitted to using drones.
However, little is known about the Remotely Piloted Aircraft Systems (RPAS) Cross Government Working Group, which is responsible for the UK's Government drone policy.
The most amazing drone pictures

Show all 15
It is jointly chaired by officials from Ministry of Defence and the Department for Transport (DfT), but its full membership is not known, its terms of reference make no mention of protecting civil liberties and privacy and it's not even known when it was first established.
Now though, following a legal battle with the Information Commissioner over a Freedom of Information Act request by the All Party Parliamentary Group (APPG) on Drones led by Tom Watson MP, the Government has effectively been forced to "settle out of court" and make a string of concessions.
Documents from the DfT seen by the Independent show a commitment to "increased transparency", though officials maintain this is unconnected to the pending court action between the APPG on Drones and the Information Commissioner over the release of information. The Government had already promised a major public consultation on drones earlier this year.
The concessions include an agreement to establish an "oversight board" to make drone policy more transparent and a commitment to "collate and provide" information on drones used by government, in what campaigners have called a "positive step towards transparency."
The Government had previously refused to release this information, but increasing pressure and the threat of an embarrassing court case at the First Tier Tribunal next week, is thought to lie behind the "culture shift" towards transparency.
Mr Watson, chair of the APPG on Drones, said: "I welcome the fact the Government has agreed to provide details about its domestic use of drones following an FoI request. But taxpayers shouldn't need to take the Government to a tribunal to see what it is doing with their money."
Ironically the new spirit of transparency from Government came a week after it Gove confirmed it wanted to tighten the rules around the Freedom of Information act to make it harder to find out about the inner-working of government.
Mr Watson added: "Justice Secretary Michael Gove is reportedly considering plans to weaken the powers set out in the Freedom of Information Act. This case shows those powers should be strengthened rather than weakened. The public has a right to know what the Government is doing in their name."
Daniel Casey, a solicitor with Deighton Pierce Glynn representing the APPG on Drones, said he was "pleased" the Freedom of Information Act was able to play a role in the case. He said: "Secret policy making is not appropriate for a technology that is already increasing the surveillance of our lives."
Chris Cole from pressure groups Drone Wars UK said: "The Government Working Group on RPAS is pushing hard in conjunction with the European Commission to open up British airspace to drones at all levels and it's absolutely right that there is oversight and scrutiny of its work."
A DfT spokesperson said: "The cross-government RPAS working group has been open and transparent in its aim to develop a safe and responsible environment that allows the UK economy to benefit from the huge commercial potential of this emerging market. We will continue to work with the APPG [on Drones] and other partners as this work progresses."
Explainer: who controls the drones
Following the Government's climb-down, the RPAS Working Group has committed to providing a list of "existing published policy" and information on "relevant documents" detailing drones held by the DfT and Ministry of Defence within three weeks.
In recent years, 11 state bodies have been reported to be making use of drone technology in the UK, including the Home Office, the Department for Environment, Food and Rural Affairs and the Defence Science and Technology Laboratory, a research arm of the Ministry of Defence.
Drones are also widely believed to be used for covert law enforcement and by the security services; however the Home Office has repeatedly refused to confirm whether drones have been used by MI5 or any other secret security agency in British airspace.
Join our new commenting forum
Join thought-provoking conversations, follow other Independent readers and see their replies