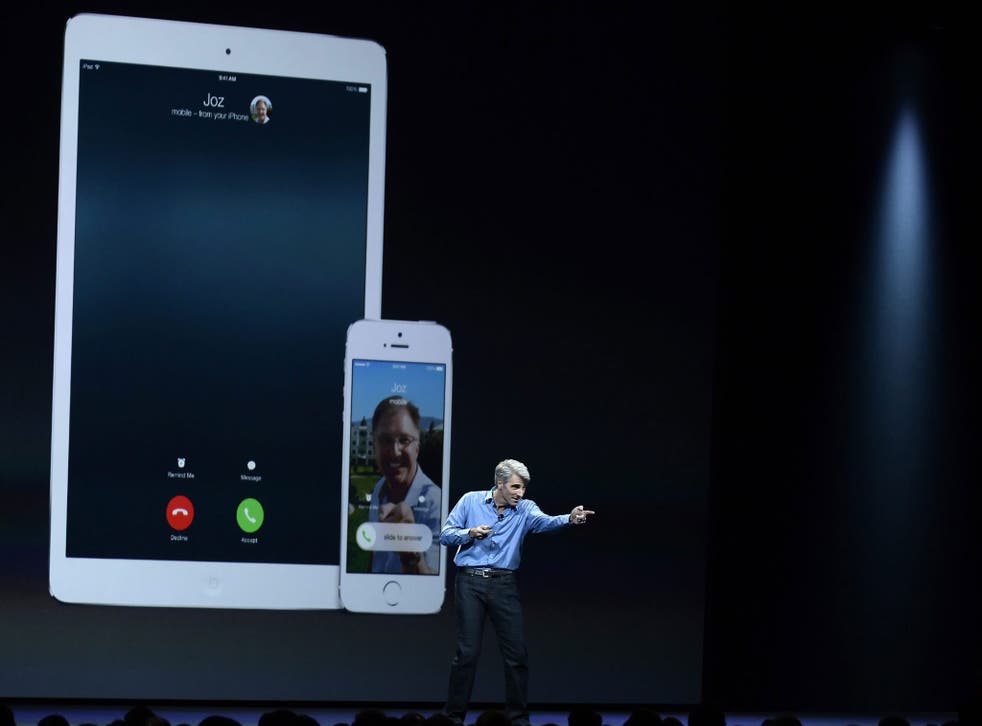 iOS 8: Release date, features and everything else you need to know
WWDC 2014 announcement includes brand new 'HomeKit' and 'HealthKit' applications
Apple has unveiled a much-anticipated major software update for mobile devices at its annual Worldwide Developers Conference (WWDC) in San Francisco.
Speaking to a packed crowd in California, Apple CEO Tim Cook said iOS 8 was a "giant release", offering "great user features and incredible developer features".
For users, the highlights of the release included a brand new piece of software called "HomeKit", which will allow people to control household objects and appliances – including lights and doors – directly from their smartphone.
The new operating system will also include "HealthKit", a comprehensive package bringing together a range of lifestyle tracking apps, and "Touch ID", allowing the phone's inbuilt fingerprint scanner to be used to authorise things like bank transactions for the first time.
In pictures: Apple iOS 8 and OS X Yosemite features revealed

Show all 10
At the same event, Apple's Craig Federighi unveiled OS X Yosemite, an update to the software used in the company's desktops and laptops.
Demonstrating the redesigned product on-stage, Federighi said: "Another year, time for another name. Yosemite has a great new interface, as well as a gorgeous new dock and beautiful icons. This all makes for a more usable OS X. The best ever."
As for a release date, Cook said both software updates will be available to the public in autumn this year. Apple will also be bringing out the iPhone 6 at around the same time, and the device is likely to debut the new software.
Here is a rundown of the key features announced for iOS 8 and OS X Yosemite:
iOS 8
HomeKit - Unveiled in the developer's section of the keynote speech, this is nonetheless a huge launch for Apple. Working with smart devices in the home, HomeKit will enable users to control things such as lighting and doors directly from their smartphone, marking the Cupertino company's first major venture into the 'internet of things'.
Photos - As well as introducing some new features that allow better editing of lighting and contrast, iOS 8 will see the iCloud Photo Library launched. This will store all users photos across all their devices automatically, and the edits they make. This is also coming to OS X on desktop.
Messages - New audio and video controls make it very quick to record and send a multimedia file. The group messaging feature has also been updated so it is now identical to the experience offered by WhatsApp, with muting and the option to join and leave groups.
Keyboard - The new predictive aspect of the keyboard will be familiar to Android users. Your iPhone will now offer word suggestions as you type and these will change depending on the app you're using.
Family Sharing - A response to criticism surrounding in-app purchases and children running up large bills, Family Sharing allows up to six family members to share information. Crucially, the app is linked to a single payment card and permission must be granted by a parent for any purchase by a child in the family.
iCloud Drive - Another new feature that will also run on OS X Yosemite, iCloud Drive is Apple's own version of services like Dropbox, where users can upload any file type to the Cloud and then access it from any device.
Health - An app that allows all users various fitness and movement tracking apps to talk to each other, and sync data in one place. Health works with third party wearable technology like the Nike Fuelband, and enables users to bring its data together with other apps like Endomondo, combining it all in one place.
Continuity - Applies to both iOS and OS X. Continuity has been introduced, says Apple, to make using all your different devices together more seamless. AirDrop now works across Mac and mobile devices. There's also the new Hand Off feature, where users can open a document on iPad that is being worked on via Mac, and vice versa. Mac users can also use their iPhone to create a mobile hotspot, and SMS messages are integrated to Mac for the first time.
App Store - As well as a host of new search features, including a trending bar and related search options, videos can now be added to app preview screens.
Touch ID - The fingerprint scanner has been opened up to third-party developers for the first time, meaning banking and other apps can use it to authorise transactions and other features from your device in the future.
OS X Yosemite
Design - Much like iOS last year, OS X Yosemite has had a lot of attention spent on its look this year, with new icons and a new interface to go with it. New transparent menu bars and user gestures have given a freshness to the desktop interface.
Spotlight - Apple's search feature has been made more prominent in Yosemite, with the search bar now appearing in the centre of the homescreen, and rather than just searching your Mac, you can now use it to search for anything on the web as well.
Mail - One of the native apps to receive the biggest overhaul, Mail has been made better at handling users productivity. Users can now hide a draft email by using a swipe down gesture. This allows them to check facts and details in other emails before tapping the message at the bottom of the screen to return to it and continue writing.
Continuity - The biggest feature of Continuity when it comes to Mac users is the ability to now answer and make phone calls from your laptop. Tapping phone numbers on websites will trigger a call option on the Mac too, so users don't have to pick up the phone.
Swift - A more niche feature, but Apple has introduced a new coding language that will enable developers to write apps and games much faster than ever before. This was demonstrated on-stage at WWDC when a programmer created a 3D game in three minutes.
Mark Up - Within the Mail app it is now possible to annotate documents and files, as well as add signatures just by drawing on a mouse pad.
Join our new commenting forum
Join thought-provoking conversations, follow other Independent readers and see their replies