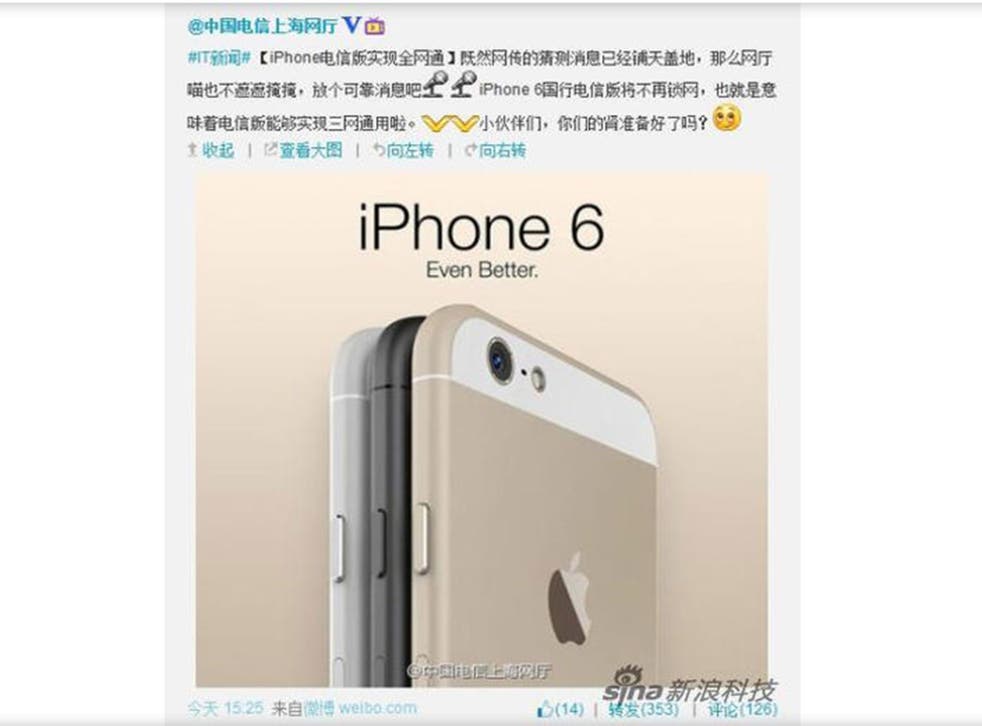 iPhone 6: China Telecom 'leaks picture' of new Apple smartphone
The post on China's version of Twitter was deleted – but image looks like the most official photo yet
The launch of a new Apple product has traditionally involved a grand unveiling, in which tech-enthusiasts eagerly wait for the moment when the new piece of technology is presented on stage, and demonstrated for all to see.
But no more. The launch of the iPhone 6 has been plagued by a new leak every few days it seems, with details of the new design or features spilled on to the internet regularly.
This time, what has been claimed is the most official image of the new phone has been 'accidentally' leaked by China Telecom on the Chinese version of Twitter, Weibo.
The image purports to be from Apple's marketing material for the new product, showing three of the phones lined up, one silver, one black and one champagne colour, under the words: "iPhone 6. Even Better."
The post, which would appear to confirm previously leaked details about the new smartphone, such as its close design to the current iPad air and its similarity to the photos leaked of an apparently brand new iPhone 6 shown unboxed, was quickly deleted, Cnet reported.
The iPhone is set to be officially launched on 9 September, which is when we'll get to see just how accurate these leaked photos are.
Update: Eagle-eyed readers have pointed out that the image posted by China Telecom is concept art rather than leaked promotional material. The picture fits with everything we know about the iPhone 6 so far - but lets wait for the official launch before we get too excited.
Join our new commenting forum
Join thought-provoking conversations, follow other Independent readers and see their replies