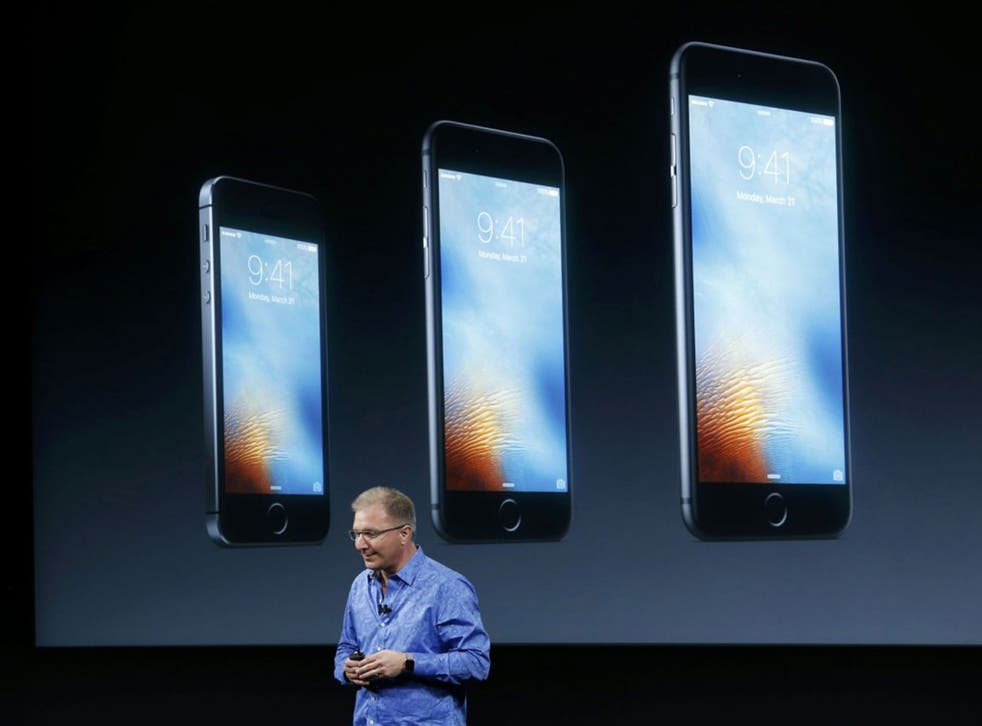 iPhone SE: A closer look at Apple's newly launched phone
 In the hand, the new phone feels very much like the earlier models, with Apple clearly targeting people who like a smaller phone
Apple's keynote presentation today from the company's headquarters, 1 Infinite Loop in Cupertino, was a story of smaller and cheaper. But it began on a surprising note.
Company CEO Tim Cook began with a passionate declaration about people's private data on the iPhone, which he called a "deeply personal device". Apple has, he said, "a responsibility to protect your data. We will not shrink from this responsibility." No coincidence that this was said the day before Apple goes to court to defend itself in its current dispute with the FBI.
The hardware releases are always the heart of an Apple keynote and although much had been leaked already, the products had more secrets to reveal. The new iPhone is called the iPhone SE, which is engraved on the phone's back. It's a design almost identical to the iPhone 5 – only Apple would get away with releasing a product that imitates a design first seen over three years ago.
Truth is, it does still look good, with tiny but effective tweaks to the styling. The Apple logo is now more closely colour-matched to the phone's back, available in four versions – space grey, silver, gold and rose gold. The chamfered edges are now matte rather than shiny, which may help reduce scratching.
Of course, it's also the brains that have been upgraded, matching the processor and camera, for instance, to the latest iPhones' capabilities. In the hand, the new phone feels very much like the earlier models, and Apple's hope is that if you like a smaller phone, the improved specs matched with the considerably lower price – from £359 without contract and likely to be free on even a £20 a month tariff – will attract many who have previously found an iPhone too pricey.
On the iPad front, today's reveal suddenly made sense of the fact that there was no update to the iPad Air 2 last autumn. That's because it was updated today as another iPad Pro. The original Pro was the super-sized, super-charged iPad released in November. It now has a smaller cousin, matching the size of the iPad Air 2. The 9.7-inch screen has been improved so that it's brighter and with a wider colour gamut. It also has a key advantage called True Tone display. This measures the colour temperature of the ambient light and changes the colour output so that a sheet of white paper, say, always looks white. This means that the new iPad Pro has arguably the best screen of any iPad yet. It's also cheaper than the bigger iPad Pro, which is very good news. Like the larger one, the new iPad Pro is compatible with Apple's elegant Pencil which adds extra functionality. And the new tablet has a keyboard cover attachment which is efficient and feels great to type on. Apple described it as the ultimate upgrade for iPad.
Gadget and tech news: In pictures

Show all 25
The Apple Watch, Tim Cook said, is the number one selling smartwatch, and today gets a price cut of £40, starting at £259. It also now comes with a bunch of new bands in lightweight nylon and extra colours.
Usually keynotes list new products and then talk at the end how green the company is. This time, another surprise, Apple led early on with a presentation including a video on how eco-friendly Apple is becoming, aiming to be using only renewable energy to power its stores and offices in the future, an aim it's already met in Singapore. There was also the revealing of LIAM, a robot which dismantles old iPhones and recycles the parts. They're not used to create new iPhones, but one day, they will be, is the aim.
Overall, the range of iPads and iPhones seems bigger than it's ever been, with a highly proficient and affordable entry-level iPhone SE, available from 31 March and a powerful, more manageable iPad, in stores on the same date.
Though they're not short of innovations, it's the affordability which is likely to win over customers new to Apple.
Join our new commenting forum
Join thought-provoking conversations, follow other Independent readers and see their replies