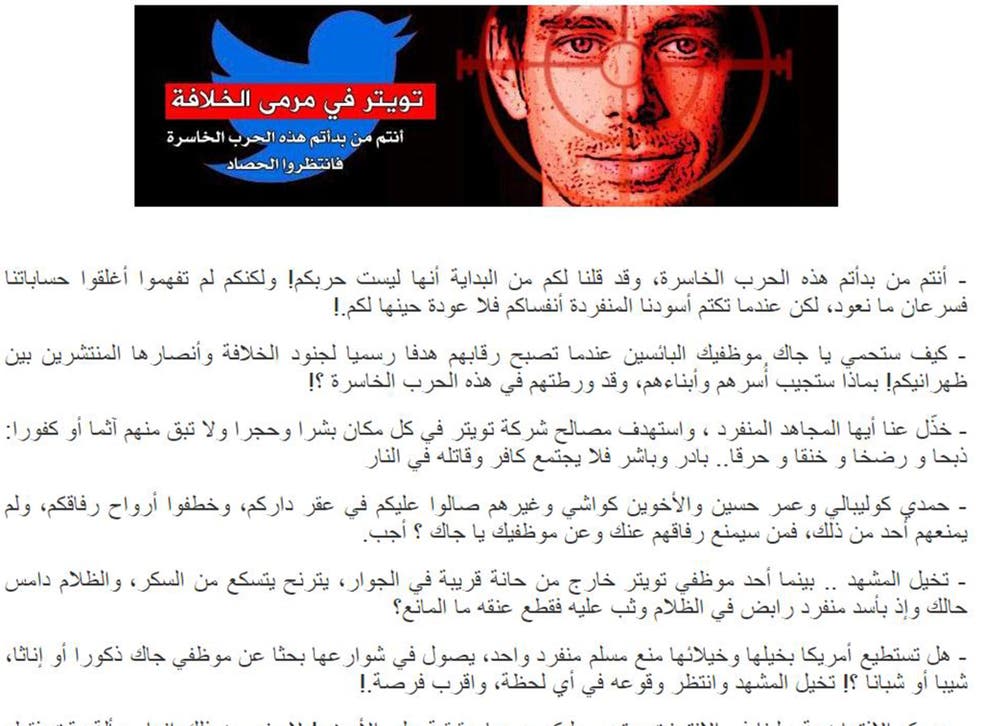 Isis wages war Twitter: Militants target co-founder Jack Dorsey and threaten to behead employees for deleting accounts
'Your virtual war on us will cause a real war on you,' an online post said
Isis supporters have called on jihadists around the world to murder Twitter employees because of the social network's crackdown on extremist accounts.
An online post claiming to be from the Islamic State features a picture of co-founder Jack Dorsey in crosshairs.
"Your virtual war on us will cause a real war on you," it says, calling for beheadings in response to Twitter's "campaign to delete accounts".
The network suspends any profiles that violate its terms of service, which ban threats of violence and anything furthering illegal activities.
"You started this failed war," the Isis post, which is in Arabic, says according to a Buzzfeed translation.
"We told you from the beginning it's not your war, but you didn't get it and kept closing our accounts on Twitter, but we always come back.
"But when our lions come and take your breath, you will never come back to life."
The bloodthirsty post said Twitter employees' necks would "become a target for the soldiers of the Caliphate" already claimed to be in their midst.
It told Mr Dorsey to picture his staff being attacked by a jihadist on the way home from a pub and decapitated.
"Imagine the scene and wait for its occurrence at any moment, and the earliest opportunity!" it continued.
"For the 'individual jihadi' all over the world, target the Twitter company and its interests in any place, people, and buildings, and don't allow any one of the atheists to survive."
Isis jihadists in Syria and Iraq use Twitter to post propaganda bragging about their military gains and lifestyle under the "Caliphate", as well as inciting other extremists to join them.
Twitter moves swiftly to suspend such accounts, as well as those held by supporters spreading gory execution videos and images of the group's atrocities.
Sunday's message is not the first threat from Isis towards Twitter. In September last year, fanatics threatened to attack its San Francisco headquarters if it continued suspending accounts.
Timeline: The emergence of Isis

Show all 40
One message said: "Twitter management should know that if they do not stop their campaign in the virtual world, we will the bring the war to them in the real world on the ground."
Another read: "Every Twitter employee in San Francisco in the United States should bear in mind and watch over himself because on his doorstep there might be a lone wolf assassin waiting."
A spokesman for Twitter, told BuzzFeed News: "Our security team is investigating the veracity of these threats with relevant law enforcement officials."
Writing on the JustPaste.it forum, which is frequently used by Isis-affiliated groups, followers have shared tips on how to avoid Twitter censorship by slightly changing usernames and opening new accounts.
Many of the British men and women who have travelled to Syria to join Isis are known to use the social network as a platform for attempts to encourage fellow UK Muslims to join them.
Abdel-Majed Abdel Bary, 24, who left his rap career in London to fight with Isis in Syria, posted a picture of himself holding a severed head with the caption: "Chillin' with my homie or what's left of him."
A woman believed to be from London called Khadijah Dare said she wanted to be the first British woman to behead a Westerner and another woman, tweeting as @UmmKhattab__ threatened to decapitate David Cameron.
Join our new commenting forum
Join thought-provoking conversations, follow other Independent readers and see their replies