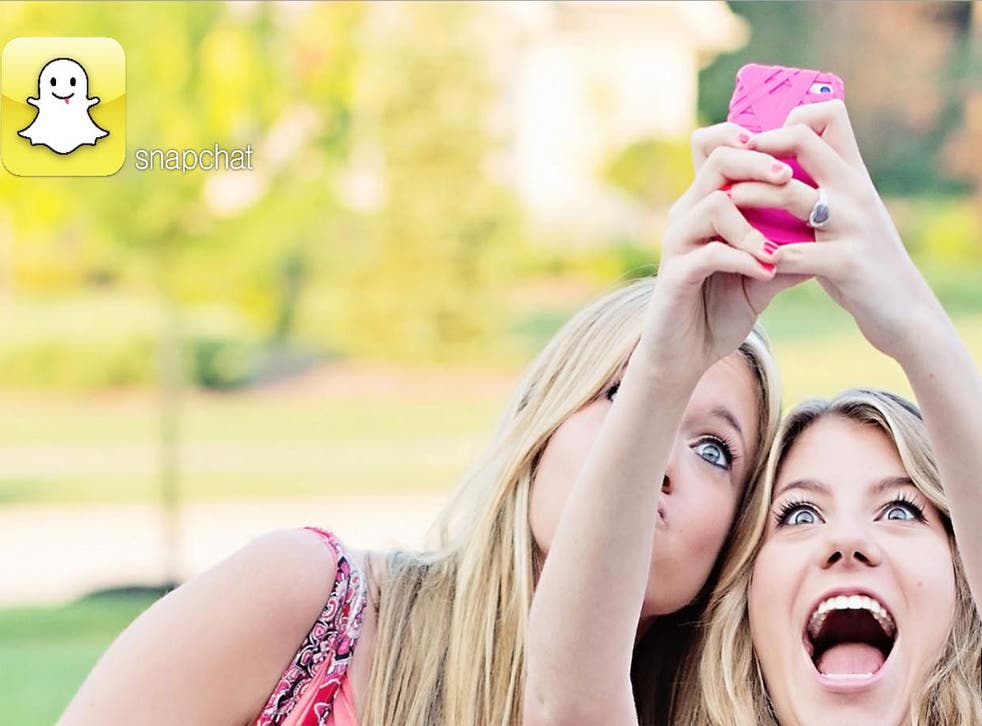 It's the latest social media phenomenon and has just been valued at $800m. But how long will Snapchat last?
Photo-sharing app allows users to send images which 'self-destruct' within 10 seconds
It was hatched as a Stanford University design project barely two years ago. But now Snapchat, the photo-sharing app which allows users to send images which "self-destruct" within ten seconds, is taking a bite out of Facebook after its valuation soared to $800 million (£517 million).
The service offered by Evan Spiegel, 22 and Bobby Murphy, 24, the latest darlings of the start-up social media sector, is intentionally fleeting.
Smartphone users send photos or video clips to friends which disappear within ten seconds or less after being viewed, and are supposedly then deleted from servers.
Launched in 2011, teenagers immediately embraced the app as a fun new way to communicate, without leaving a trail of personal information. More than 200 million images are "snapped" globally each day, up from 60 million in February.
The app's "hyper-growth" rate has been compared to the early days of Twitter and Instagram, with users moving beyond the temptation to send sexually explicit images to carefully selected targets.
Whilst Snapchat deals in the ephemeral, the entrepreneurs behind the app are attracting heavyweight backing, despite the start-up having yet to demonstrate a profitable business plan.
Snapchat has raised $60m in its latest round of funding from Institutional Venture Partners, General Catalyst Partners and SV Angel. Michael Lynton, chief executive of Sony Corp US and Sony Pictures Entertainment, will join its board.
With $13.5m of venture capital backing previously secured in February, analysts said Snapchat was now valued at around $800 million, up from $60 million (£39 million) earlier this year.
Mark Zuckerberg, the Facebook founder, is among Snapchat's millions of users. But when Facebook launched a rival disappearing photo-messaging service, Poke, it failed to make a dent in Snapchat, which increased its market share.
Snapchat now has a higher valuation than the $715 million which Facebook paid in cash and stock to acquire the image-sharing service Instagram, which is used to transmit 40 million pictures a day.
Spiegel and Murphy, Stanford "frat boys", developed Snapchat in response to a series of US scandals over politicians caught "sexting". "What if embarrassing photos could instantly expire once viewed?", they asked.
Fellow students weren't impressed with the model the pair presented in a design class so Spiegel quit school two years ago and worked on the app from the dining room of his father's house in Los Angeles.
Rejecting Silicon Valley as a base, the pair located Snapchat, which currently employs 17 staff, in a beach house on Venice Beach, its premises marked by a yellow cartoon ghost on the door.
Just as Facebook's contested origins became the subject of a film, The Social Network, Snapchat's founders now face a legal battle.
In February, former classmate Frank Reginald Brown IV filed a lawsuit against Snapchat and its co-founders, alleging that he came up with the idea and worked on the app but was frozen out after falling out with his friends. The company has declined to comment on the lawsuit.
Snapchat now needs to monetise its operation, through in-app purchases and mobile advertising.
Spiegel, who still lives at home with his father, an entertainment lawyer, said: "We've been able to support the growth of Snapchat with minimal overhead. But in order to continue scaling while developing the Snapchat experience, we needed to build a bigger engineering team and figure out how to pay our server bills."
Snapchat is worth its $800 million valuation, argued Dennis Phelps, general partner at Institutional Venture Partners. "Snapchat is clearly a huge success, and we wouldn't have invested unless we believed that it will become a much larger one," he said.
Spiegel has hired the best engineers in the country and aspires to make Snapchat a "multi-billion dollar venture-backed success", Phelps said.
Snapchat would outgrow its teen audience, Phelps predicted. "Facebook spread like wildfire across college campuses long before it gained acceptance with soccer moms," he said.
Snapchat was unique because it offered a "sense of excitement and an urgency of consumption that is rare in this era of information overload," argued Phelps.
Privacy campaigners have warned that images sent through Snapchat may have more permanence than their senders intended. Screen shots can be taken of any image sent through the app, and senders are notified when a recipient does so. The company acknowledged that material deleted from its servers could be recovered "using the right forensic tools".
MTV is using Snapchat to send "cheeky" pictures from the new series of reality show Geordie Shore directly to fans' smartphones, in a marketing tie-in.
Snapchat claims that lewd images form a very small amount of the material shared through the app.
Facebook
Eight years and 900 million users after Mark Zuckerberg and Harvard buddies created social network, Facebook went public in 2012 with $104bn (£66bn). Bungled offering saw stock lose half of its value three months later.
Zynga
Farmville social gaming platform founded by Mark Pincus earning $829 million in sales hit peak valuation of $12 billion and went public in 2011. Market capitalisation slumped to $2 billion after customer move away from Facebook games and disastrous $200 million purchase of OMGPOP gaming company.
Twitter
Micro-blogging service founded by NYU student Jack Dorsey in 2006 now has more than 550 million users and projected to earn $400 million in advertising revenue. Expected to launch IPO next year with valuation at $11 billion.
Pinterest
"Virtual pinboard" website that allows people to group images in themes launched in 2010 now has 50 million users and valuation of $2.5 billion after $100 million investment round. Co-founded by former Google employee Ben Silbermann.
Instagram
Created by San Francisco developers Kevin Systrom and Mike Krieger and launched in October 2010, photo and video sharing service was adopted by celebrities and purchased by Facebook in 2012 for $715 million in cash and stock. Currently has 130 million users.
Join our new commenting forum
Join thought-provoking conversations, follow other Independent readers and see their replies