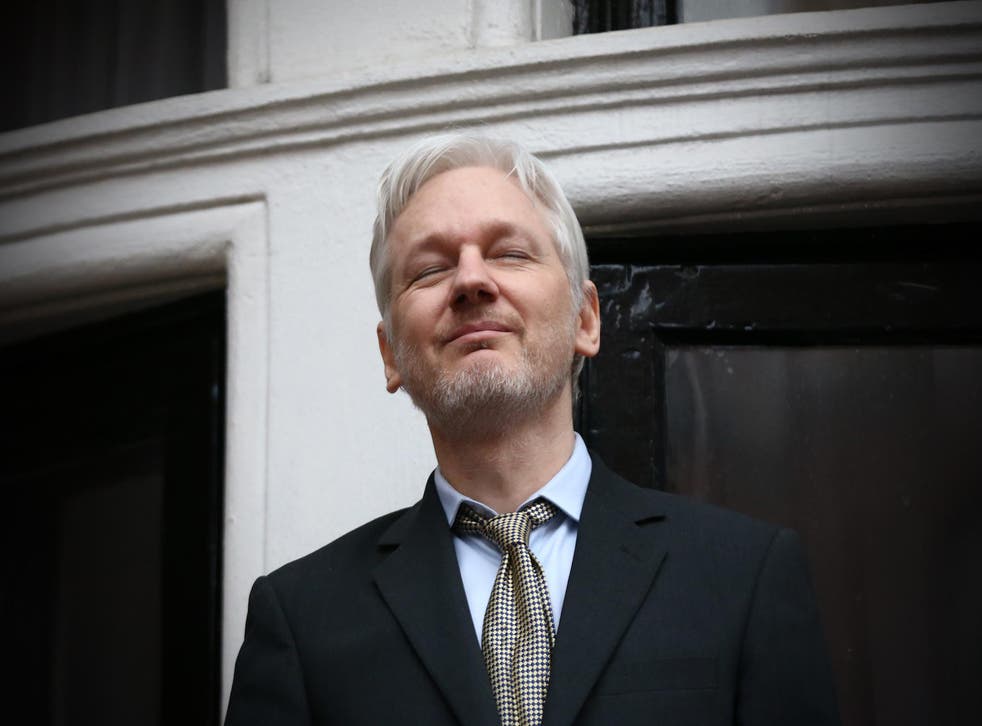 Julian Assange 'to hand himself in and accept extradition to the US' after Barack Obama commutes Chelsea Manning sentence
Mr Assange promised last week that he would leave the Ecuadorian embassy if Ms Manning was granted clemency
Julian Assange is going to face extradition to the US and finally leave the Ecuadorian embassy, Wikileaks has indicated.
Update: since this story was posted, Mr Assange's lawyer has suggested that the clemency granted to Chelsea Manning is unsatisfactory and he will not accept extradition. An updated story can be found here.
Mr Assange promised last week that, if Barack Obama granted clemency to Chelsea Manning, he would hand himself in and go to the US to face a court case. The outgoing US president used his final hours to free the former soldier, who was jailed for handing over classified documents to Wikileaks.
Wikileaks had tweeted last week: "If Obama grants Manning clemency Assange will agree to US extradition despite clear unconstitutionality of DoJ (Department of Justice) case." At that time such a pardon was thought unlikely, but the Obama administration announced last night that it would let Ms Manning go free nearly 30 years early.
Donald Trump's most controversial quotes

Show all 14
Melinda Taylor, a member of Mr Assange's legal team, insisted that those previous comments made about the implications of the Manning case still stand.
"Everything that he has said he's standing by," she said.
It remains unclear how Mr Assange will hand himself in and when such an arrangement will happen. It's also not entirely clear that an extradition agreement is actually in place, despite the comments.
The Wikileaks Twitter account, which is thought to be controlled by Mr Assange, did not respond to further questions from reporters about whether his lawyers' comment meant that he would be extradited.
Mr Assange has been living at the Ecuadorian embassy in London since the summer of 2012. He argues that if he leaves he will be arrested in relation to allegations in Sweden, and then taken to the US.
He praised campaigners for their role in encouraging the Obama administration to grant clemency to Ms Manning.
"Thank you to everyone who campaigned for Chelsea Manning's clemency," he said. "Your courage & determination made the impossible possible."
Julian Assange questions Seth Rich death
Mr Assange was interviewed in the embassy in November in the presence of prosecutors from Sweden, where he faces a sex allegation. He denies the claims, but believes he faces extradition to the United States for questioning over the activities of WikiLeaks if he leaves the embassy.
Wikileaks and Mr Assange had a central role in the election of Donald Trump. The organisation published private emails sent by and to Hillary Clinton's campaign manager in the days running up to the election, for instance.
Intelligence agencies have suggested those emails came from a hack by the Russian government, but Mr Assange denied they were from "state parties".
Some have even suggested that Mr Trump may choose to pardon or look favourably on Julian Assange if he returns to the US. The President-elect has approvingly quoted comments from Mr Assange – though Mr Trump later said that the tweets didn't indicate the two were "in agreement", just that people should "make up their own minds".
Join our new commenting forum
Join thought-provoking conversations, follow other Independent readers and see their replies