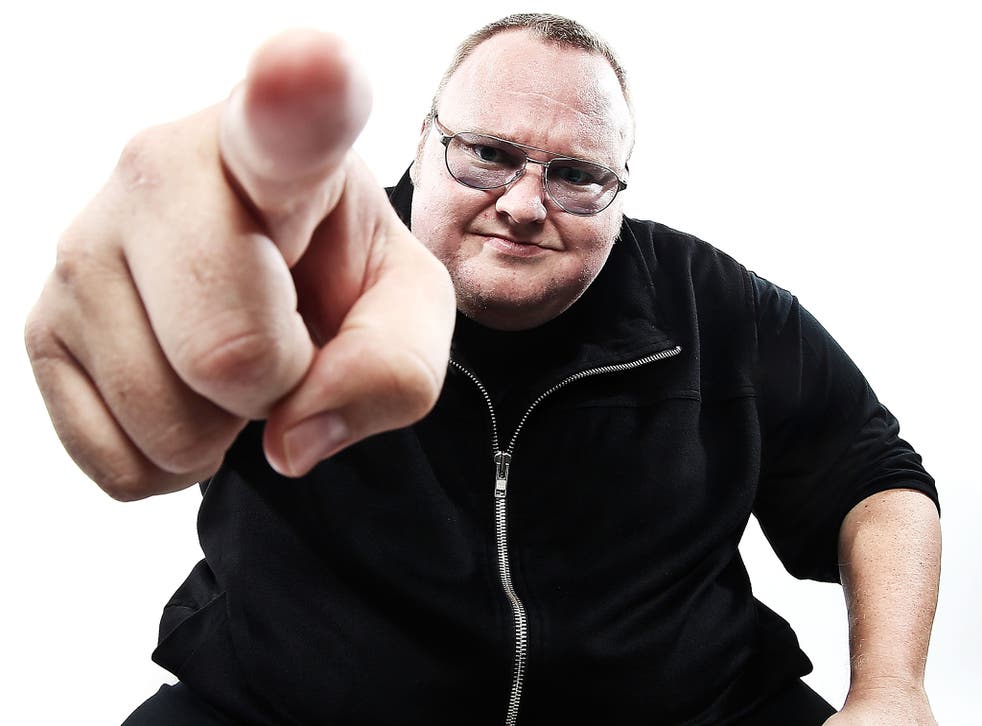 Kim Dotcom plans to appeal against court ruling that raid on his New Zealand home was legal
A New Zealand court ruled on Wednesday that the search warrant used in his arrest was legal
Naomi Tajitsu
Thursday 20 February 2014 19:48 Comments
Megaupload founder Kim Dotcom has announced on Twitter that he will appeal against a court ruling that a raid on his mansion was legal.
His comments came after a New Zealand court ruled on Wednesday that the search warrant used in the arrest of Dotcom was legal, dealing a blow to the internet entrepreneur who is fighting extradition to the US.
Acting on the request of US authorities, the New Zealand government successfully appealed a 2012 ruling that police used illegal warrants when they arrested him at his mansion near Auckland in January 2012, where they also seized laptops and hard drives.
The decision will benefit US prosecutors who say the Megaupload website has cost film studios and record companies more than $500 million (£300 million) and generated more than $175 million in criminal proceeds by letting users store and share copyrighted material, such as movies and TV shows.
If he is extradited, the ensuing copyright case could set a precedent for internet liability laws and, should he win, could force entertainment companies to rethink online distribution methods.
Wednesday's ruling overturned an earlier High Court decision that the search warrants were vague and enabled police to seize materials irrelevant to the charges against Dotcom.
But the appeals court said the warrants were adequately worded and should not have caused misunderstanding.
However, the appeals court upheld an earlier ruling that prosecutors had not been authorised to send clones of seized electronic evidence to the United States.
The decision could pose a setback to a separate case in which Dotcom is seeking damages from the government for its role in the raid on the German-born, New Zealand resident's home.
At the same time, Dotcom could now find it difficult to challenge evidence at his extradition hearing set for July. A Supreme Court decision is pending on whether US prosecutors must disclose evidence to be used in the hearing.
Dotcom's lawyers said they could also appeal to the Supreme Court against Wednesday's ruling.
"Our legal team is reviewing the rulings made by the Court of Appeal and will likely seek leave to appeal to the Supreme Court," US attorney Ira Rothken tweeted.
Dotcom says Megaupload, which housed everything from family photos to Hollywood blockbusters, was merely an online warehouse and should not be held accountable if stored content was obtained illegally.
The US Justice Department counters that Megaupload encouraged piracy by paying users who uploaded popular content and by deleting content that was not regularly downloaded.
A New Zealand government enquiry in 2012 found the nation's secretive spy agency acted unlawfully by giving information on Dotcom to U.S. authorities before the 2012 raid.
Dotcom's case highlights the scope of cooperation between the United States and other nations after former NSA contractor Edward Snowden revealed a surveillance programme on U.S. citizens and other targets, including missions of the European Union and EU states.
Register for free to continue reading
Registration is a free and easy way to support our truly independent journalism
By registering, you will also enjoy limited access to Premium articles, exclusive newsletters, commenting, and virtual events with our leading journalists
Already have an account? sign in
Join our new commenting forum
Join thought-provoking conversations, follow other Independent readers and see their replies