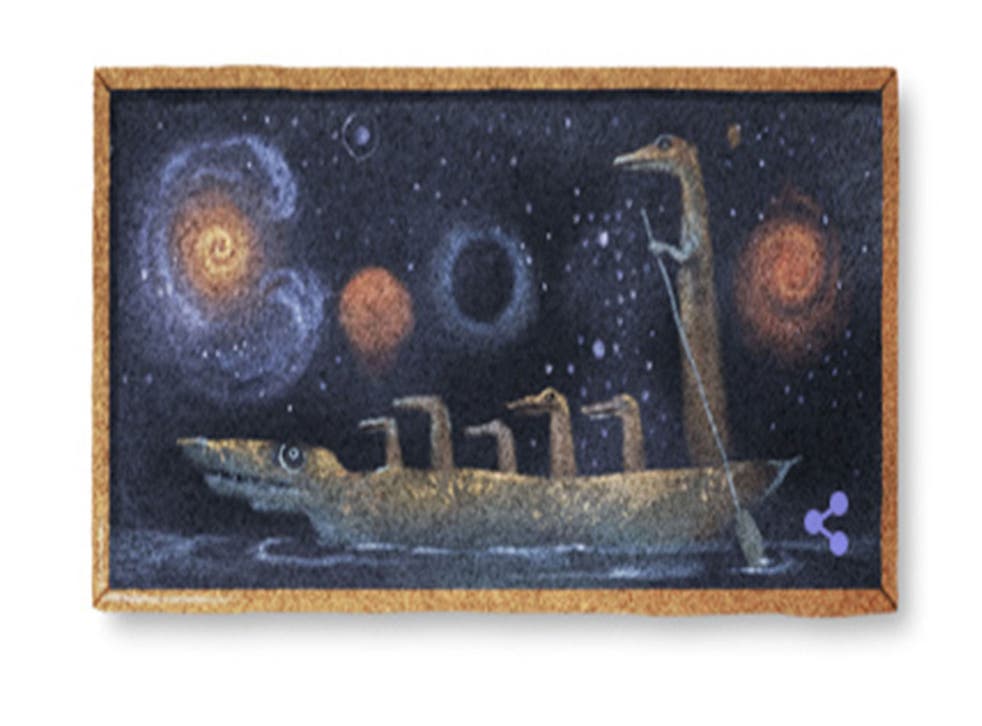 Leonora Carrington: Surrealist painter's birthday honoured with a Google doodle
The doodle itself is aptly bizarre
Jonathan Gibbs
Monday 06 April 2015 14:58 Comments
Celebratory Google doodles have been cute, clever and delightful since they first appeared, but there have been few as obscurely intriguing as today's, that shows a night-time boat in the shape of a crocodile steered by and carrying more of the creatures.
Clicking on the image will inform you that it is intended as a celebration of the 98th birthday of the Surrealist artist Leonora Carrington, who was born in Lancashire on 6 April 1917, though she lived for much of her life in Mexico, dying there in May 2011, aged 94.
She was a last surviving link to the Surrealist movement that first developed in Europe in between the wars, offering a defiantly feminist alternative to the likes of Andre Breton and Max Ernst, and bringing in elements of magical realism.
As well as painting and sculpting, Carrington also wrote a number of books, including Down Below, which dealt with her psychotic experiences following a hospitalisation and treatment which included the use of drugs such as Luminal and cardiazol.
This was far from the only dramatic event in her life. As Joanna Moorhead relates, she took lunch with Man Ray in Cornwall, had drinks with Picasso in Paris, married Max Ernst, and effected a daring escape from Hitler.
Boyd Tonkin argues that she transcended her stolid background - schooled in Chelmsford in Essex - to become a truly international avant garde star.
There is a current surge of interest in Carrington in Britain, with a major exhibition at Tate Liverpool, and a translation of novel based on her life by Mexican author Elena Poniatowska.
And the crocodiles? They are from a 1998 painting by Carrington entitled How Doth the Little Crocodile (based on the poem by Lewis Carroll, from Alice's Adventures in Wonderland). She later turned the image into a small and then a large scale sculpture, which was installed in Mexico City in 2000.
Register for free to continue reading
Registration is a free and easy way to support our truly independent journalism
By registering, you will also enjoy limited access to Premium articles, exclusive newsletters, commenting, and virtual events with our leading journalists
Already have an account? sign in
Join our new commenting forum
Join thought-provoking conversations, follow other Independent readers and see their replies