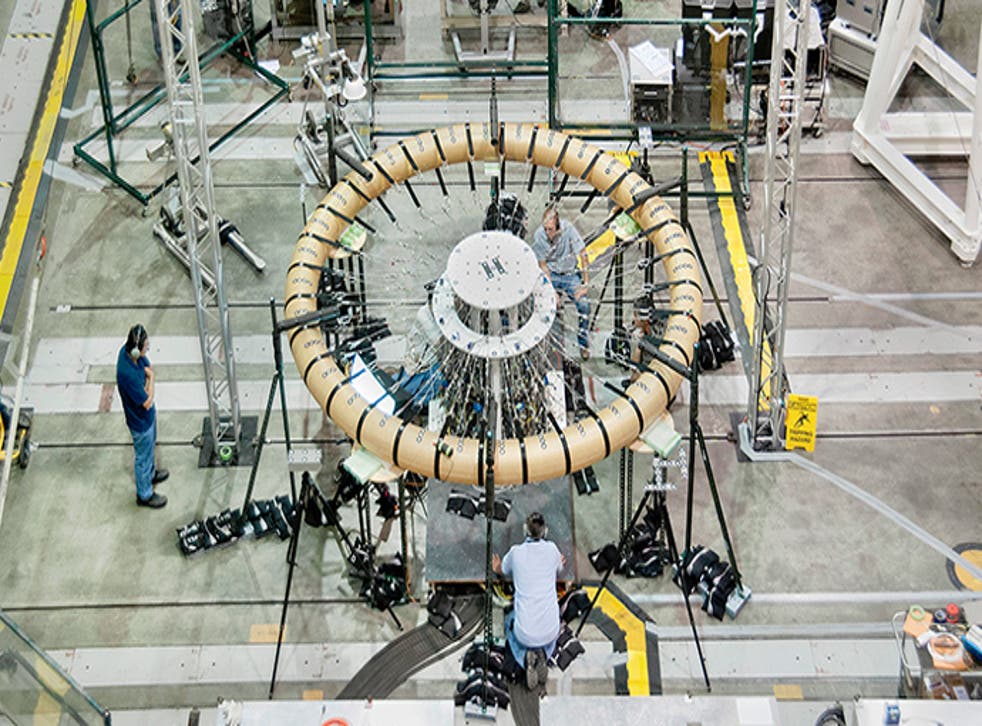 Mars dream could be made reality by device inspired by children's toy
NASA is testing an inflatable heat shield based on the design of kids' stacking rings toy
One day, when humans have arrived on Mars, we might credit a children's toy for getting us there.
Inspired by the classic stacking rings toy, Nasa engineers at the Langley Research Centre in Hampton have built an inflatable heat shield that could help land large spacecraft on the surface of Earth's nearest neighbour.
The device is called the Hypersonic Inflatable Aerodynamic Decelerator.
It is believed that it could slow the spacecraft as it enters a much-thinner Martian atmosphere.
The ultra-light heat shield would enable spacecrafts to reach high-altitude southern plains of Mars and other areas that we don't yet have the technology to explore.
Experts say that rockets alone can't land a large craft on Mars as they can on the atmosphereless moon. Neither would parachutes work, they add.
The inflatable rings, however, filled with nitrogen and covered with a thermal blanked, would sit atop the spacecraft, making it look like a mushroom.
Neil Cheatwood, a senior engineer at Langley, told Associated Press: "We try to not use propulsion if we don't have to.
"We make use of that atmosphere as much as we can, because it means we don't have to carry all that fuel with us."
Getting humans to and from Mars safely as early as the 2030s is gargantuan challenge, Nasa admits.
Its scientists recognise they must design new in-space propulsion systems, advanced spacesuits, long-term living habitats aboard spacecraft, and even communication systems for deep space.
Work is coming along, but there's still a long way to go.
One Nasa experiment on the horizon is the testing of second-generation inflatable spacecraft technology performs upon re-entry in Earth's atmosphere.
This test will help determine how far along this simple yet groundbreaking space technology is, with Nasa expressing hope that it can used to take large loads of supplies to Mars from the International Space Station.
The experiment is scheduled to go up on the next Antares rocket in 2016.
Additional reporting from AP
Join our new commenting forum
Join thought-provoking conversations, follow other Independent readers and see their replies