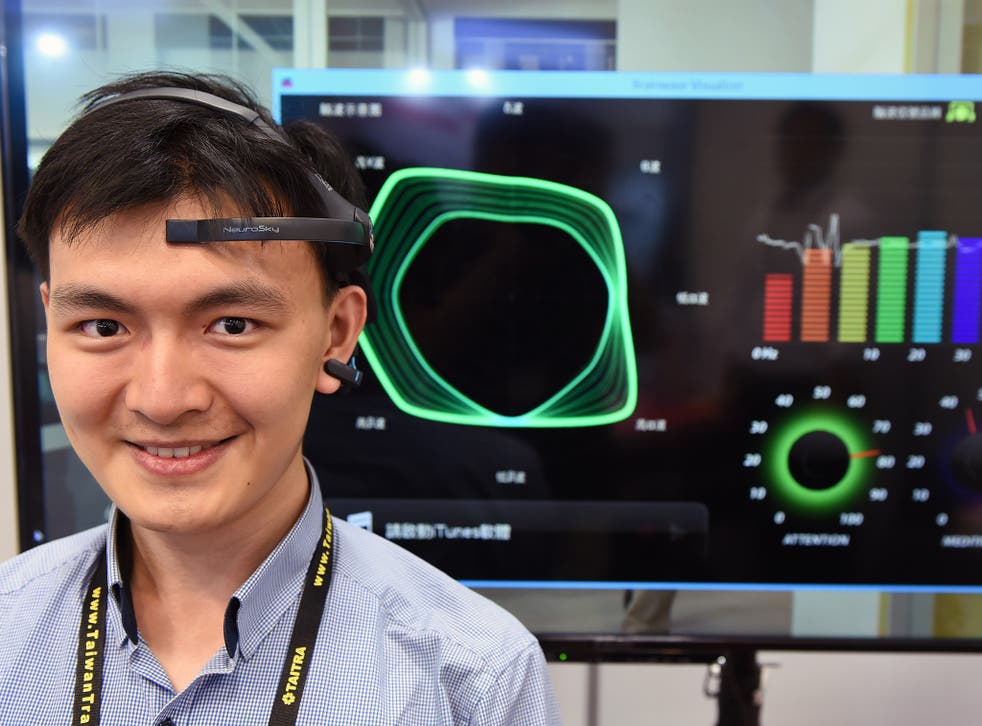 Mind Control TV: BBC announce app allowing users to change channel with their mind
Viewers will be able to select programmes by simply focusing their thoughts as choices of what to watch appear on screen
Remote controls of the physical kind are set to be redundant in the wake of an extraordinary advance, announced by the BBC, which allows people to choose what they want to watch by thought control.
And while the appeal to couch potatoes may be obvious, the prospect of not having to move a muscle to operate a TV could have a big benefit for some disabled people, such as those who are completely paralysed.
A prototype app for an experimental version of the broadcaster's iPlayer, which has been tested on BBC staff, allows viewers to select programmes by simply focusing their thoughts as choices of what to watch appear on screen.
The 'Mind Control TV' prototype works though brain activity signals, which are relayed from an electroencephalography (EEG) headset which contains two sensors to measure levels of brain activity. It can be operated through concentration or relaxation, depending on whether people choose the 'attention' or 'meditation' mode.
Commenting on the new app, which has been developed with technology company This Place, Cyrus Saihan, head of business development for the BBC's Digital division, said: "You can imagine a world where instead of having to get up from your sofa or reach for your remote, you just think 'put BBC One on' when you want to watch TV." He added: "So does it work? In a word, yes." In the first trial, which involved ten BBC staff, all were able to make it work. But some found it easier than others, he admitted.
In footage of the tests, released by the BBC, the reactions of the staff were mixed. One woman, who was not named, said: "It was really interesting, I didn't think it was going to be possible to do it so quickly." But another of the testers commented on how it was "a lot slower than using a remote control."
While it is "very early days" when it comes to controlling TV with your brain, many disabled people could benefit from the new approach. "For example, people affected by motor-neurone disease or suffering locked-in-syndrome may increasingly be able to use brain-computer interfaces to get a better experience of digital and media services than they currently do, potentially opening up the online world of information and experiences that the rest of us now take for granted," commented Mr Saihan.
Join our new commenting forum
Join thought-provoking conversations, follow other Independent readers and see their replies