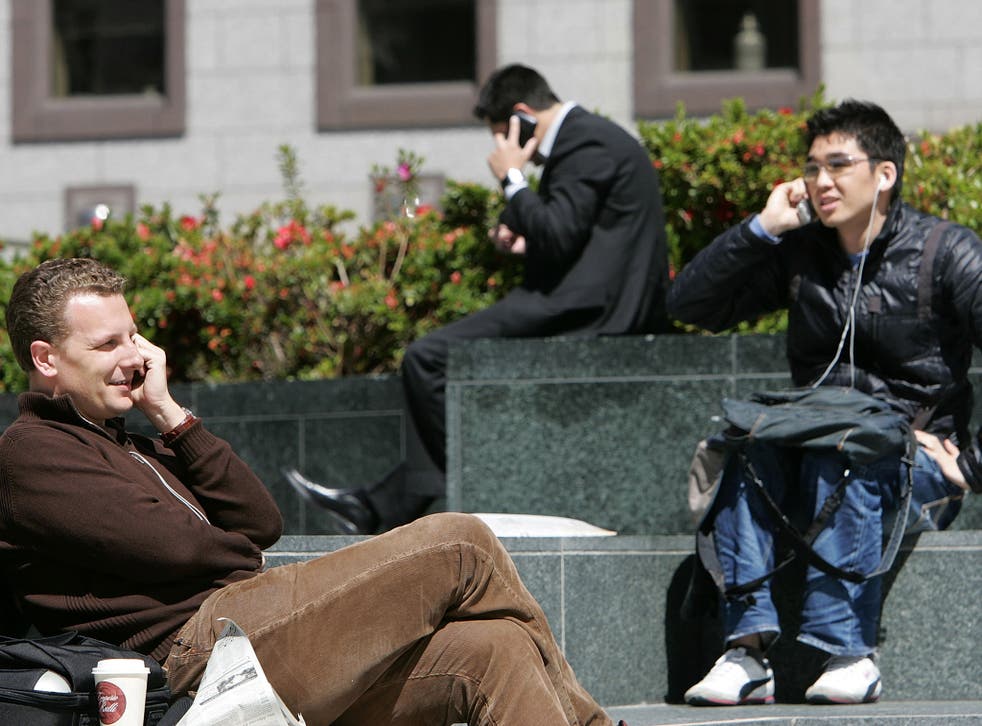 Mobile bills could rocket up as Ofcom announces that it will charge networks far more to use phone spectrum
Ofcom has denied that the price would go up, but experts have pointed out that prices might go up without customers even knowing it
Andrew Griffin
Thursday 24 September 2015 14:38 Comments
Mobile phone bills could rocket up after Ofcom announced that the fees it charges to phone operators will be trebled.
The regulator will now charge far more to phone companies for using the mobile spectrum — and though it says that fee will not be passed on to customers, experts have said that prices are likely to go up.
Networks should pay a combined annual total of £199.6 million per year for the 900MHz and 1800 MHz spectrum bands, which are used for 2G, 3G and 4G voice and data services, Ofcom has said.
The figure is 13% lower than Ofcom's earlier proposals in February but more than three times the current fee.
Vodafone and EE will see their fees more than triple from £15.6 million a year to £49.6 million, while EE's charges will rise from £24.9 million to £75 million and Three's will change from £8.3 million to £25 million.
Half the increase will be payable in from October 31 and the second half a year later, with full fees payable annually from that point.
Ofcom's group director of spectrum, Philip Marnick, said: "We have listened carefully to the arguments and evidence put forward by industry, and conducted a complex and comprehensive analysis to determine the new fees.
"The mobile industry has not previously had to pay market value for access to this spectrum, which is a valuable and finite resource, and the new fees reflect that value."
The price comparison site cable.co.uk said it was fair for providers to pay for a finite resource but warned the money "has to come from somewhere".
Dan Howdle, the site's telecoms spokesman, said: "There can be absolutely no doubt as to the fairness of simply ensuring the UK's mobile network providers pay a fair price for what is absolutely a finite resource.
"But, of course, the money has to come from somewhere. And while, on paper, O2, Vodafone, Three and EE appear in arguably rude health from the perspective of their announced operating profits earlier this year, behind closed doors they are unlikely be happy to see their war chest diminished.
"That Ofcom is 'phasing in' the move to a yearly lump-sum payment for the licence fees will make it especially difficult to detect when, if and how these costs will be passed on to consumers, either directly or indirectly via the fees paid by mobile virtual network operators such as Virgin Mobile and giffgaff to piggyback their network infrastructure."
Ofcom said it did not agree that bills would have to rise as a result of the fees increase.
A spokesman said: "Mobile operators have a strong incentive to keep prices competitive. The operators have had five years' notice that the fees would be increased to reflect full market value and we expect them to have budgeted for this.
"The fees announced today are in line with analysts' expectations and with the amounts that operators pay for accessing spectrum in other countries."
Additional reporting by Press Association
Register for free to continue reading
Registration is a free and easy way to support our truly independent journalism
By registering, you will also enjoy limited access to Premium articles, exclusive newsletters, commenting, and virtual events with our leading journalists
Already have an account? sign in
Join our new commenting forum
Join thought-provoking conversations, follow other Independent readers and see their replies