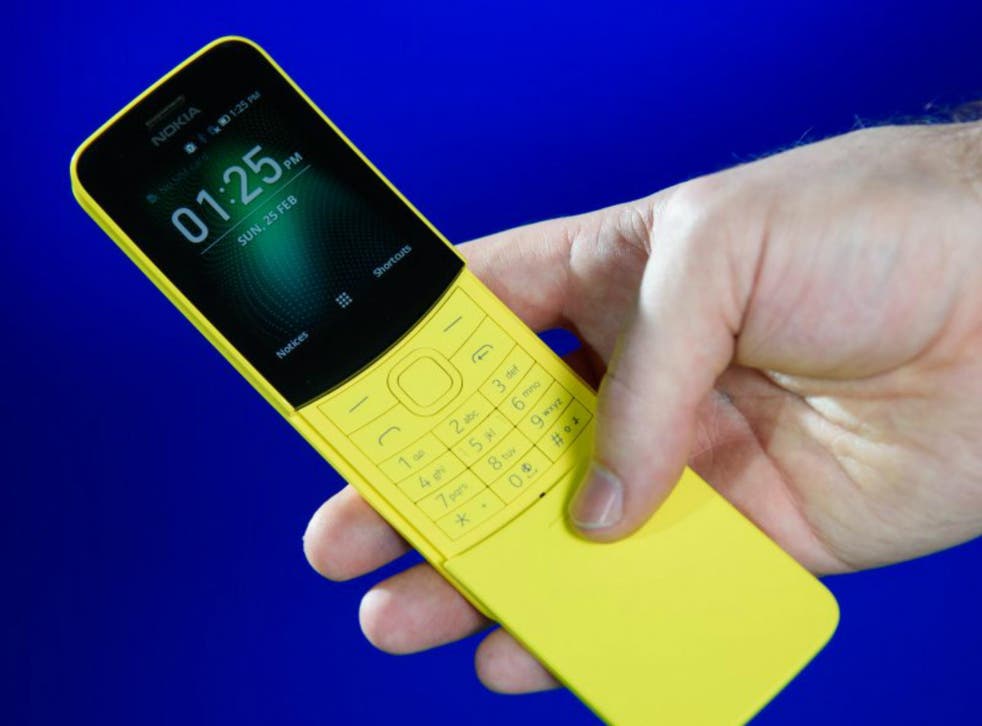 Nokia 8110: Iconic 'banana phone' that starred in The Matrix relaunched
The handset has been treated to a fresh look, but is still guaranteed to tug at nostalgic consumers' heartstrings
The iconic Nokia 8110 has just been relaunched.
The beloved slider, which first came out in 1998, has been treated to a fresh new look, but is still guaranteed to tug at nostalgic consumers' heartstrings.
The new model is also far more capable than the original, and can run a range of popular apps.
A version of the phone appeared in 1999 film The Matrix, during the scene in which Neo tries to escape his office.
Here's everything you need to know about the new Nokia 8110.
Classic scene where Neo escapes from work in The Matrix
Design and screen
As was the case last year with the relaunched Nokia 3310, the new version of the 8110 is a modern take on the phone, yet it's still instantly recognisable as an 8110.
The 2018 model, which is wrapped up in a polycarbonate shell, is sleeker than the handset that first came out in 1998.
It features softer, rounded corners and edges that make it look far less moody too.
Its iconic curved slider, which covers all of the 8810's hardware buttons is, naturally, one of its key features and biggest selling points.
You can drag it down to answer a call and, of course, expose the phone's keypad, and slide it back up to end a call.
It's a highly satisfying interaction – much like clicking a pen – that regular bar form factor phones just can't offer.
Above the slider is a 2.4-inch colour screen, and the phone measures 133.45 x 49.3 x 14.9mm and weighs 117g..
Colours and size
Nokia has also introduced a bold new colour scheme.
Paying tribute to the 8110's "banana phone" nickname, the company has created a bright Banana Yellow option that somehow manages to be both garish and alluring.
There's also a Traditional Black version for purists.
Capabilities
The new 8110 is far more capable than last year's relaunched 3310.
You can actually use apps on it, including Google Maps, Google Search, Facebook, Twitter and Google Assistant, and browse the web.
As it's a 4G phone, you should always be able to get a fast internet connection too – as long as you have decent signal, anyway.
Around the back is a 2-megapixel camera with LED flash, and inside is 4GB of storage and 512MB of RAM.
It also offers Bluetooth 4.1 and a headphone jack, and comes preloaded with a new version of Snake.
Nokia says you can get several days of use from a single charge and, for a bit of fun, you can spin the phone on its axis too, like a helicopter blade.
Price and release date
The Nokia 8110 will be available to purchase in.
HMD Global is yet to release UK pricing information, but says it will have a global average retail price of €79 (£70).
Join our new commenting forum
Join thought-provoking conversations, follow other Independent readers and see their replies