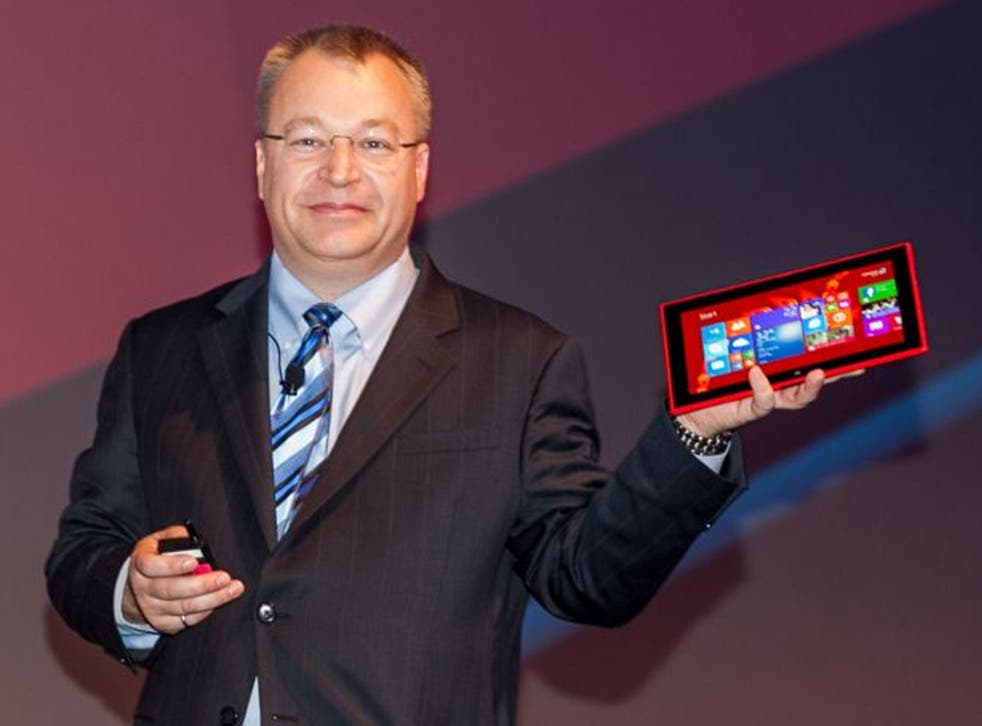 Nokia launch two 'phablets' and the Lumia 2520 Windows tablet
The Finnish company that once dominated the mobile industry will soon be taken over by Microsoft
Nokia has announced a string of new devices at an event in Abu Dhabi, the last products the company will make before it is taken over by Microsoft. They include a 10-inch, 4G-enabled tablet running Windows RT, a pair of 6-inch phablets and a trio of low-budget Nokia Asha mobiles.
The Finnish phone-manufacturer's mobile business was sold to Microsoft for €5.4 billion (£4.6bn) in September, although the deal will not be finalised until sometime early next year. The two companies have had a successful partnership in recent years, with Nokia's range of Lumia smartphones accounting for the vast majority of Windows phone sales.
These latest devices continue this relationship, offering a greater integration of Microsoft products like Office and SkyDrive (the company's cloud storage service), as well as taking advantage of the updates to the Windows Phone operating system.
Nokia's 10-inch Windows RT tablet: the Lumia 2520
It seems an odd choice for Nokia to produce a Windows RT tablet given the imminent takeover by Microsoft, but the Finnish company are still playing to their strengths by stressing the connectivity and extra functionality of the Lumia 2520. The device will launch in time for Christmas, priced at $499 in the US with similar (but as yet unknown) costs expected for the UK.
The 10.1-inch tablet comes with a full HD display (1920x1080 resolution) and is 4G capable. There's also a slightly-less-than-full-sized "Power Keyboard" accessory that costs an additional $150 and adds five extra hours of battery life to the 11 hours already available from the tablet. With these features it seems that Nokia are hoping to position the 2520 as an on-the-go device that can be used for serious work.
The 2520 is the first Windows RT tablet not to be made by Microsoft themself. Although manufacturers including Dell, Samsung and Lenovo originally expressed interest in building devices for the operating system, they dropped out after Windows RT was criticized for its buggy and slow performance.
Nokia's device (which keeps the unibody case and bright colours of all Lumia devices) hopes to fix this with a 2.2GHz quad-core processor and 2GB of RAM. There's also 32GB of internal memory that's expandable up to 64GB with a microSD card.
Two new 6-inch phablets: the 1320 and 1520
Two new phablets were unveiled with 6-inch screens, taking advantage of the latest update to the Windows Phone operating system that allows for extra apps to appear on the home screen.
Both the 1320 and the 1520 offer high-speed mobile data with 4G as well as "supersensitive" displays that allows the touchscreens to be manipulated even with gloves on.
The 1320 has slightly less impressive hardware, with a 1.7 GHz dual-core processor, 1GB of RAM and 8GB of internal storage (expandable up to 64GB); whilst the 1520 boosts these to a 2.2GHz quad-core processor, 2GB of RAM and 32GB of internal storage (also expandable up to 64GB).
Both phones are also more fully integrated with Microsoft products, offering free storage in the cloud with SkyDrive, whilst the 1520 comes with Microsoft Office pre-installed, allowing users to read and edit documents on the go.
New apps on both phones include Refocus (a photography app that takes multiple pictures at different focal lengths, allowing users to change focus after capturing the image) and Beamer (lets users stream their phone's screen through any HTML5 enabled browser over 3G, 4G or Wi-Fi).
The 1520 will sell for $749 and also features a 20-megapixel camera and support for wireless charging via the Qi standard - this lets users recharge their phones simply by placing them on a special mat. Prices for the 1320 will start at just $339.
Three new low-range Asha handsets: the 500, 502 and 503
Nokia also updated its range of low-budget Asha devices, with the Asha 500, 502 and 503 all featuring a new layered design with a coloured interior covered by clear casing.
Each of the Asha handsets runs on Nokia's own proprietary software, but Microsoft has previously described the range as an 'on-ramp' for Windows Phone proper. The handsets are all available in a range of bright colours and have dual-SIM capability, standby times of 20+ hours and 3-inch displays.
The 500, 502 and 503 are aimed at developing markets and offer users basic access to social apps such as Foursquare, Facebook and Twitter. Nokia also announced that they would be continuing their long-standing partnership with WhatsApp, with users able to share photos on WhatsApp directly from the Asha devices' cameras. WhatsApp also announced at the even that they had passed 350 million monthly users.
Join our new commenting forum
Join thought-provoking conversations, follow other Independent readers and see their replies