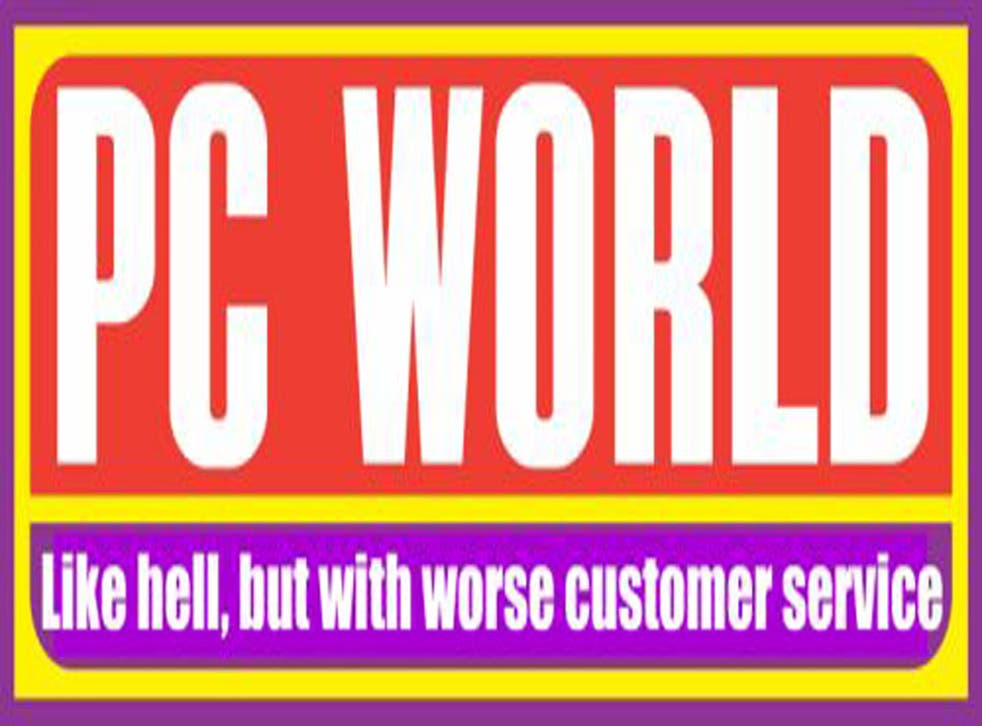 PC World Google gaffe: This is what happened when you searched for the 'computer superstore' online
Dixons Retail PR team chief tweeted 'we're on it'
In the modern world of online retail and internet marketing, having a helpful and efficient first page of results for Google searches of your company is more important than ever before.
This extraordinary gaffe when you search for PC World, then, is unlikely to be around for long.
As you would expect, a search for PC World on Google comes up with links to the retailer's home page, a map showing nearby branches, a snippet of information taken from Wikipedia and an "official" logo.
Except, that is, until you look a bit closer.
Underneath the company logo on the right, instead of saying (as it used to) "The Computer Superstore", there appear the words "Like hell, but with worse customer service".
Google seems to have taken the alternative logo from a 2008 article about rumoured job cuts in the company's servicing and repair division.
It is only a matter of time before the PC World PR team are able to get in touch with Google to rectify this particular situation – but it seems fair to say they do have something history in terms of customer service.
In 2010, a Which? Retail survey placed Currys 95th, PC World 97th and Currys Digital (the Dixons rebrand) joint bottom out of 100 companies for customer satisfaction. In 2009, the retailer was voted among the "worst places" to buy a computer on the high street.
Responding to comments on Twitter about the current state of its Google-search-provided logo, Mark Webb, head of corporate social media for PC World owners Dixons Retail, said: "We're on it."
Mr Webb added that the team had been "kept on their toes" by the "joys of social media", and said: "Hey ho. Customer satisfaction levels rising rapidly across the board, but we have some past reputation to deal with."
Join our new commenting forum
Join thought-provoking conversations, follow other Independent readers and see their replies